VietNamNet Bridge - While foreign firms are massively coming to Vietnam to open hypermarkets and modern shopping centers, local enterprises are trying to occupy the remaining gaps of the market.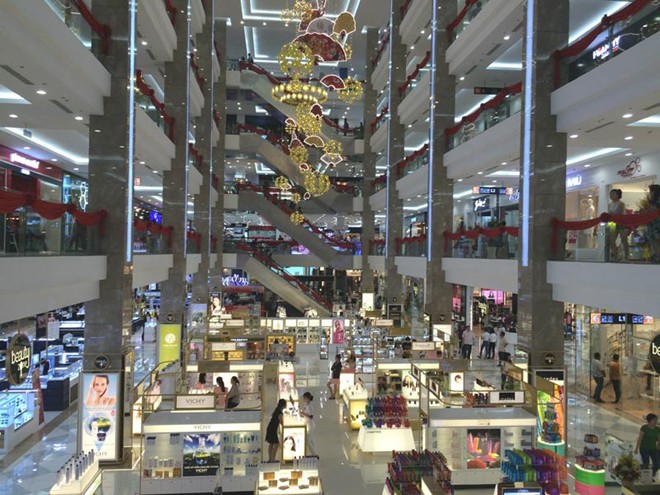 A shopping mall in HCM City.

Mr. Ho Hiep, a resident in Go Vap District, Ho Chi Minh City, said that in a radius of 3km around his house on Le Duc Tho Road, there are eight supermarkets and hypermarkets, not to mention dozens of convenient stores.
Since late 2014, many supermarkets and large shopping centers have been inaugurated in this district. Many others are opening in early 2016.
In 2015 HCM City welcomed many new commercial centers and large supermarkets covering the downtown area to the suburbs.
After the joint venture Mapletree of Singapore and Saigon Co-op put SC VivoCity Vietnam into operation in District 7 in April, SSG launched Pearl Plaza with a similar model in the Van Thanh - Binh Thanh urban area. Next, Vincom Mega Mall also opened to visitors in Thao Dien, District 2, just 1 km from Pearl Plaza.
The most notable appearance in the last days in 2015 was hypermarket Emart of a Korean retail group in Go Vap district after five years of survey and market research in Vietnam. According to information from the investors, 99% of the booths in this supermarket have been filled.
As a rooky, Vingroup is attracting the attention of the retail market after releasing two new brands of Vinmart and Vinmart + and the plan to build a retail system of 100 supermarkets and a chain of 1,000 convenience stores nationwide from 2014 to 2016.
In 2015, this group launched 10 new shopping centers and hundreds of supermarkets and convenience stores. The ambition of Vingroup is confirming its pioneer role, leading Vietnam's retail market, opening up new experiences of the modern lifestyle.
Under the plan, Vincom will reach the figure of nearly 50 shopping centers across the country in 2016.
Saigon Co-op just finished the race in 2015 with the opening of 32 supermarkets in Ho Chi Minh City, bringing the total number of Co-op Mart supermarkets across the country to 80.
Not aiming to get a foothold in the retail market with supermarkets and large shopping malls, Mobile World silently opened mini supermarkets in the suburban districts of HCM City. In 2015, 13 stores of this kind were inaugurated. Mobile World said it is seeking a perfect model.
Mobile World General Director Tran Kinh Doanh said that although the retail market of Vietnam has the participation of many big domestic and foreign enterprises, competition has yet to be fierce because the demand is still huge.
He also said that the modern retail sector currently accounts for only 25% of market share with 300-400 modern supermarkets and less than 1,000 convenience stores. The traditional markets still dominate the market with 1.4 million units, accounting for over 70% market share.
"Based on the current market demand, we do not worry about competing with major retailers. I think we just need to well implement our ideas. If we open up to 1,000 mini supermarkets, it also does not affect the market because the demand is very large," he said.
According to an analysis by market research firm Statista (Germany), Vietnam's retail market can reach $100 billion in size by 2016.
The figures from the Ministry of Industry and Trade show that the market share of modern retail in Vietnam currently accounts for 25% of total retail sales. There are more than 20 foreign companies doing business in Vietnam.
Gravity for foreign investors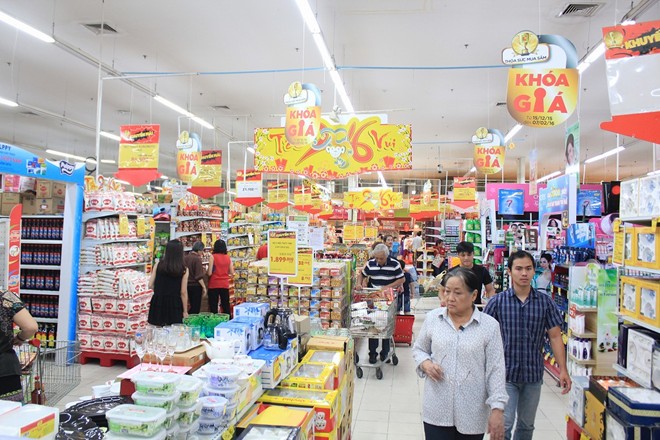 The Vietnam market with a strong purchasing power and young population is an attractive destination of foreign retailers.
Regarding the market of Vietnam, Mr. Theodore Knipfing, Retail Services Manager of Cushman & Wakefield Asia - Pacific, said international retailers are interested in the Asian market, particularly Myanmar, Vietnam and Cambodia. In particular, Vietnam is seen as high potential, because Vietnam has reaffirmed the role and importance of its position in the Asian community.
Mr. Choi Kwang Ho, CEO of Emart Vietnam, acknowledged that Vietnam is a retail market of full potential. That is why Vietnam is the second foreign market selected by Emart.
"Initially, we had considered China as the base market to march to Southeast Asia. But after that we realized that Vietnam is more potential. Therefore, we decided to put all resources to invest in Vietnam and turned this place into a solid market, as a springboard to enter other markets," said Choi Kwang Ho.
The influx of foreign retailers shows that the market balance is leaning heavily on businesses coming from abroad, especially Japan, Korea, Thailand, and France. But Theodore Knipfing said that domestic enterprises have more advantages, because they understand the domestic consumers better, have extensive relationships in the market, land ...
However, foreign enterprises are very experienced and have strong capital resources. They also have certain advantages to bring to the market. Therefore, local retailers can learn from foreign retailers to combine their advantages and competitiveness to the highest level.
Son Tung