VietNamNet Bridge – As the New Year holidays are coming, contaminated sausage, smoked pork legs made of expired frozen meat, and dried grapes dyed of industrial colorings are slipping into stores and supermarkets.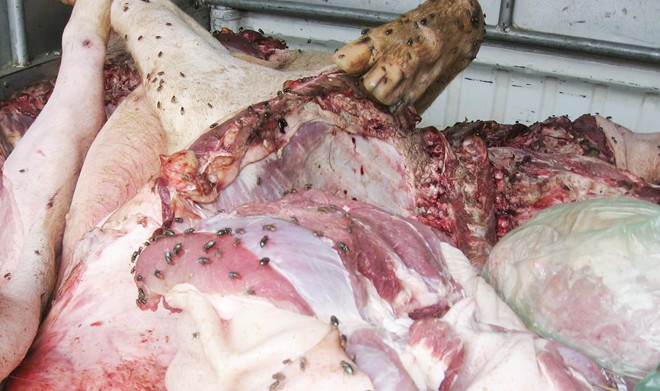 Spoiled pork caught by the police.
Lieutenant Tran Anh Tuan, deputy head of the environmental crime prevention police agency (PC49) of Hanoi Police, said that combating unsafe food was still a big problem in the Lunar New Year 2016.
In fact, many food processing facilities are using banned chemicals and substances of new kinds, which are hard to guess the name, causing difficulty for the authorities in detection.
Lieutenant Colonel Nguyen Van Phac, also from PC49, said that the police recently detected many firms and household-sized facilities processing unsafe food, which were made from expired materials or used toxic chemicals.
Among the most popular foods for the Lunar New Year, pork piesare at the highest risk of being contaminated with chemicals and additives with high content. Lieutenant Colonel Phac said many facilities have no longer used borax to make pork pies tough and crunchy, but are using a new kind of chemical in order to cope with the  test.
"We have not found the name of this new chemical. We only know that when this substance is added to pork pie, it can make the food much tougher than using borax," Lieutenant Colonel Phac said.
The police officer admitted that the authorities have not found the name of the substance yet so they cannot produce the rapid test sticks to detect violations.
Lieutenant Tran Anh Tuan said that the number of cases in which food processors using banned chemicals, additives and expired materials detected by authorities in 2015 was still low.
As the media reported of the use of industrial chemicals in pig breeding, the police investigated and detected that breeders used a kind of chemical in industrial production to increase the ratio of lean meat in pigs. Tuan said this chemical is widely used in industry and not banned in Vietnam. Breeders can easily buy it from many stores in the Hanoi Quarter.
Tuan said that it was difficult for the authorities to detect and punish breeders who use this chemical because nobody who buys the chemicals tells the sellers who buy it for raising pigs. Meanwhile, the police must catch them red-handed while they are mixing this chemical into animal feed to accuse them of using banned chemicals; otherwise, they can be only punished for using production materials of unknown origin.
Expired meat becomes new product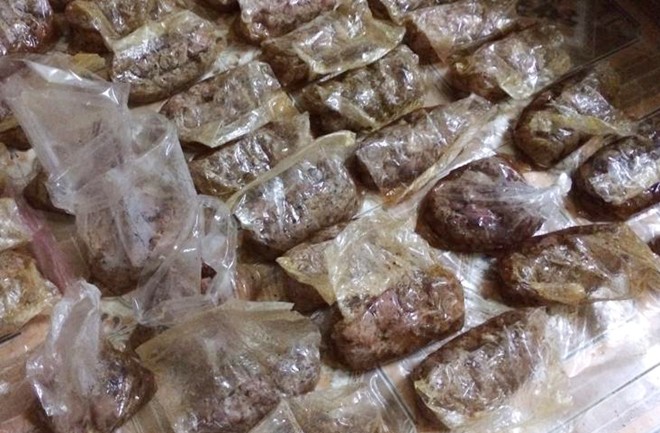 The police seized pork pies using unknown origin additives at a facility in Dan Phuong district, Hanoi. The photo is provided by the police.
According to the police, processed foods such as smoked chicken, smoked pork leg, and bacon are the ideal products for low-quality or expired frozen meat.
Lieutenant Colonel Phac said Hanoi has thousands of warehouses storing frozen food. To maintain a warehouse, businesses have to pay VND200 to VND300 million ($10,000-$15,000) a month for electricity bill. To reduce the cost of storage, some cold warehouse owners turn off switches at night. This decreases the quality of food, although the expiry date is still valid.
Many frozen warehouses in Hanoi have stored expired food. The police said that expired imported food is usually sold wholesale to restaurants or food processing facilities at cheap prices.
Expired chicken and pork legs are usually processed into smoked products or ready-use products to sell to shops and supermarkets with the new expiry date, Lieutenant Colonel Phac said.
The police officer said that in mid-December, Hanoi police inspected a storage of a food processing firm in Minh Khai Ward, Bac Tu Liem District and seized nearly a ton of imported chicken feet, pig hearts, and pig legs that were out of date. Phac said if this volume of expired meat was processed into new products, with new expiry date, both the consumers and the authorities would have been unable to detect.
Expired frozen chicken and pork leg are usually sold wholesalefor just VND30,000 ($1.4) per kilo.
Increasingly sophisticated tricks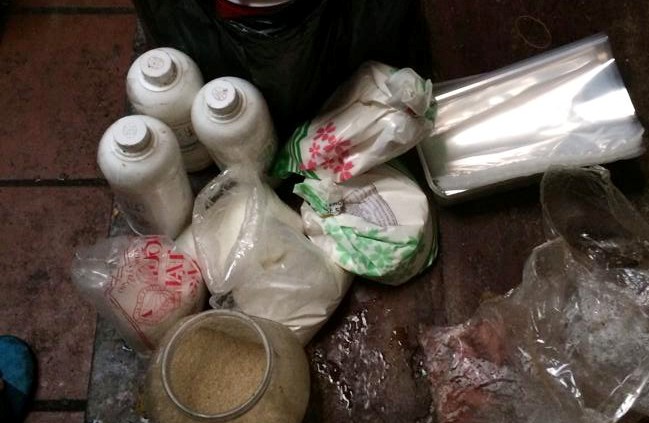 Chemicals used in processing pork pies seized by the police at a facility in Hanoi.

In addition to the sale of substandard food, committing fraud against customershas increased to an alarming rate in Hanoi.
According to the police, in 2015, Hanoi enterprises imported about 500 tons of buffalo meat from India and Australia. In the import papers, the importers labeled the product as buffalo meat in form of pieces (thigh, rump meat, abdomen meat ...).
However, from the second distributors, they cheated customers by deleting the word "buffalo" on the label. They only printed on the packaging thigh, rump meat, etc.
These distributors work with food processing shops to cheat customers by selling buffalo meat at the same prices as beef. "Buffalo meat is priced from VND50,000 to VND120,000 ($2.5-$6) a kilo, but when it becomes beef, the prices double," said a police officer from PC49.
This year, illegal imports of substandard chicken from China has not been as serious as last year but the import of sub-quality chicken from Korea is on the rise.
The police said that if China's sub-standard chicken is imported illegally as alive at dirt prices, sub-standard chicken from Korea is already processed and labeled as tough chicken before it is imported into Vietnam (Vietnamese customers prefer tough chicken than soft and white chicken).
"In fact, this is old chicken that has been discarded because they cannot lay eggs, the same kind as sub-standard chicken of China," a police officer said.
The authorities of Vietnam are unable to analyze the toxic residues left in this kind of poultry. so they cannot give recommendation to consumers.
Reporting food violation
Lieutenant Colonel Tran Anh Tuan, Deputy Head of PC49, said if detecting questionable food or unsafe food, people can call 043.8389229 or report to PC49 (address: No. 2, Trung Yen 3 Road, Cau Giay District, Hanoi). The information will be kept secret and processed immediately.
According to the police, low-price dried grapes, melon and sunflower seeds are still illegally imported from China. These products are then divided into small bags and boxes, labeled with Vietnamese, American or Australian brands to sell to the market. The police warn people to be careful when choosing products at cheap prices or without labels and origin.
Strict rules for food supplements urged
Experts have called for strengthening the management of food supplements to protect consumers from chaos in the food supplement market where about 50 per cent of inspected products had violations.
Speaking at workshop yesterday, pharmaceutical expert Le Van Truyen said that the situation was caused due to inadequate laws and regulations on food supplements while the VFA was overloaded with their task of food supplement management.
The country's food supplement industry was backwards and lacked investment for advanced science and technologies, added Truyen.
The Viet Nam Food Administration (VFA) director Nguyen Thanh Phong said that most violations related to producing and trading food supplements that did not meet registered quality and standards.
"Many products have been advertised falsely for its effects or produced at places that did not meet hygiene and safety regulations. VFA found violations at 105 production and trading companies with total fines of nearly VND 1.9 billion ($84,500) during the first seven months of this year," said Phong.
Phong said that customer and enterprise rights should be protected through measures on strengthening State management and better laws and regulations.
"Priorities should be given to improve supervision and inspection and collaboration between ministries and relevant sectors from central to local levels in the fight against producing and trading fake food supplements," stressed Phong.
Tran Hung from the National Steering Committee on Combating Smuggling and Commercial Fraud and Counterfeit Goods said that the situation of producing fake drugs, cosmetics and food supplements was very popular in Viet Nam.
The committee found more than 3,800 violations relating to pharmaceutical, cosmetics and food supplement products, collecting more than VND22.3 billion (US$991,000) for the State Budget during the period between July 15 to October 15 this year.
Hung added that from the start of 2014 to May 2015, the committee's inspection campaigns found more than 2,100 violation cases that collected about VND236 billion (over $10.4 million) to the State Budget.
The health ministry statistics showed that Viet Nam currently has more than 3,000 companies producing and trading food supplements. More than 60 per cent of products were produced locally while 30 per cent were imported products.
A survey of the Viet Nam Food Supplements Association said that food supplements were used by 63 per cent of adult people in Ha Noi and 43 per cent of adult people in HCM City. - VNS
Linh Nhat