VietNamNet Bridge - Even though Vietnam has a long coastline, the country is still struggling with how to best exploit these advantages in developing a more developed maritime economy.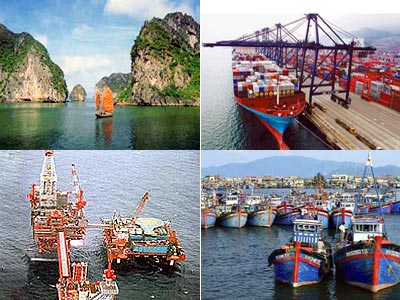 The 10th Party Central Committee issued the Resolution on Vietnam Marine Strategy to 2020 with the goal of turning Vietnam into a prosperous country from the sea. VietNamNet talks with experts about the strategy.
The experts who joined VietNamNet talks were Mr. Ngo Luc Tai, Vice Chair of HCM City Marine Science and Technology Association, Dr. Nguyen Chu Hoi, lecturer of the Vietnam National University, former Deputy General Director of the Vietnam Sea and Islands Agency, and Architect Tran Ngoc Chinh, former Deputy Minister of Construction, Chair of the Vietnam Urban Planning and Development Association. 
Q: How has the Resolution on Vietnam's marine strategy to 2020 has been implemented?
Nguyen Chu Hoi: In the spirit of this marine strategy, by 2020 Vietnam will strive to become a strong and rich country based on marine economy. This is the overarching and long-term goal. 
We do not think of becoming an ocean power, but primarily only strive to become a strong maritime nation, a rich country from the sea. Besides this general objective, the strategy also set many specific goals by 2020, for example:
- Contribution of the marine economy to GDP from 53% to 56%. 
- Building 15 coastal economic parks. Maritime will be the leading economic sector, followed by oil and gas, seafood and tourism industries.
- The standard of living of coastal residents will increase 2.5 times compared to the general living standards of the people who do not live in coastal areas and islands.
Ngo Luc Tai: We planned to have 15 coastal economic parks but they have been operating weakly so in 2012 the government had to readjust and focus investment in only five zones: Dinh Vu-Cat Hai, Nghi Son, Vung Ang, Chu Lai - Dung Quat and Phu Quoc.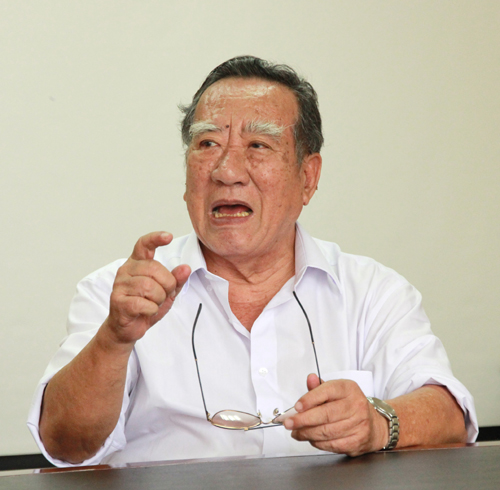 Mr. Ngo Luc Tai, Vice Chair of HCM City Marine Science and Technology Association

Q: Why has Vietnam not yet developed real coastal economic parks?
Tran Ngoc Chinh: Planning of coastal economic parks must rely on efficient exploitation of seaports. Only the locations with seaports can be built have marine economy. 
Seaports play a major role. Other important things are land, factories and urban infrastructure because the construction of industrial parks must go with urbanization. It is wrong to apply the model of industrial parks in the mainland to apply for coastal economic zones. Everything must be based on seaports. Dung Quat is a good example.
Dung Quat is an industrial park named after the first oil refinery in Vietnam. To develop the petrochemical factory, we must have a seaport to welcome oil tanks. After refining oil we have to transport oil by sea, rail and road. Then Dung Quat has the oil refinery, petrochemical factory, and a shipyard. These plants are built to use products of the oil refinery and they are grouped to become a special coastal industrial park.
Currently we have five coastal economic zones: Dinh Vu - Cat Hai (Hai Phong), Nghi Son (Thanh Hoa); Vung Ang (Ha Tinh), Chu Lai-Dung Quat (Quang Nam - Quang Ngai) and Phu Quoc (Kien Giang).
These coastal economic zone are very important. Currently Chu Lai - Dung Quat work together very well. Dung Quat Port is available for large vessels and it has an oil port for oil tankers. We can say that this is a successful model. We have to add a number of mechanisms and policies to attract investment in the infrastructure to better connect Chu Lai - Dung Quat with rail and road to turn Chu Lai - Dung Quat into a typical marine economic zone in Central Vietnam.
Q: What conditions are needed to expand this model?
Tran Ngoc Chinh: In addition to the ports, we have to create enough land to build factories which are linked together. Together with that are facilities and services to create the best life for workers, as well as to attract foreign investment.
In particular, transportation must go first, then the power supply, water supply and environment. At present all coastal industrial parks lack waste water treatment facilities. 
Nguyen Chu Hoi: According to statistics of the United Nations Environment Program (UNEP) and the General Department of Vietnam Sea and Islands, in 2010 30% to 70% of emissions from the continent polluted estuaries and coastal areas. The more that Ho Chi Minh City, Vung Tau, Quang Ninh, Hai Phong, Da Nang develop, the environmental issues will be more seriously.
Moreover, natural resources, global and national values are all concentrated in the coastal areas and coastal areas. Uncontrolled pollution is obviously a problem. We can see a destroyed forest but we can't see how the sea bed is harmed, except for scientists.
Q: How do the Cultural Heritage Act and the Construction Act cover these issues? 
Tran Ngoc Chinh: The Cultural Heritage Act and the Construction Act had many articles covering the protection of marine resources.
Vietnam and 'intelligent approach' in the East Sea
Q: Mr. Chu Hoi, could you tell us more about your idea of establishing the Marine Ministry or an agency in charge of marine economic development?
Nguyen Chu Hoi: The idea of establishment of a ministerial level body to perform unified state management of the sea and islands was set out very early. At that time I was the head of the Institute of Economic and Planning of the Ministry of Fisheries and I participated in building this plan. At that time everyone saw that we had many ministries that managed the mainland, but we did not have a single agency to manage one third of the country's territory.
In 2006 - 2007 the merge of the Ministry of Fisheries into the Ministry of Agriculture began, revealing a model of a marine ministry, with fishermen as the core. 
At that time the Ministry of Fisheries proposed to set up the Marine and Fisheries Ministry. But there were different opinions even inside the Ministry as well as outside. The outcome of the East Sea was not complicated at that time. But finally we only have the Ministry of Agriculture and Rural Development, which is the merger of the Ministry of Fisheries and the Ministry of Agriculture.
The East Sea conflict will be a long-term challenge, unpredictable, complex, which not only affects national interests, maritime rights and interests, our sovereignty, but also affect the surrounding countries.
I still believe that we need such a ministry.
Q: The East Sea dispute cannot be resolved in a day or two. Do you think that if our marine economy develops well, the issue of sovereignty of the sea and islands will be better?
Nguyen Chu Hoi: Yes, that's right! Economic development is a proven ability to master in practice. We declare sovereignty, sovereign rights and jurisdiction over the East Sea and the two archipelagos of Hoang Sa (Paracels) and Truong Sa (Spratlys) and without the appearance of a fisherman, a ship or no development activities on the islands, or no oil and gas exploration activities, it is clear that the claims are on paper. Therefore, economic development on the sea is extremely important in the protection of maritime sovereignty of the country.
Furthermore, the development of marine economy will adjust the relationship with national security, natural resources - environment, solve island-related social problems, and create more power for the country. 
Q: Some experts said that because of dispersed investment of the State and investors, Vietnam does not have any outstanding economic sector or an outstanding economic model. What are your views?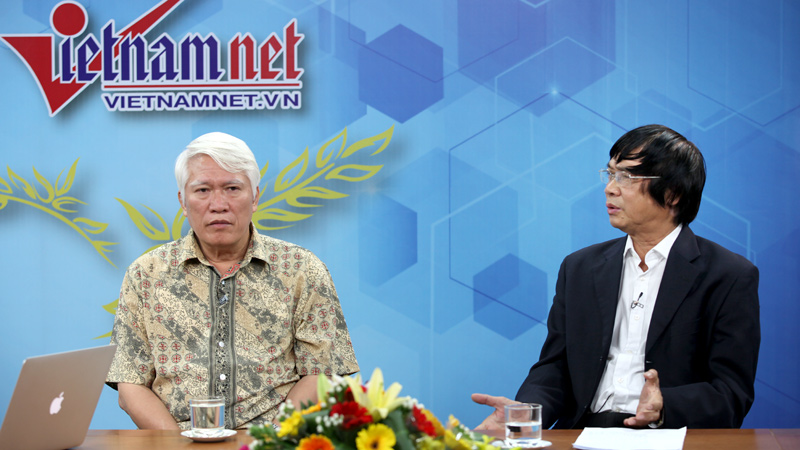 Dr. Nguyen Chu Hoi, former Deputy General Director of the Vietnam Sea and Islands Agency, and Architect Tran Ngoc Chinh, former Deputy Minister of Construction, Chair of the Vietnam Urban Planning and Development Association. 
Ngo Luc Tai: At the macro level the state lays down as a policy the development of the sea but the development of the sea was not focused under the management of a central agency. Every location develops it their own way. In 1995 almost all coastal provinces had seaports. We need just seven to 10 major ports, not up to 190 ports. It's a waste!
Q: Located on the major maritime and aviation route between the Pacific and the Indian Ocean, the East Sea is very important. Vietnam has a very significant geopolitical position in the East Sea. Is there any future for Vietnam to develop marine economy in the area?
Nguyen Chu Hoi: Vietnam has grounds to strive to become a strong nation from sea. But we are still far behind in marine economics. Many marine-based sectors, notably oil and gas industry, are actually mining of nonrenewable resources. This is not sustainable development. There are some issues we have to solve:
The first is green growth, including green sea economy. The natural resources, valuable marine landscapes as Ha Long Bay must be preserved. We must restructure the marine economy towards reviewing and 'greening' the oil industry, shipping, fisheries, tourism and the accompanying services. 
Secondly, from now to 2020 oil and gas will be still a major industry. We will not limit to the plots near the coast but will go further and deeper. We have to form the ocean industry, in which everything will be industrialized, including tourism. We cannot exploit nature, without re-investment. 
The third is that we cannot go out to sea via coracles, but modern vessels. 
In summary, there are 6 issues that we must perform to have a sustainable marine economy: marine natural resources must be preserved; protecting sea landscape; developing green coastal urban areas, preserving marine environment; and developing renewable marine energy.
VNN