VietNamNet Bridge – Vietnamese rice has lower quality compared to rice of Thailand and Cambodia because Vietnamese farmers are using short day varieties, while Thai and Cambodian farmers mainly plant only one rice crop/year, with higher quality, safety and more competitive prices.
To get a deeper look inside the existing problems and find solutions to the problem of Vietnamese rice, VietNamNet talks with Dr. Nguyen Do Anh Tuan, Director of the Vietnam Institute for Policy and Strategy of Agriculture and Rural Development (IPSARD).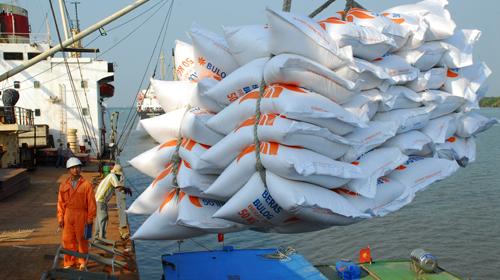 Q: How has the policy on limiting agricultural land allocation influenced the development of agriculture and rice in general in the context of international integration, as Vietnam is about to join the Trans-Pacific Partnership (TPP) and the ASEAN Economic Community (AEC)?
A: The process of international economic integration in general and TPP and AEC in particular, with the reduction of tariff barriers, create competitive pressures for Vietnam's agriculture. Instead, countries will focus on using technical barriers and standards in the trade relationship. Vietnam's agricultural products currently have low quality and food safety standards, failing to meet the requirements of picky markets.
One of the main causes of this situation is that the scale of agricultural land in Vietnam is too small, averaging less than 0.5 hectares per household. The small-scale production makes difficulties for organization of production and value chain links, quality management, food safety, disease control. And application of science and technology and also makes the increase of costs of production and transaction costs.
Land concentration is a major policy of the Party and the State to advance to modern agriculture. The 2013 Land Law also expands the limits of agricultural land used by households compared to the previous regulations. However, the process of land consolidation is taking place very slowly. The main reason is the weak operation of the agricultural land market, because of the following factors:
- The ability to attract workers to the industrial and service sectors is still weak. According to the General Statistics Office, last year 66.9% of the population and 69.6 percent of the labor force were still concentrated in rural areas - of which the labor force employed in agriculture, forestry and fisheries sector was 46.3%. This figure has been falling very slowly in recent years. Most of the new workforce generated annually is in rural areas.
- The majority of the labor force from rural areas participates in the informal labor force (accounting for 77% of the workforce) because the rural workforce is largely unskilled labor (accounting for 47.6 % of workers with jobs). Facing the risk of social security, poor housing conditions and living standards, most migrant workers still remain in the countryside. The role of land as the "means of production" has become "risk insurance." Labor withdrawing from the agricultural sector but still keeping land has affected investment in agricultural land. As a result, land is not concentrated in the hands of the best farmers.
- Meanwhile, small farmer households do not have enough financial conditions, production and management skills, information and social connections in order to have land. Also, procedures for land transfer is complex which makes it very difficult for farmers.
Small-scale production makes it is difficult for Vietnam to manage quality, control disease and apply new science and technology in agriculture.
Q: Could you analyze the competitiveness of Vietnamese rice and farmers in comparison with other emerging countries like Myanmar, India... especially when Vietnam is more deeply integrating into the world market?
A: As income rises, consumers tend to prefer high quality products in general and high-quality rice in particular. Vietnam rice has lower quality than that of Thailand and Cambodia because farmers use short-term varieties (3 month/season) and grow 2-3 crops/year to take advantage of the limited land, the short growth cycle. Meanwhile, rice of the two other countries is mainly one crop/year, with good quality, safety and more competitive prices.
After the world food crisis in 2007 - 2008, rice exporting and importing countries have been boosting rice production to ensure food security and avoid dependence on rice imports. This has led to an oversupply of rice. Consumers in the major rice importing countries like China also require high-quality rice.
Therefore, even before integration, Vietnamese rice has had to face fierce competition. When Vietnam opens its market under bilateral and multilateral commitments, Vietnamese rice will face more difficulties. To enhance competitiveness, Vietnam should promote rice restructuring towards focusing on the improvement of product quality and diversification of export markets.
Q: In the context of fierce regional competition, should Vietnam loosen conditions on rice exports (Decree 109)?
A: To compete amid rice oversupply and consumers preferring to use high-quality rice, the rice sector must improve the quality of rice to participate in niche markets which are small but have high value.
However, Decree 109/ND-CP/2010 and Decision 6139/QD-BCT in 2013 stipulate that to become a rice exporting firm, an enterprise must meet the following conditions: (i) have at least one warehouse with a minimum capacity of 5,000 tons of rice and (ii) at least a rice husking factory with a minimum capacity of 10 tons of paddy per hour.
Because of these conditions, the market only has big and powerful ones and rejects small businesses that don't meet conditions on warehouses and rice husking factories, although they can produce rice of good quality for export.
Therefore, it is necessary to create conditions to encourage enterprises with vast fields, with stable raw material areas, large warehouses and husking factories and quality rice to export rice.
In the long term, it is necessary to promote value chain links, support businesses to renew equipment, build brands, and switch from hand-to-hand contracts to investment partnership contracts with the importers.
To be continued…
Hoang Huong