VietNamNet Bridge – Tens of thousands of vehicles inched along on roads deeply submerged under water, caused by a 142 mm rainfall yesterday afternoon, the biggest rain of the year in HCM City.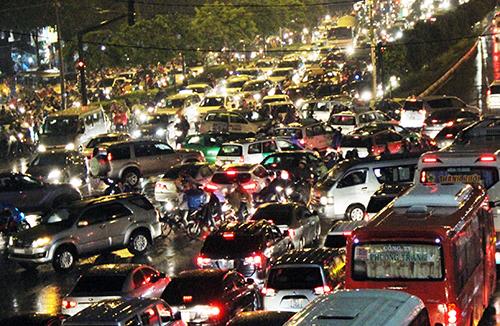 The rain lasted for hours in the late afternoon and early evening, causing severe flooding and traffic congestions on many roads in HCM City.
At the intersections of Dien Bien Phu in District 1 and Binh Thanh District, thousands of vehicles tried to find a way out of the sea of people. Traffic jams occurred on 5km of road from Dien Bien Bridge (Binh Thanh District) to Rach Chiec Bridge (District 9).
On Nguyen Huu Canh Road, which always floods during rains, the situation was worse. Many motorcycles broke down. Drivers had to walk their vehicles in the black, stinking water.
At 6pm, the rain fell more heavily. The flood water was a meter deep in some places, so many people could not even move their vehicles. Many young people took advantage of the circumstances to offer vehicle pushing services.
Walking her motorcycle over 1km of road to her son's school, a woman named Thu Trang of Binh Thanh District said she had never witnessed such flooding in the city.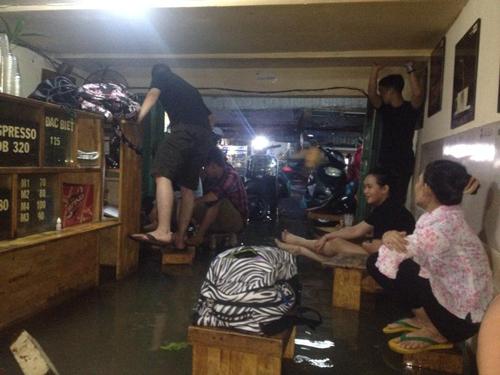 Hundreds of houses were flooded.
Thousands of people could not go home because of flooding and traffic jams.
Until 9pm, traffic congestion was still serious on Dien Bien Phu Street. Hundreds of people stopped their vehicles on the roadside, waiting for the traffic to clear to go home.
Mr. Huy, a motorcycle repairman in Binh Thanh District, said within several hours he repaired nearly 100 vehicles.
An official of the Southern Hydro-meteorological Station said the big rains occurred across the city, and it was the biggest rain in HCM City this year.
According to HCM City authorities, the rains yesterday caused flooding in 66 locations in the city.
Do Tan Long, from the HCM City Anti-Flooding Center, said the flooding was caused by the urban sewage systems, designed originally for rains of 86mm rainfall. Within three hours, the rain totalled 142mm.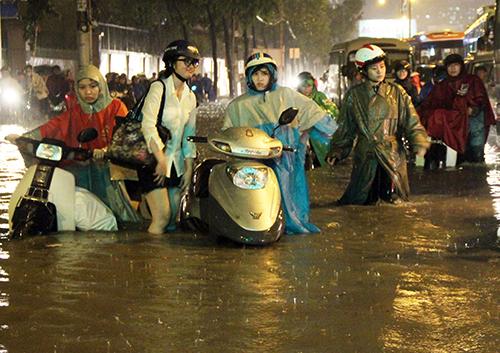 "Besides, the tides from the rivers at the same time were also high, leading to slower drainage capacity," Long said.
He added that the drainage system was built before 2005, when climate change was not a commonly known concept.
"Due to climate change, the rainfall and tides in HCM City are increasing, so the existing drainage system could not respond well. The later anti-flood projects are all designed in combination with the elements of climate change," Long said.
Regarding the upcoming anti-flooding measures, Long said the HCM City Anti-Flooding Center would continue to upgrade the current sewer system of about 200 km, renovate and dredge canals, and build at least three reservoirs in the next five years in order to deal with flooding in 13 urban districts.
Le Ha