VietNamNet Bridge – The pressure of pollution is increasing along with the the hot pace of development of Vietnam's largest island of Phu Quoc (Kien Giang province), while the local government has not found solutions for environmental problems for this tourist island.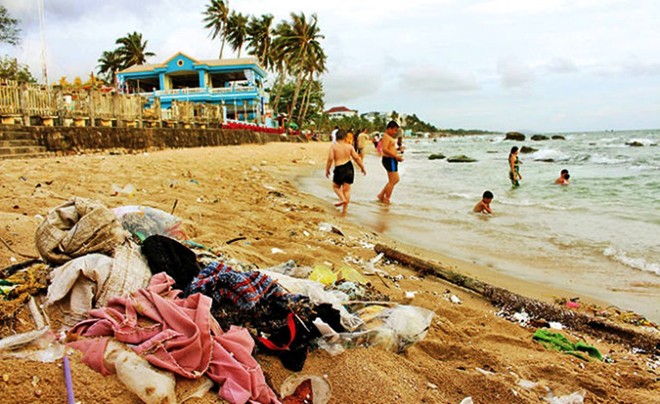 Rubbish on the beach of Phu Quoc.
Both foreign and domestic tourists have shown their dissatisfaction about the environment on Phu Quoc Island. Showing a plastic bag that he just fished out of Truong Beach, a Canadian tourist named Johns shook his head and said: "Rubbish, rubbish, rubbish ... I saw rubbish everywhere, on the street and at the the beach... ".
Tam, a tourist from HCM City, said his foot was injured  by a piece of glass on the beach of Dinh Cau, the center of Duong Dong town.
Raising the piece of glass up in front of dozens of tourists, Tam said this was not the first time he saw a piece of broken glass on Dinh Cau beach.
Hundreds of people swim at this beach every morning and afternoon because this is one of several places in Duong Dong where the beach is not blocked by resorts, restaurants, or hotels ... However, the coastal road along this beach is now illegally occupied by restaurants.
The sand-bank near these restaurants are covered by food waste, plastic bags, cans ... Seeing the rubbish, many tourists are reluctant to go to the beach for swimming.
"We are local residents so we know where the unpolluted areas. If we want to swim, we will drive to Ong Lang beach because that place is relatively untouched," said Mr. Tuong, a resident of Duong Dong Town.
Mr. Nguyen Quoc Hung, head of the technical department of a 4-star resort in Duong Dong, said to make the beach clean to serve visitors, his staff has to collect 20-30 sacks of garbage every morning. Also, he has to arrange several people at the beach all day to collect rubbish because waste floats to the beach frequently.
The director of another resort in Duong Dong Town said he felt ashamed because foreign tourists brought waste to his office to complain. On some prestigious websites on travel, many tourists criticised the pollution at beaches on the island.
A long section of embankment of Duong Dong River, the major river of Phu Quoc, is also surrounded by waste. The river contains rubbish discharged from Duong Dong Market.
Mr. Nguyen Van Mai, representative of the investor of Duong Dong market, said the market has its own garbage collection and wastewater treatment system.
However, there are so many stalls outside the planned area of the market discharging waste directly to the river. The market management board has asked the local authorities to tell these traders to obey the rules on garbage collection but the situation has not improved.
According to the Department of Natural Resources - Environment of Phu Quoc, apart from Duong Dong market, about 1,000 households and over 160 restaurants and shops are located along the river.
Landfills everywhere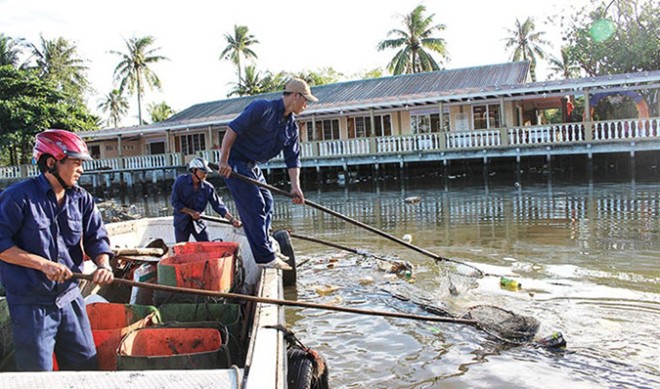 Collecting waste from Duong Dong River.
Rubbish is seen everywhere on Phu Quoc, from the street to the beach. In the urban, densely populated areas on the Island such as Duong Dong, An Thoi, Ham Ninh ...there are many mini landfills" on the road.
More seriously, at the old Phu Quoc Airport in Duong Dong Town, a section of the old runway has quickly become a huge garbage dump.
A new source of pollution on the island is a series of construction projects. From dawn to dusk, groups of trucks carrying soils and building materials run on the road. They drop soil, sand, and stones down the road, polluting the air.
Many roads in the center of Duong Dong town such as Hung Vuong, 30/4, Tran Hung Dao, Nguyen Trung Truc ... are always dusty. If one drives a motorcycle on the road for a while, his white shirt will change  color because of dust.
Water pollution also exists. Currently waste water of the islanders is directly or indirectly discharged to streams and then to Duong Dong River, and to the sea through Dinh Cau estuary.
"We have tried our best to report the problem to the authorities of all levels, from the hamlet to commune, district, province and the central government, but nothing changes," said the manager of a 4-star resort on Tran Hung Dao street.
Meanwhile, the households living on Tran Hung Dao said that resorts blocked sullage pits so their houses are flooded whenever it rains.
Lack of waste treatment facilities
Phu Quoc does not have a waste collection and treatment system. As for wastewater, many years ago an enterprise built a waste treatment plant in Duong Dong, but for various reasons this system was abandoned for many years.
Mr. Nguyen Van Ngoc, head of the public works management board of Phu Quoc, said his unit collected over 180 tons of waste in Duong Dong, An Thoi, Duong To and part of Cua Duong commune each day.
This unit also has a garbage collection team that works along Duong Dong River to Dinh Cau. The beaches managed by resorts are in charge of the resorts.
Phu Quoc has two landfills in the town of An Thoi and Cua Can. However, Ngoc said the landfills were both overloaded. Even the main landfill in Cua Can is a temporary landfill because this location has been allocated to a business to build a golf course.
Phung Xuan Mai, vice president and chief representative of the Phu Quoc Representative Office of Kien Giang Enterprises Association, said he had attended hundreds of conferences, events to call for investment in Phu Quoc, but he had never seen Kien Giang province calling for investment in any project on waste management and environmental protection.
Obviously this conflicts with the objective of turning Phu Quoc into a center of tourism or eco-resort of international level.
Enterprises must do it themselves
Some hotels, resorts and fish-sauce producers on Phu Quoc have to invest their own money to build waste treatment facilities for themselves. Many others said they have to pay for garbage collection.
Mr. Nguyen Van Mai, representative of the investor of Duong Dong market said the market pays VND28 million ($1,400)/month to collect rubbish while they could collect only VND12 million ($600) from traders.
Mai said the market was willing to pay more for Duong Downtown for rubbish collection to keep the market clean.
A manager of Saigon - Phu Quoc resort said his business was ready to contribute money and call for other businesses to do the same to the local market to collect and treat waste.
Sources of rubbish
Trinh Cong Phat, who owns a restaurant at Cua Lap (Duong To commune), said the beaches in Phu Quoc have a lot of rubbish partly because of the island's location. According to Phat, the garbage in Phu Quoc not only comes from local people and tourists but from foreign sources.
He said in the season of southwest monsoons, trash from the waters of neighboring countries like Malaysia, Thailand, and Cambodia float to Bai Truong.
"Previously, when we were poor, many people usually walked along the coast to pick up cans, and plastic bottles for use. Many items drifted onto the island had foreign words on them, " a local man said.
Nguyen Van Ngoc, head of the public works management board of Phu Quoc, said that Phu Quoc was located in the center of the southwestern gulf, so waste from thousands of fishing boats in the area can drift to the island.
The northeast monsoon season also brings trash from the mainland to the island.
Pollution is not only on the beach but also in the sea bed. Many islanders are earning their living by collecting scrap in the sea bed.
Many divers guiding tourists have also complained that seabed pollution has killed Phu Quoc coral.
Tuoi Tre