VietNamNet Bridge – More Vietnamese artists are honored by foreign newspapers. That shows their attractiveness and coverage in not only Vietnam but also in other countries.
ABC News writes about My Tam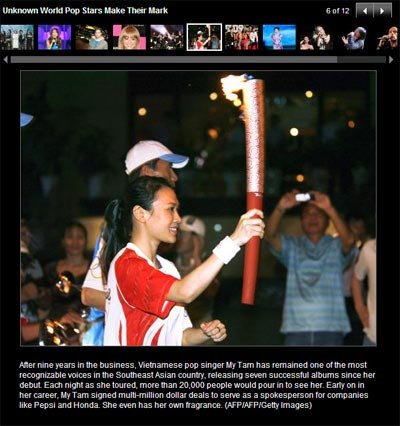 Singer My Tam on ABC News.
Singer My Tam is named in the list of 12 "Global Pop Sensations You've Never Heard Of" on ABC News in 2010.
This is the news site for ABC, one of the three largest television channels in the US.
ABC News wrote the following about My Tam: "After nine years in the business, Vietnamese pop singer My Tam has remained one of the most recognizable voices in the Southeast Asian country, releasing seven successful albums since her debut. As she toured each night, more than 20,000 people would pour in to see her. Early on in her career, My Tam signed multi-million dollar deals to serve as a spokesperson for companies like Pepsi and Honda. She even has her own fragrance."
My Tam, 29, was born in the central city of Da Nang. She started learning ballet for 3 years from the age of 6 before learning instruments such as guitar and organ. She enjoyed singing, but was never aware of her ability, and also never regarded singing as a career. She won her first award in her secondary school's singing competition and was chosen for the municipal competition. She got the first award for the city's solo singing competition and then the Gold Award for Beautiful Voice Spring 1997. She was chosen for the Military School of Art in Hanoi. However, due to her family's situation, she decided to enter Ho Chi Minh City Conservatory for a 4 year course, learning vocal training. She graduated as a top student from the course.
She quickly got a contract with Vafaco record company in 1999 and participated in many singing teams. My Tam has gained many awards in various singing competitions. After her contract with Vafaco ended in 2000, she began to attract attention. She attained the bronze medal at the Asian Music Festival held in Shanghai at the end of 2000 when she was working in the Music Center in Ho Chi Minh City. This was a very significant achievement for her. She graduated in 2001 and became active in the music world.
During those two years, My Tam released two albums: Love Forever and Not Only Me, one VCD single "Sing With the River", 2 CD singles "Dawn of Love (Japanese song)", and "The Guitar of Students."
Her first major hit "Toc nau moi tram" (Brown Hair Dark Lips), an up-tempo dance record from her first album Love Forever, led to a fashion trend in which many young girls changed their hair color to dark yellow to look like My Tam. Her self-composed title song on the first album, Love Forever, established her as a young songwriter. Her first CD single "The Student Guitar", became an instant success due to its appeal to My Tam's original audience, students in their 20s. The song quickly became the iconic song of the early 2000s and tied her to tertiary level students, making them her greatest fan base. This served as the basis for her 2004 tour around various universities across the country. The next CD single, Dawn of Love, released in the same month with Sing with the River, was less successful. However, a track from this single, "Love If is Distant", was a massive karaoke hit.
My Tam followed the success of her debut with her second studio album Not Only Me. Released in May 2002, it contained a heavy dance-pop influence, unlike her first album, which was more influenced by soft R&B. The biggest hit from this album, "Love Dream", received massive airplay on radio and TV. The song, "Sing for you to stay back/ Hat cho nguoi o lai", was also another hit for My Tam.
In the middle of 2003, she released her third studio album, Yesterday and Now. And it became a huge record, becoming the most successful album in her musical career and Vietnamese musical history to date. Following her third album, My Tam quickly released her first VCD album Love Forever.  
Knowing that her chance was coming, My Tam came up with the idea about a concert in two big stadiums in Vietnam. She became the first Vietnamese artist to sell out a stadium concert. The total expenditure for the two concerts was about 30 billion dong (approximately $2.5 million in 2003) and is the most expensive concert in Vietnamese music history. She was crowned: "No. 1 Pop Star in Vietnam" and "The Queen of V-Pop". After these concerts, her third album sold more than 100,000 copies, which made it the highest-selling album in the Vietnamese recording industry. The album is still in print due to popular demand from new fans.
Later in 2004, she was the only Vietnamese singer who participated in the Asia Song Festival in Seoul, Korea. This festival is one of the most prominent international music festivals in Asia. She wowed the Korean crowds with her 2 hits: "Wish" and "Oh First Kiss". At the end of the Asia Song Festival, she received a "Plaque of Appreciation' and 'The Best Contribution Award' from the Korean Minister of Culture and Tourism, who hosted of this festival. This sparked her motivation to cooperate with Korean producers later in 2005.
By the end of 2004, she had one more concert, "My Childhood Home Town", and the tour, "Live With Your Best." Her fourth studio album The Color of My Life was released in 2005. At the end of 2005, she had one more tour for students called "The Power of Dreams." At this time, Vietnamese audiences did not only perceive My Tam as a singer but also as a composer and producer. A lot of her hits were written and composed entirely by Mỹ Tâm.
Reaching the top, the singer continues to expand her career. Unsatisfied with Vietnamese recording and studio techniques, she cooperated with Numari Picture (South Korea) to work on her fifth album Fly. During that time, she took more vocal training, dance lessons, and exposed herself to different music genres. The fifth album, instead of following her usual pop and ballad style, embarked on a new sound, with more up-tempo R&B, hip-hop, and soul songs. Fly was released in Christmas 2005. Although this album wasn't as successful as her third album, it was critically acclaimed and highly rated.  
In early 2008, My Tam reunited with another Korean production to record her sixth album: The Return. Unlike the previous effort, the Korean producers are only in charge of mastering the record. Vietnamese producers composed all the tracks, including Tam's self-produced track: "Nhu Em Doi Anh/ Like I Wait For You." The album was recorded in Seoul, South Korea.  
My Tam explained that through the title The Return, she wants to express that the album is her return to "pop ballad and slow-jams" and "emotional feelings." The new album has a similar sound to her third album, except it is more influenced by Korean music. Vietnamese critics have brought acclaim to The Return, stating that it has brought My Tam to a new level in her career: a more professional voice, significantly improved English, and more skillful singing techniques. Even though Vietnamese producers produced a majority of the album, it contains a more international vibe, excellent quality, and characterizes My Tam as an evolving artist. Following the album release, a tour is planned during the 2008 summer.
On September 1, 2008, she released her seventh album, To the Beat (Nhip Dap). Accompanied with the release was a live concert tour to promote the album and her previous successful album The Return (Tro Lai). To the Beat was produced by the same producer who worked on her last album, The Return.  
On September 7, 2008, the concert tour kicked off in Tao Dan stadium, Ho Chi Minh City. The official name of the tour is "Multi-frequency Sound Wave", which means a sound wave that can go anywhere so that everyone can hear and enjoy it, no matter whether you are rich or poor, or living in urban or rural areas. For that, she won the "Singer of the year" prize in the 2008 Contribution award held by The Thao & Van Hoa newspaper (Sport & Culture).
On April 17, 2009, 1 year anniversary of "The Time and Me" project, My Tam releases "Multifrequency Sound Wave" DVD, a DVD that recorded her concert tour. The DVD is the last move of "The Time And Me" project, officially closing a successful project.
South Korean newspapers praise Ho Ngoc Ha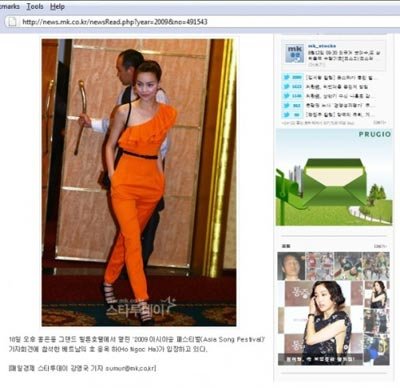 Singer Ho Ngoc Ha on a Korean website.
When Ho Ngoc Ha participated in the Asia Song Festival 2009 in South Korea, the Vietnamese singers attracted the local media's attention. Local newspapers called Ha as Vietnam's Sondambi. The Todaykorea even praised Ha as Vietnam's leading singer.
Ha, 27, is a model-turned-to-entertainer. She became famous when she won first prize in the supermodel contest of Vietnam in 2003 and 2004. Since then, she has begun working as an actress and singer.
Ha was born in Dong Hoi city, Quang Binh province to a banking family. Her paternal grandfather was French. She studied piano at the Military College of Arts. She is now living in Ho Chi Minh City.
Chinese newspapers write about Ngo Thanh Van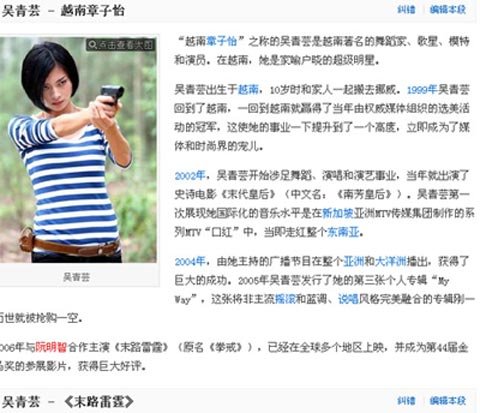 Actress and singer Thanh Van appeared on Sina and Hudong.
Van's "The Rebel" was screened in China in early 2009 and Van was praised by the local media as Vietnam's Zhang Ziyi. Chinese newspapers wrote that Van has professional working style and diverse style. Van is the only Vietnamese artist who was introduced on Sina and Hudong websites.
Van is a Vietnamese dancer, singer, actress, and model. She is also known as Veronica Ngo or her initials NTV.
She was born on 26 February 1979 in the southern province of Tra Vinh. When she was 10, she moved to Norway with her family, but later relocated to Vietnam, starting her public career.
In 1999, NTV went back to Vietnam and participated in a beauty pageant of the Vietnamese Women's World magazine where she finished as 2nd runner-up. After that, she started her career in Vietnam as a model for magazines, calendars, fashion collections, et cetera. At that time, she had a chance to approach small screen with a main role in Huong De, a short TV series on HTV Channel.
In 2002 Ngo Thanh Van started her career as a pop-dance style singer with the help of producer Quoc Bao. Then she recorded the duet album called Vuon Tinh Nhan (Lovers' Garden) with Tuan Hung.
One year later, 2003, with the help of producer Quoc Bao, NTV released her debut album The Gioi Tro Choi (Playworld) on February 26, which was her 23rd birthday. This album was a power pop-dance LP with a story about "NTV Virus". Two music videos were taken from the album; "The Gioi Tro Choi" & "Ngay Tuoi Sang", a cover version of JTL's "A Better Day", which was directed by Jackie Chen. These two videos are the first Vietnamese music videos to feature professional special effects and are listed as the most expensive Vietnamese music videos to date.
In 2004, continuing the story of NTV Virus, Ngo Thanh Van presented her second album, Bi An Vang Trang (Mystery of the Moon), which featured a moon theme on March 15.
During 2004, Ngo Thanh Van made her first international approach in Rouge, a 13-parts MTV television series that shows mostly around midnight on AZN Television. Rouge was produced by MTV Asia & MediaCorp Singapore and was broadcasted widely in Asia and Australia. For the remainder of the year, NTV was busy with the promotion campaign of Rouge throughout Asia and recording her third album. She was also chosen as the most favorite actress in Rouge on MTV Asia website.
On September 5, 2005, My Way, Ngo Thanh Van's third album, was released. This album was produced by NTV herself and featured in collaboration with a group of producers called The Dreams. My Way featured multiple genres, from alternative rock to pop, R&B, and hip hop.
After My Way, NTV engaged herself in acting, with many roles in big screen movies like Saigon Love Story by Ringo Le, 2 In 1 by Dao Duy Phuc, and The Rebel by Charlie Nguyen Chanh Truc with Johnny Tri Nguyen. The Rebel is a big hit in Vietnam movie history, Ngo Thanh Van's performance was highly praised by both critics and the public. She was nominated for "Best Actress" at the 'Canh Dieu Vang' award for the second time. In spring of 2007, NTV starred in a new thriller called Ngoi Nha Bi An (Haunted Manor) which hit cinemas in November 2007. In December 2007, Ngo Thanh Van was awarded "Best Actress" at the 15th Vietnam Film Festival.
In Autumn of 2006, after the two months break in America, NTV went back to Vietnam, and started recording her 4th album which she promised to be a dance anthem record. On October 2006, NTV also premiered one of her new songs "I Won't Stop Loving You," a new collaboration with Quoc Bao, on the final episode of 21st Century Woman which was on VTV. But due to heavy promotion of The Rebel movie, the album release is pushed back to summer 2007. In May 2007, Ngo Thanh Van announced that the fourth album title is Studio 68 and claimed that 68 is her lucky number. She released Studio 68 on January 10, 2008.
In 2006 Ngo Thanh Van signed a contract to appear in the Van Son DVD musical & comedy shows, produced by Van Son Entertainment, a Vietnamese Overseas Music Production. She has since then appeared in every Van Son DVD to date.
During first months of 2008, Ngo Thanh Van was working on her new album Nuoc Mat Thien Than (Tears of Angel) while "Studio 68" was awarded "Most Creative Album" in monthly "Album Vang" prize.
2009 saw NTV once again starred beside Johnny Tri Nguyen in Chanh Phuong action movie Clash. She also opened her own talent agency called VAA.
In 2010, NTV starred in Vietnamese version of "Dancing With The Stars". She finished first in the competition and became the winner of Vietnam's "Dancing With The Stars" season 1. After winning, NTV revealed that she would return to music in 2011. In Autumn, she embarked on a national promotion tour.
In December 2010, after 2 years training, NTV presents the first act of her agency, a five-piece boy-band called 365.
Tang Thanh Ha – Hai Yen – Dustin Nguyen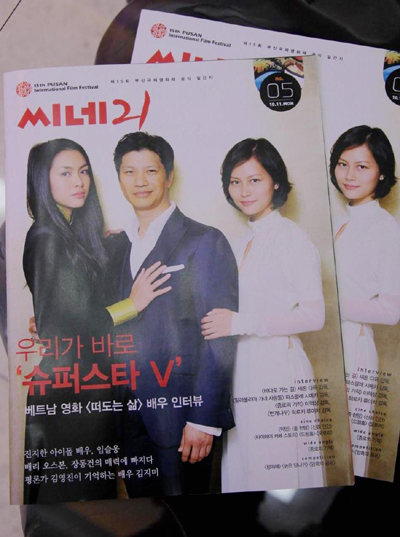 From the left: Tang Thanh Ha, Dustin Nguyen and Do Hai Yen on the
cover of Cinema 21 magazine.
Vietnamese movie "Floating Life" attracted a large South Korean audience at the Busan International Film Festival 2010. Three leading actor – Tang Thanh Ha, Hai Yen and Dustin Nguyen – appeared on the cover of Cinema 21, a prestigious cinematographic magazine in South Korea.
Tang Thanh Ha, 25, is a famous model and actress. She was born in a poor Chinese family in the southern province of Tien Giang. At the age of 16, Ha began her acting career, with a small part in "Doc Tinh" by famous movie director Luu Trong Ninh. She then played Mong Cam in "Han Mac Tu", which is praised as a success. After that, she played a leading role in a TV series entitled "Huong Phu Sa". She won the Most Favorite Artist title of the HCM City Television Award 2006.
She went to Singapore to study hotel management and returned home in 2007 to play Diem Truc in "Bong Dung Muon Khoc", which was a favorite TV series in Vietnam. In 2008, she was invited to play the leading role in "Dep tung centimet". In late 2009, early 2010, she played a small role in "Floating Lives".
Do Thi Hai Yen, 29, is a famous Vietnamese actress. She grew up in Hanoi and graduated from the Vietnamese Ballet School after seven years of study.
In 1999, director Tran Anh Hung invited Hai Yen, only 17 at that time, to play a role in the movie "The Vertical Ray of the Sun" (France). The film was nominated at the Chlotrudis Awards in 2002.
In 2000, Hai Yen appeared again in the movie "Song of the Stork" (Singapore), by Nguyen Phan Quang Binh (Vietnam) and Jonathan Foo (Singapore). The film received the "Best Feature Film" award at the Milano Film Festival in 2002 and was nominated for Grand Prix award at the Paris Film Festival in 2003.
In 2001, Hai Yen became a leading actress in Vietnam when she was selected in a competition attended by more than 2,000 candidates in Vietnam and overseas to play the main female character next to two world famous actors, Sir Michael Caine and Brendan Fraser in "The Quiet American" directed by Phillip Noyce. It was the first time in Vietnam's history that a Vietnamese actress was selected as the main English speaking character in a Hollywood movie.
As "The Quiet American" was screened in different countries around the world, Hai Yen was invited to attend many premier screenings and film festivals, in Australia, England, the US, Italy, France, Spain, Germany, Yugoslavia, Japan, etc. Her name made the headlines of many popular broadcasters and newspapers such as CNN, Reuters, BBC, AP, ABC, Time, Newsweek, New York Times, New York Post, Variety or American Cinematographer. This exposure captured a lot of attention from the professional movie world.
"The Quiet American" received the Academy Award Nomination, another ten wins and seven nominations at the BAFTA Awards, Golden Globes - USA, London Critics Circle Film Awards, National Board of Review - USA, Political Film Society - USA, San Francisco Film Critics Circle, Satellite Awards, Bangkok International Film Festival, Australian Screen Sound Guild, World Soundtrack Awards.in 2003. It was also elected as "One of the Year's 10 Best!" films in 2003.
In 2005, Hai Yen was the leading actress in "Story of Pao" by Ngo Quang Hai (Vietnam). "Story of Pao", Hai Yen's first Vietnamese movie, received the Vietnam Cinematography Association's Golden Kite Awards for "Best Feature Film", "Best Actress", "Best Supporting Actress", "Best Director of Photography," "Special Jury Award" at the 51st Asian Pacific Film Festival, Official Selection - First Film World Competition at the 30th Montreal World Film Festival, Official Selection - A Window on Asian Cinema & Curtain Call Stars (Actress Do Thi Hai Yen as Pao) at Pusan International Film Festival in 2006, Official Selection - Maverick Narrative Competition at the 17th Cinequest Film Festival (U.S), Official Selection - ASEAN Film Competition at Bangkok International Film Festival, in 2007.
"Story of Pao" was presented at many other film festivals around the world and the film was also screened at Columbia University, Cornell University, Yale University, Harvard University, Dartmouth College, University of California - Berkeley, USC University, UCAL University and other colleges in the U.S. Viet Nam Official Submission to the Academy for Best Foreign Language Film (Oscar 2007). "Story of Pao" was also Hai Yen's first movie as a producer, taking care of the film's marketing and distribution.
In 2008, Hai Yen was the leading actress in the movie "Choi Voi" (Adrift), (a co-production between Vietnam and France), be released at the Venice Film Festival in September, 2009. It is directed by Bui Thac Chuyen, one of the most famous film directors in Vietnam and also the first Vietnamese to have won a prize at the Cannes Festival, in 2000 (Cinefondation).
"Adrift" was also presented at many other film festivals, such as: Official Selection - Ozzizonti Competition and wins The International Critics Prize at the 66th Venice Film Festival 2009, Official Selection – Contemporary World Cinema at Toronto Film Festival, 2009, Official Selection – Main Competition at Bangkok Film Festival, 2009, Official Selection – Dragons and Tigers award at Vancouver Film Festival, 2009 and Official Selection – A Window on Asian Cinema at Pusan Film Festival, 2009.
In 2010, Hai Yen recent movie "Canh Dong Bat Tan" (Floating Lives), directed by Nguyen Phan Quang Binh. Based on Nguyen Thi Ngoc Tu's best selling short story "Boundless Rice Field", winner of the best short story prize from the Vietnam Writer's Association in 2007 and the Asean Literature Award recently.
The movie was premiere in 15th Pusan International Film Festival in the New Currents category, selected by the Academy for the "New Voice from Vietnam" Program which was held at the Hummer Museum in Los Angeles in November 2010. "Floating Lives" was also presented at many other film festivals, such as: 12th Cinemanila International Film Festival, 13th Udine Far East Film, 9th Reggio Emilia: Asian Film Festival, Vietnam International Film Festival and others.
The movie won the Critics Prize at the Vietnam Cinematography Association's Golden Kite for Best Picture in 2010, Best Actor and Best Actress at the Vietnam International Film Festival in 2010.
Hai Yen is also a Vietnamese ambassador and honor guest for several luxury brands such as Louis Vuitton, Motorola V8Luxury, Escada, etc.
Dustin Nguyen, 49, is a Vietnamese-American actor, director, writer and martial artist. He is best known for his roles as Harry Truman Ioki on 21 Jump Street and as Johnny Loh on V.I.P. He made his acting debut on Magnum, P.I., portraying a Cambodian freedom fighter in the episode "Crouching." He was a cast member on both 21 Jump Street and V.I.P., and has guest-starred on a number of other series, including General Hospital, Highlander, and most notably seaQuest DSV, playing the role of Chief William Shan.
Moreover, he played a cameo role in Charlie's Angels. Nguyen also auditioned for the role of Liu Kang in Mortal Kombat, but lost out to Robin Shou. In 1993 he played in the film Heaven & Earth. In 2005, Nguyen starred as a former heroin addict opposite Academy Award-winner Cate Blanchett in the critically acclaimed Little Fish. He most recently starred in the 2007 films The Rebel and Saigon Eclipse. In 2008 he starred in the Vietnamese martial art film Huyen Thoai Bat Tu (The Legend Is Alive, The Immortal Legend) where he plays a mentally disabled martial artist. Nguyen screened in 2009 the Thriller The Gauntlet under the Direction from Matt Eskandari and stars alongside Chinese actress star Bai Ling.
In March 2009 he won Vietnam's Golden Kite Award for Best Actor, for his starring role in the Phuoc Sang Films starring vehicle, Huyen Thoai Bat Tu (The Legend Is Alive). He is also known as the leading actor in "Floating Lives". He has starred in around 40 movies so far.
Hoang Thuy Linh – Vietnam's Paris Hilton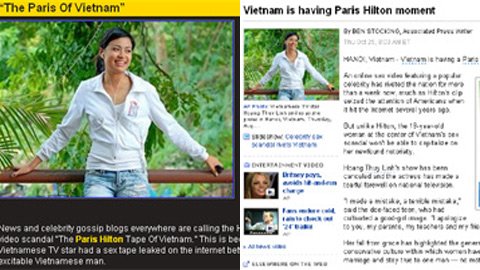 Hoang Thuy Linh on AP.
Hoang Thuy Linh, 23, was the idol of Vietnamese youth at that time through a TV series entitled "Vang Anh's Diary". She is also a pop singer.
She is well-known for her controversial sex tape, for which she has been compared to Paris Hilton.
As a former student of Hanoi's College of Art, she was trained to be an actress. Linh join girlband Thien Than (Angels). During her teenage years, Hoang Thuy Linh was a presenter for HanoiTV's gameshow for kids "Vui Cung HUGO". She was a famous teenager, winning Hoa Hoc Tro's ICON contest in 2006 and participated in many TV commercials & adverts as well as being on magazine covers for teenagers.
Linh's first appearance as an actress was the role in "Path of life" drama as a little girl named Thuy (2004, 25 episodes, Golden Award – Vietnam Drama Festival 2005). After that success, she was casted in two other drama's "Laugh of destiny" (2005, 18 episodes) and her Lan role in "Journey to the Sun" (2006, 29 episodes) of Director Luu Trong Ninh.
In 2006, Linh started studying at the Department of TV director – Vietnam Acting and Film College and graduated in 2009.
In 2007 she was casted for a leading role in the second season of an interactive television program - "Vang Anh's Diary" – a well received sitcom due to its educational inspirations to Vietnamese youth.
In September 2007, a video of Linh having sexual intercourse with her boyfriend was leaked online. The video first hit YouTube and was quickly removed, but then it found its way onto the Vietnamese forums. The video spread widely throughout the nation and was the biggest scandal ever in the Vietnamese entertainment industry. The scandal caused an outcry domestically and internationally with the outstanding involvement of the media from the UK and the US.
The incident was also mentioned by Perez Hilton on his blog. The affair generated public debates in many ways, the teenage youth called for a sympathetic tolerance to Linh while adults, as parents in particular, heavily criticized and even informally demanded from her an official apology for indirectly putting the end to an education oriented TV program of Vietnam's youth.
On September 14 2007, producers of "Vang Anh's Diary" announced the cancellation of the show with the last episode was a pre-recorded talk show with Linh where she publicly apologized for the video. VTV later was heavily criticized for this show.
After the scandal, Linh went low-profile for a year and then she returned to the scene in 2010 with the self titled debut album "Hoang Thuy Linh - Vol.1". Though the album received very little promotion, it still managed to gain much success with many critics who praised her singing ability and the album's quality.
In May 2011, Linh released her sophomore album entitled "Dung Voi Vang" (No Hurry). Similar to her debut album, many critics praised her singing ability and the album's quality. Both albums have the Pop, Dance-Pop style.
Elly Tran, hot girl with huge bosom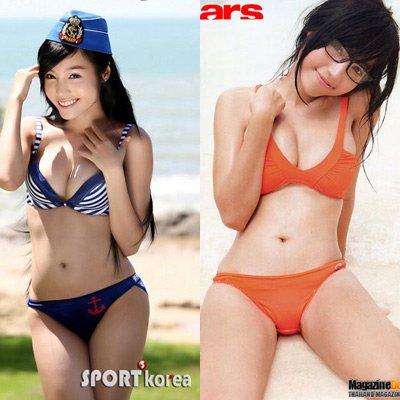 Elly Tran on a Korean website.
Elly Tran or also known as Elly Tran Ha, Elly Kim Hong or Nguyen Kim Hong emerged from a beauty contest for female online gamers. She has quickly been famous for her big bosom. Her sexy photos are not only known in Vietnam but many Asian countries like China, Thailand, Japan and South Korea. She is now living in HCM City as a photo model. She played in two movies "Saigon Yo!" and "School Ghost". However, her acting skill is not highly appreciated.
Elly Tran's photos appeared on Sohu, the leading online newspaper in China in mid-2010, and on the cover of Thailand's Mar magazine.
Bao Tran – little princess on the catwalk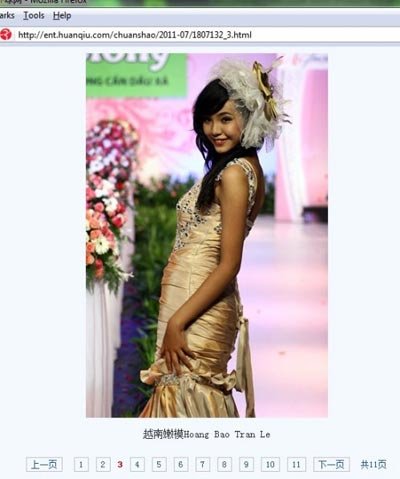 Teen model Bao Tran on a Chinese website.
Bao Tran won the Miss Teen Model Award 2009 at the age of 11. At the age of 13, she is now a famous model in Vietnam.
Last November, the website of the China Radio International (CRI) published an article and pictures of Bao Tran. Another website of China YCWB also wrote about Bao Tran as Elly Tran's successor.
Within several months, Bao Tran has been known in China, Taiwan and Hong Kong.
Man Chi – Thu Hang