VietNamNet Bridge - In the early 19th century, six Phu Quoc ridgebacks were brought to France.
Seeking the origin of Phu Quoc ridgeback
Phu Quoc ridgebacks went to the West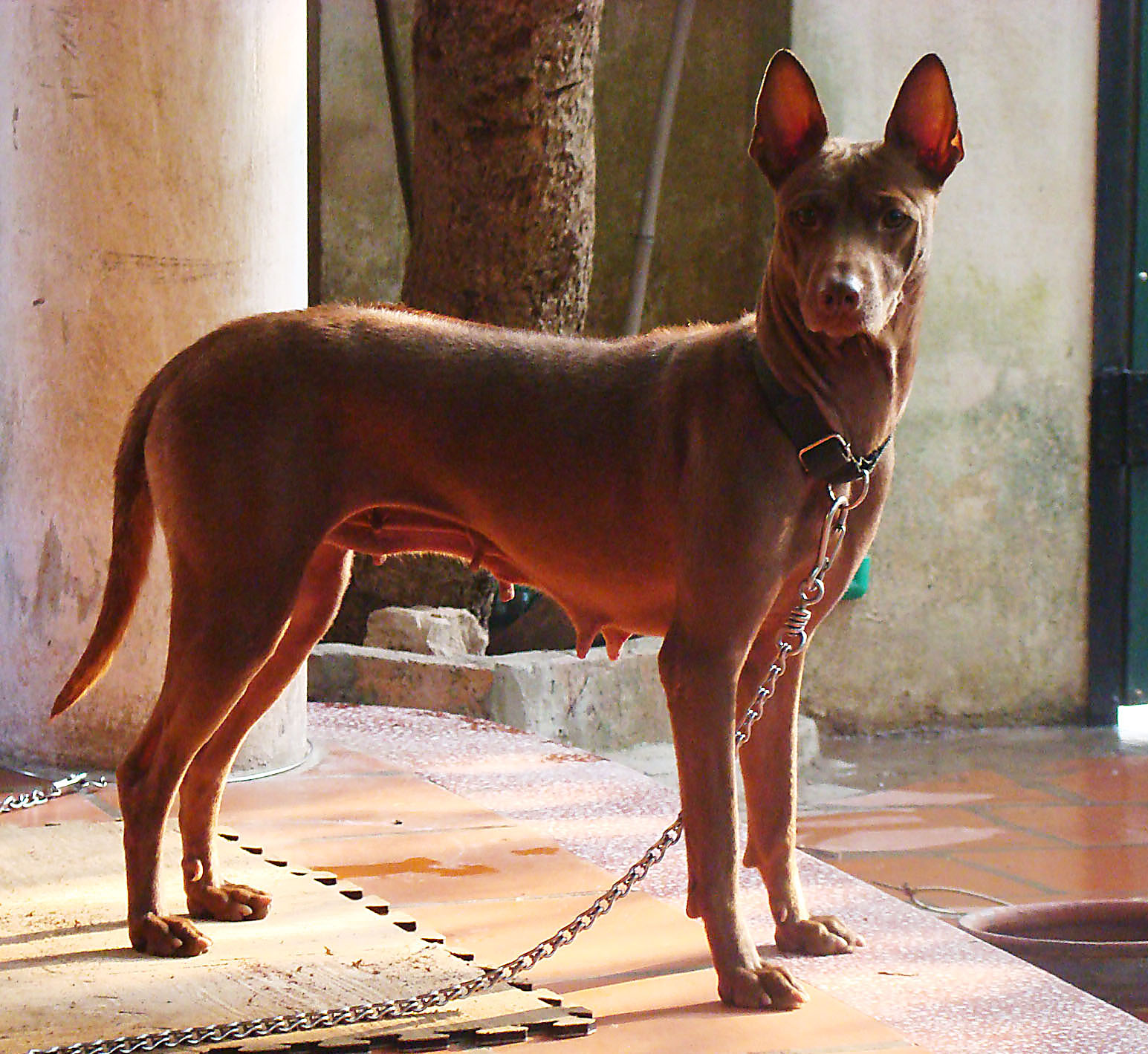 In the early 19th century, six Phu Quoc ridgebacks were brought to France, including four dogs of Fernand Doceul, a French official in southern Vietnam and Cambodia. However, only three of them were survival and presented to the Paris Zoo. These dogs were described in specialized journals by many zoologists as the only breed in the world with ridgeback. Henri de Bylandt, a Duth count, compiled the standards for Phu Quoc hunting dogs, which was in the book "Les Races de Chiens", published in 1897, with standards for more than 300 breeds.
The two remaining dogs belonged to Gaston Helouin who lived in Helfaut, Pas-de-Calais, northern France. They were Xoai (mango), a male dog and Chuoi (banana), a female dog, which won prizes at first dog show in Lille, France in 1894 and the dog show in Anvers, Belgium in 1894.
Since the 1980s, Prof. Du Thanh Khiem, rector of the Woluwe-Saint-Pierr Education Institute in Brussels, Belgium, has spent a lot of time, efforts and money to collect ancient Western documents in the 19th century about the resounding past of Phu Quoc ridgeback.
"In the book Les races de chiens, obviously scientific evidences about Phu Quoc ridgeback were recorded 117 years ago. There is also a secret in the catalogue of the Anvers dog show: winning dogs that are named in this book are also named in the genealogy records of the SRSH Association of Belgium. It means that Phu Quoc ridgeback was recognized by one of the five founding members of the FCI," Prof. Khiem said.
According to Prof. Khiem, in the 1980s, his friend went to Phu Quoc Island to buy dogs, aiming to bring the dogs to Belgium to register with the FCI. However, the dog was stuck at the customs office at HCM City's Tan Son Nhat Airport. Another man planed the same thing but the dog was seized by Thai customs officers.
To resume the position of Phu Quoc ridgeback in the world, Prof. Khiem proposed to establish a national kennel association of Vietnam, which would become a member of the FCI. This association is responsible to develop standards for Phu Quoc ridgebacks based on standards noted by count Henri de Bylandt, to organize dog shows and bring Phu Quoc dogs to the world.
On January 11, 2007, Yves de Clercq, FCI managing director sent a letter to Prof. Khiem. According to Clercq, FCI has two books written by count Henri de Bylandt, which wrote about Phu Quoc ridgeback. However, this breed was no longer in the FCI recognized list of breeds. Only the national kennel association of the host country can ask the FCI to recognize that breed.
After that, many significant events took place in Vietnam. The first workshop on Phu Quoc ridgeback was organized in 2007. The Vietnam Kennel Association (VKA) was established in 2008 and applied for FCI membership in 2009. The association approved standards for Phu Quoc ridgeback in 2009 and began organizing dog shows. In October 2010, the FCI recognized the VKA as a member.
Phu Quoc dog returns to world competition after century
On January 28, 2011, Prof. Khiem wrote on the DIV forum (Vietnamese kennel forum) that thanks to the assistance of the Secretary General of the French Kennel Association (SCC), Jean Jacques Dupas, Phu Quoc ridgeback was admitted to the World Dogshow 2011 in Paris in July 2011, a comeback to the global scene after 117 years.
A lot of hope and preparation had been put into the participation of two Phu Quoc ridgebacks at the Paris world dog show, but these have failed to get the breed officially listed by the FCI.
In 1894, a pair of two-year-old Phu Quoc dogs named Xoai (Mango) and Chuoi (Banana), owned by Gaston Helouin of the Pas de Calais in France, had won the first and second prizes respectively at the Anvers International Canine Exhibition in Belgium.
Since then, the dog has not been listed by FCI as an official breed for world shows, according to the Vietnam Kennel Association.
For the recent event in Paris, the association had sent Dom and Ven, the former a 5-year-old national champion.
At the French national round on July 8, Dom won the title "Best of Breeds" (BOB) title and Ven was received an "excellent" grade. But Dom was almost not considered for the Best of Group (BOG) title later as the judge of its group claimed that FCI has not recognized the ridgeback and he knew little about the breed.
The judge only agreed to take a look at Dom after his handler Le Tuan complained to the organizers. Finally, neither Dom nor a Thai ridgeback in the group got the title.
Dom and Ven were the only candidates in the Phu Quoc ridgeback category at the international BOB round on July 9, presenting an opportunity for the breed to be put on the FCI list after 117 years.
Dom walked tiredly during his performance while Ven put on a good show.
Espen Engh, a judge from Norway, gave Ven CACS, a French certificate for beautiful dog at world level, yet he refused to give the dog any award or cup for the world's Best of Breed.
Officials from the Vietnam delegation said that Vietnam needs to do a lot in the years to come, so that efforts to bring Phu Quoc dogs back to world recognition do not go in vain again.
More than 38,000 dongs from more than 130 countries and territories participated in the World Dog Show 2011, which marked 100th anniversary of FCI.
Vietnam Kennel Association and the owners of Dom and Ven have spent four years and a lot of their own money to get the dogs into the competition.
Dom had won the first prize at the association's dog show in 2009 for his look and horse-paced run. He also won first prize at a national Phu Quoc ridgeback competition in 2009.
Vo Hong Hai, Dom's owner from Ho Chi Minh City, paid nearly VND30 million (US$1,458) to get medical checks, flight tickets and two guards for Dom. Hai also asked Le Tuan, the owner of the TrangLe Neapolitan Mastiff dog farm in Canada, to go to Paris to be Dom's handler.
Ven's journey was not as well-prepared. He was sent to Paris later on cargo as there was no one accompanying him. His handler Pham Thanh Buoi waited for him at Charles De Gaulle Airport in Paris.
Buoi has more than ten years of experience managing dozens of dog-armed security guards. He said Ven's legs had almost gone numb at arrival, as he had tried to hold his bladder and not defecate during the flight from HCM City.
Ven's owner Ly Nguyen Khon had sent him urgently to Paris as the delegation wanted Dom to have a companion, and to promote Phu Quoc ridgeback. Ven arrived just in time for him and his handler to get familiar with each other and practice for the show right at the airport.
Huynh Thi Thanh Thoc, a vet and vice chairwoman of VKA who was also in Paris for the show, said that she found Ven had some fever but had to let him into the show. She said both dogs deserve praise for putting on a good show.
Phu Quoc dog almost wiped out by interbreeding
It is not known what proportion of the Phu Quoc ridgeback dog population in Vietnam is purebred now, but experts estimated at a conference held in 2007 that it was 1 percent.
It is an unfortunate fate to befall the animal that is found only in Vietnam, but not a surprising one since the threat was perceived as early as in the 19th century.
Le Chenil (The dog) magazine in France wrote on July 30, 1891: "Islanders on Phu Quoc confirmed that the Phu Quoc ridgeback dog has almost disappeared and only some individuals are left.
"The Annamese (former name of Vietnamese people used by the French) take other breeds of dogs from the mainland to the island to cross-breed."
But this was only seriously taken in 2007 when a conference was held in HCM City to consider ways to save the breed.
Earlier this year a trainer from the well-known K9 police dog training center in the US stayed on Phu Quoc Island for a month to buy four purebred dogs but failed. "No Phu Quoc ridgeback purebred is left in Vietnam now," he said with a sigh.
But it is not impossible to conserve the breed, says VKA member Le Van Quoc Hung, who has spent four years researching the characteristics of the Phu Quoc ridgeback to breed it.
An older man on Phu Quoc named Sau Khuong says there were at least three kinds of Phu Quoc ridgebacks a century ago.
One was found in Cua Can, Ba Trai, and Dong Ba and was small, weighed 12-16kg, but was swift and skillful in finding and chasing prey. A second kind was commonly found in Bac Dao and weighed around 20kg. It could bring down large prey like deer and take on wild boars. The smallest was found in Suoi Tranh and Suoi Da.
"It was so small that it could not climb past a fallen trunk but possessed an excellent sense of smell and was ferocious," Chin Cua Dinh, a hunter and an island native, says.
A pack of hunting dogs has three to six individuals each with different skills like scenting, biting, and chasing. They are usually named after their skills. Thus, when a hunter shouts "Bite it" or "Chase it," the dog named Bite or Chase would do the job.
Since hunters prefer dogs with colors that could blend into the forest, brown, yellow, grey, and black were the favorites, and white and those with spots are not liked much. Those with dew claws – a vestigial digit on the feet of many mammals -- are not preferred either since they could easily get stuck while hunting.
The leader of a pack must be sensitive to scents in the air to identify prey while the rest are good at picking up scents from the soil. The former therefore have a deep philtrum, the cleft beneath the noses of most mammals while the latter have shallow clefts.
Tapering bodies, deep chests, and shoulders that are lower than their bottoms indicate endurance and animals with these features are ideal for the long chase. Those with straight and slim legs are considered fast.
Hunter Minh Dia says a dog with a well-proportioned ridge running from shoulder to waist is battle-hardened. He also claims it is only good if tails incline left in males and right in females.
A major risk for the purebred Phu Quoc ridgeback comes from the popularity of the Thai ridgeback since some breeders intentionally cross them. Now there are an estimated 800 dogs bred in this manner in Vietnam.
The VKA is considering a ban on Phu-Thai ridgebacks participating in dog shows in Vietnam to protect the purebred Phu Quoc dogs, VKA member Bui Quoc Viet says.
"What we need now is World Canine Organization recognition for a primitive purebred Phu Quoc ridgeback, not for a new race of ridgeback."
Vietnam has applied to the FCI to register the dog as a "primitive type of hunting dog with a ridge on the back" and it is now under consideration.
Tuoi Tre/Thanh Nien