VietNamNet Bridge – While the Ministry of Agriculture and Rural Development (MARD) says that genetically modified crop (GMC) can help improve crop productivity, many scientists warn of food safety and the dependency of Vietnam's agricultural sector on transnational groups.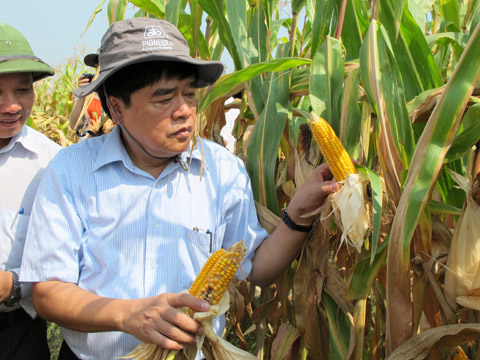 Genetically modified maize in Vinh Phuc province.
Deputy Minister of Agriculture and Rural Development, Bui Ba Bong, told a seminar on developing GMC in Vietnam, which was hold in Hanoi on October 5, that there are two opposite opinions about the use of GMC in the world.
One group says that GMC is scientific progress that can help increase agricultural productivity in the way that traditional methods fail to do. The other group says that GMC are harmful for health of human being, animals and biodiversity.
Bong said that for a scientific progress and complicated technology like GMC, both receiving or denying it are not appropriate approach.
Vietnam has tested three GMC varieties - maize, soybean and cotton since 2009. These are products that Vietnam has to import in large volumes.
Vietnamese scientists have finalized test and risk evaluations of genetically modified maize over biodiversity and environment. After this step, Vietnam will have to perform others to consider whether GM maize is biological safety or good enough to be food. GM maize can be produced on large scale in 2012.
Le Huy Ham, Rector of the Agricultural Genetics Institute, which is in charge of risk tests over GMC, said that by 2010, the world had 148 million hectares of GM maize and no country has rejected this variety.
According to Ham, European countries do not accept GMC because they are facing overproduction and they are not worried about food security or land as developing countries. He confirmed that the impacts of GM maize on environment and health has not been reported yet.
Ham analyzed that farmers often spray pesticide up to 14 times during a crop. Farmers themselves and the environment will be harmed by pesticide. Using GMC which is insect resistance, farmers will not have to use pesticide.
He said that in principle, genetically modified technology is not new. This process has existed for millions of years. Crops and animals themselves are products of genetic modification but they are products of a process of millions of years. Man only learn from the nature and quicken this process to satisfy their demands.
"GMC is technology of the future. Farmers in Vinh Phuc and Ba Ria Vung Tau provinces (where GMC is tested) are very happy when crop productivity strongly rises," Ham said.
Prof. Nguyen Lan Dung, Vice Chair of the Vietnam Microbiology Association, said that Vietnam should develop this technology. He said that the world population is rising and GMC can help ensure food security.
"The world population is estimated to exceed 12 billion people in 50 years. Food supply will become a great matter for the mankind. There is no reason to be late in importing GMC which has been used for a long time in the world," Prof. Dung said.
However, Prof. Academician Tran Dinh Long, Chairman of the Crop Variety Association, said that genetically modified creatures are the latent sources of threats for community health. They can enhance antibiotic resistance, cause allergy and create toxin in body.
According to Long, GMC can disperse to other varieties, insects and microorganism and enhance their resistance against diseases, pesticide, etc. as well as their poisoning ability against useful creatures. This will affect the natural food chain, ecological balance and biodiversity.
"Vietnam should not develop GMC on large scale. We do not protest GMC but we have to carefully consider how to use them," Long said. He suggested to not plant GMC in Vietnam in the next ten years.
Le Thi Phi Van from the Institute for Agricultural and Rural Development Policy agreed with Long. "GMC does not make remarkable difference in productivity. The fact shows that the productivity of GMC is even lower than that of normal crops after a period of time while they require the same amount of pesticide," she said.
Van added that it is dangerous because farmers will be dependent on seeding providers.
Tran Dac Loi, Vice Chair of the Vietnam Foundation for Peace and Development, agreed, saying that Vietnam needs to careful research genetically modified organism (GMO). According to Loi, transnational groups are the major force that promotes GMC and GMO technology.
He said that there are only 29 countries in the world use GMO. More people in these countries protest the use of GMO.
Loi cited an UN-sponsored report on global agriculture, which says that GMO does not contribute to food security, hunger alleviation and biology but it makes variety regression.
"The world's consumption trend now favors safe food," he emphasized.
Many scientists agreed with Loi that Vietnam needs to be careful with GMO.
A genetically modified organism (GMO) is an organism whose genetic material has been altered using genetic engineering techniques. These techniques, generally known as recombinant DNA technology, use DNA molecules from different sources, which are combined into one molecule to create a new set of genes. This DNA is then transferred into an organism, giving it modified or novel genes. Transgenic organisms, a subset of GMOs, are organisms which have inserted DNA that originated in a different species.
PV