VietNamNet Bridge - Vietnam gives big incentives for FDI enterprises with the expectation that they will perform technology transfer in the country, but the fact is that only 20% of foreign firms were engaged in technology transfer in the past five years.
Poor technology transfer from FIEs to domestic firms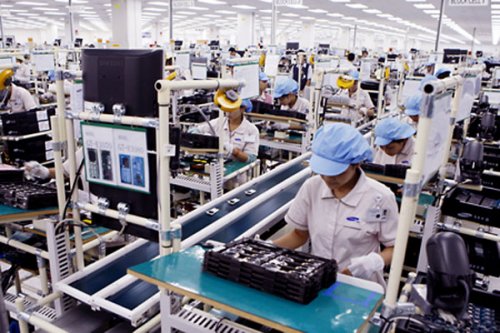 Dr. Nguyen Thi Tue Anh, deputy director of the Central Economic Management Institute (CIEM), said that there are many factors affecting the competitiveness of enterprises, including technology. Surveys conducted in recent years show that technology of Vietnamese enterprises has improved but improvement is low in comparison with the world and other regions.
According to the survey "Competitiveness and technology at the enterprise level in 2010-2014" by CIEM and a research team from the University of Copenhagen (Denmark), Vietnamese enterprises can realize the benefits of technological innovation, but they lack the capacity and resources to implement it. Among many reasons, the survey indicates that financial constraint is essential. It said there is lack of skilled labor and access to equipment.
Vietnam has rolled out the red carpet to welcome foreign investors, with the hope that they will transfer new technology to local firms. However, up to 80 percent of technology transfer in the past five years came from local firms.
Dr. Neda Trifkovic, from the University of Copenhagen, a member of the survey group, pointed out that in 2009, only 1% of technology was transferred from foreign-invested enterprises to domestic enterprises. The figure was 10% in 2013 and 35% in 2011 and 2012. But then it fell to about 30%.
"This trend can be explained mainly by the competitive nature of the relationship between domestic and foreign enterprises. The phenomenon of hampering local businesses is a concern because the strategy of domestic firms is often to rely on copying and adapting the experience of foreign enterprises, while foreign firms will not easily reveal their secrets," Dr. Trifkovic Neda said.
FDI attraction policy should be reviewed in terms of technology transfer
With the actual situation of technology transfer between foreign-invested enterprises and domestic firms mentioned above, the Deputy Ambassador of Denmark to Vietnam, Christian Brix Moller, said that Vietnam has high expectations for foreign firms in technology transfer, but in fact, local enterprises often transfer technology to each other more than foreign firms do to local ones.
"This is a very noticeable point for the policymakers of Vietnam to consider in FDI attraction policy because Vietnam has long emphasized technology transfer of foreign-invested companies to domestic enterprises," he noted.
Another notable point in technology transfer between foreign-invested firms and domestic enterprises in Vietnam is related to the mobility of Vietnamese workers.
The surveyed businesses said that the skills and experience of employees is an important source of technology transfer. Eighty-four percent of employees in the foreign-invested firms are Vietnamese, 15.5% are foreigners and 0.5% are returnees. The survey shows that the effect from technology transfer in Vietnam did not come from foreign sources, but from domestic enterprises in case transfer of workers is considered a channel of new technology.
Dr. Neda Trifkovic said the participation of foreign companies can lead to greater competition in the market, thereby it can increase the productivity of local firms by reducing inefficiency or productivity due to the reduction of market share. In fact, the level of competition is different in sectors. Some industries with high competitiveness (averaging 20 competitors) include furniture manufacturing, pharmaceutical industry, oil refinery, printing, and paper industry.
Dr. Neda Trifkovic also added that technology transfer in Vietnam took place primarily between domestic enterprises. It shows that foreign investment may not effective for technological advances in Vietnam.
"The lack of learning between foreign and domestic firms shows that Vietnam needs to amend its policies in attracting and managing FDI," he said.
Senior economic expert Pham Chi Lan said that according to many surveys, Vietnam's policies to attract FDI have some weaknesses.
Vietnam gives big incentives for FDI enterprises with the expectation that they will perform technology transfer in the country, but the fact is that only 20% of foreign firms are engaged in technology transfer. It means that Vietnam has given excessive incentives for these firms.
"They do not conduct transfer technology but they still receive preferences. Therefore, Vietnam needs to change the approach to the FDI attraction policies to avoid discrimination between FIEs and domestic enterprises," Lan said.
Linh Hai