VietNamNet Bridge - Ranked No. 7 of 101 countries and territories investing in Vietnam for the past five years, the United States has invested more capital in the country through new brands.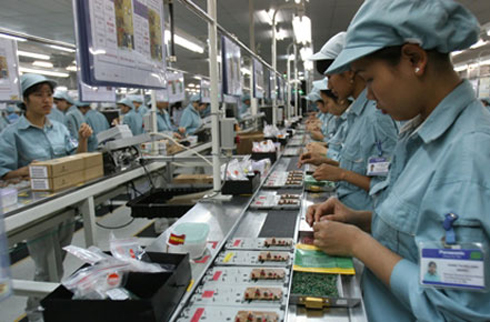 In late March, P&G started construction of a Gillette razor factory in Binh Duong province with $100 million. The factory will be completed in 12 months and will create jobs for more than 300 local workers.
According to P&G Vietnam CEO Emre Olcer, the group had considered the construction of a Gillette razor factory in neighboring countries, but finally they chose Vietnam.
The reason for this choice is because "Asia takes an important role for the group's future. And compared with other countries in the region, Vietnam is outstanding for the consumption potential and new opportunities".
More specifically, Vietnam has a high economic growth rate, young population and rising incomes.
The advantages have been confirmed by the two-digit growth of this group's brands in Vietnam, such as Ariel, Pampers, Downy, Pantene, Tide, and Head & Shoulders.
The advantages of TPP (Trans-Pacific Partnership agreement) (in the final stage of negotiation), low labor costs, favorable conditions in macroeconomics and consumption have encouraged a American companies to come to Vietnam for investment opportunities.
In 2013, only 22 US companies visited the country to learn about the business environment in Vietnam but in the first half of 2014, there were three business delegations, including many big corporations such as Boeing, Apple, AIG Exxon Mobil visiting the country. Most recently, a group of more than 30 enterprises of the US - ASEAN Business Council travelled to Vietnam to find opportunities for cooperation in the field of construction.
At a press conference in January 2015, US Ambassador to Vietnam Ted Osius spoke optimistically about the impact of TPP on the Vietnamese economy and US investment.
"The TPP agreement will allow the US to become the No. 1 investor and partner of Vietnam," he said.
During a visit to the Ford factory in Hai Duong on April 4, the US Ambassador said that the US and Vietnam were increasingly close and had more comprehensive cooperation.
This is motivation to elevate the relationship between Vietnam and the United States as well as to confirm the ongoing efforts of the United States for rebalancing relations in Asia - Pacific.
In the automotive industry, Ford is mentioned with serious investment and a positive contribution to the community. In 1997, Ford became the first foreign automaker with an automobile assembly line in Vietnam with an investment of $123 million.
In 2014, Ford invested an additional $6.1 million in its factory in Vietnam to prepare for assembly of the small SUV Ecosport.
In 2012 and 2013, despite the fall of Vietnam's automobile market, Ford Vietnam saw impressive growth with an increase of 71% and 69%, respectively, and was in the top three automotive brands in Vietnam.
In 2014, Ford continued to grow by 71%, with 13,988 vehicles sold. In the first four months of 2015, Ford Vietnam set a new record with 5,588 vehicles sold, maintaining its position as the fastest-growing automobile firm in Vietnam.
US investors are diverting investment from China to Vietnam. In late 2014, Microsoft shifted its smartphone factories from China to Vietnam.
To date, 39 production lines from plants in Komarom (Hungary), Beijing, Guangdong (China) and Reynosa (Mexico) have been moved to Bac Ninh province, turning Vietnam into a key point in the global supply chain of this group. With this shift, export sales of Microsoft Vietnam in 2014 reached $2 billion.
Microsoft has 15,000 employees in Vietnam but recently the company announced that it would invest $3 million in three years for staff development and support of young leaders in Vietnam.
Vu Minh Tri, CEO of Microsoft Vietnam, said: "We see Vietnam as a strategic market and for the long-term benefits. Besides offering software, devices and solutions, we proactively work with the government and the business community to support the development of technology, contributing to the development of skills and IT resources of Vietnam."
Intel is also disbursing $1 billion of capital in Vietnam. Sherry Boger, CEO of Intel Products Vietnam, said that since January 2014, SOC (system on a chip) products for tablets and smartphones of Intel have been produced at its factory in Vietnam.
The company has reached a capacity of 36 million SOC products a year and will increase to 40 million in the future. It is expected that by the end of 2015, 80% of the chips used in computers worldwide will be manufactured in Vietnam.
Sherry Boger said that Vietnam is an attractive destination for foreign companies, including Intel. Intel has closed its assembly/test site in Costa Rica to shift to Asia, including Vietnam.
In late 2014, dual-core CPUs for fourth generation computers were manufactured at Intel Vietnam factory.
Another American company, Jabil Vietnam (specializing in manufacturing electronic devices) is now located in Ho Chi Minh City Hi-Tech Park (SHTP) and it also plans to raise capital from $200 million to $1 billion to expand the scale of production.
In the field of food and beverage, large brands like KFC, Burger King, Pizza Hut, Starbucks, Coffee Bean & Tea Leaf, and McDonald's have opened and are developing in Vietnam.
According to the Foreign Investment Department (of the Ministry of Planning and Investment), as of February 2015, the US had 729 investment projects in Vietnam with total capital of approximately $11.035 billion.
US firms have invested in 17 of 18 fields and in 42 of 63 provinces. In the past five years, bilateral trade between Vietnam and the US has doubled, from $14.2 billion in 2010 to $36.3 billion in early 2015.
DNSG