VietNamNet Bridge - The Korean consortiums, such as LG and Samsung, are stepping up investment in Vietnam and see this as an important market to bring about more job opportunities and boost production.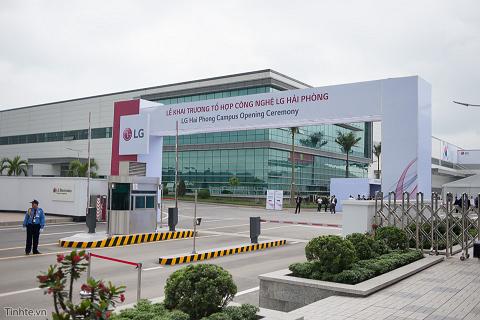 The 1.5bil LG Factory in Hai Phong.
Following Samsung, LG Group has launched a $1.5 billion factory in Trang Due Industrial Park in the northern port city of Haiphong. Along with Thai Nguyen and Bac Ninh, Hai Phong was dubbed by investors as the new "Silicon Valley" of Vietnam.
These days, the Facebook page of Trang Due Industrial Park is filled with recruitment information, especially from LG. It is expected that more than 20,000 workers will be recruited by this plant.
The race of Samsung - LG
In fact, LG seems to be late in comparison with Samsung in Vietnam, where Samsung Vietnam has had three factories with a total investment of more than $7 billion. But as one of the chaebols of South Korea, LG has made strategic attempts that are not inferior to Samsung.
Koo Bon-joon, Vice Chair and CEO of LG Group, said the combination of the new plants in Vietnam will be the largest in Southeast Asia and it will play a key role in the development strategy of LG across the globe.
Specifically, after two decades of development in Vietnam, the total investment of LG has increased five times compared with the original plan. In early 2013, LG announced to invest $300 million in the project, manufacturing electronic products and refrigeration appliances in Haiphong.
However, after conducting research and surveys, LG has decided to raise capital to $1.5 billion. This project will be built in 10 years. The phase one is from 2013 to 2017 with $510 million and phase 2 in 2017-2023 with $990 million.
Serving as the largest production base in Southeast Asia, in the first phase, the plant will manufacture and assemble electronic measuring equipment, digital radios for cars, cell phones, television sets, washing machines, air conditioners, vacuum cleaners ...
The annual capacity for each product will be millions of units, focusing on the premium segment and the intelligent product line. "In the first 5 years, more than 70% of products will be exported to 35 countries," said Koo Bon-joon.
Ten days before the opening of the complex in Haiphong, Reuters reported that LG Electronics would shift its TV production line from Thailand to Vietnam to ensure productivity, logistics and costs in 2015.
"Our parent company considered Vietnam the most appropriate country for investment. Salary is a factor but the main reason is to ensure quality as well as logistics operations, "said Mr. Nipon Wongsaengarunsri, Marketing Director of LG Electronics Thailand.
In Thailand, each year LG produced approximately 600,000 television sets, totaling $243 million and approximately 1/6 of the output is exported.
For Samsung, this brand has become familiar to the people of Vietnam. Many people even said that Samsung is part of the lives of the Vietnamese.
On a macro level, Samsung has the large export value of electronic products among foreign-run manufacturers in Vietnam and accounts for over 10% of the total export turnover of Vietnam each year.
Samsung has three factories in Vietnam, with a total investment of nearly $7 billion, including Samsung Electronics Vietnam (SEV) in Bac Ninh, SEVT in Taiyuan and Samsung Vina Electronics in Thu Duc District, Ho Chi Minh City. Most recently, Samsung CE Complex project with over $1.4 billion of capital has been approved and is expected to go into operation in the second quarter of 2016 at the Saigon Hi-Tech Park.
With four projects with a total investment of more than $8.4 billion, Vietnam has become an important production base in the global value chain of Samsung.
Recently, in a meeting with the Minister of Planning and Investment Bui Quang Vinh, Ha Chan-ho, former South Korean Ambassador to Vietnam, senior advisor of Samsung Group, said: "A very basic principle of Samsung when investing in Vietnam is beneficial for both sides or the spirit of win - win".
The issue of Vietnam
For Samsung and LG, it is no coincidence that they chose Vietnam to invest billions of dollars instead of Indonesia, Thailand and the Philippines.
Recently, the Government of Vietnam has attracted investors with the "red carpet" policy.
In 2014, after the Trang Due Industrial Park was allowed to merged with the Dinh Vu Economic Zone, FDI projects in this zone will enjoy corporate income tax exemption in four years, and 50% reduction for the next nine years. The tax rate for the first 15 years is only 10%. Thus, LG has enjoyed this big advantage.
Similarly, Samsung has received many preferences, such as corporate income tax of 10% in 30 years, 50% reduction in the next nine years, and preferential land rent. With four projects in Vietnam and maybe more projects in the future, Samsung even enjoys more favorable conditions than LG.
For Vietnam, its biggest "win" is the position of production base for Samsung and LG. This is an advantage to attract other major brands into Vietnam.
Another advantage is creating jobs for hundreds of thousands of workers. A recent survey of the International Labour Organization shows that, on average each month Samsung will pay a Vietnamese worker wages of about $353, 1/10 of that for a worker in Korea.
One more advantage for Vietnam is the chance of development for the country's supporting industry.
Mr. Koo Bon-joon said: "With this project, LG will promote technology transfer, and promote the development and modernization of the electronic industry in Vietnam. The localization rate is expected to reach 50% in stage 1."
Specifically, once LG project in Hai Phong is put into operation, it will offer an opportunity for local manufacturers.
With the localization rate that is expected to reach 50%, LG has turned the green light for domestic supporting manufacturers. Similarly, at the end of 2014, Samsung Electronics Vietnam (SEV) intends to buy 170 components and accessories from local suppliers for Tablet 7 inch and Galaxy S4 manufactured in Vietnam. Only batteries, SEV need about 400 million units per year.
However, local manufacturers' feedback was not very warm because they were afraid of failing to meet the requirements of SEV for technology and the cost.
The strategy to develop the local support industry in Vietnam has been carried out by the Ministry of Industry and Trade for a long time but due to various reasons, this sector have developed quite sluggishly. The opportunities offered by LG and Samsung are very valuable for its development.
Vietnam expects new wave of investment from RoK
Vietnam expects a new wave of foreign direct investment (FDI) from the Republic of Korea (RoK) in the wake of the recently signed bilateral free trade agreement (FTA).
The RoK surpassed major investors from Japan and Singapore to become the biggest investor in Vietnam with hundreds of projects in 2014 and the first four months of this year.
The RoK's Hyosung group, with two investment projects worth 995 million USD in southern Dong Nai province, has received an investment licence to implement an industrial yarn manufacturing project worth 660 million USD in the province, the largest FDI project in Vietnam in January-April.
Many other giants from the RoK such as Lotte, Samsung, Kumho, and Taekwang plan to expand their operations in Vietnam, which helped to attract hundreds of foreign investors to the Southeast Asian country.
For example, Samsung manufacturing complexes in northern Bac Ninh and Thai Nguyen provinces lured nearly 100 RoK suppliers.
Most recently, the RoK's ACE Technology met with authorities from northern Ha Nam province to discuss investment plans for a wireless aerial manufacturing plant for smart phones with a total capital of 70 million USD.
According to the Ministry of Planning and Investment, Korean investment projects were previously carried out by small-and medium-sized enterprises, focusing on garments, textiles and footwear.
Yet in present day, more multinational RoK groups are investing in Vietnam in high technology, electronics, real estate, manufacturing and trade. They accounted for only 5 percent of RoK's projects in the country but 70 percent of investment capital.
According to the Korean International Trade Association (KITA), the majority of Korean companies plan to expand business in emerging foreign markets in 2015 with Vietnam as the most favourite destination.
KITA's survey revealed that 49 percent of the 540 Korean businesses surveyed about the investment climate in 32 countries confirmed that they plan to expand operations in Vietnam this year in anticipation of opportunities presented by the free trade agreement.
As of April 20 this year, RoK investors owned a total registered capital of over 38.54 billion USD in 4,333 valid projects in Vietnam, according to the Foreign Investment Department under the Ministry of Planning and Investment.
NCDT/VNA