VietNamNet Bridge – Samsung, LG, Canon and Nokia of Microsoft all have relocated their production bases to Vietnam.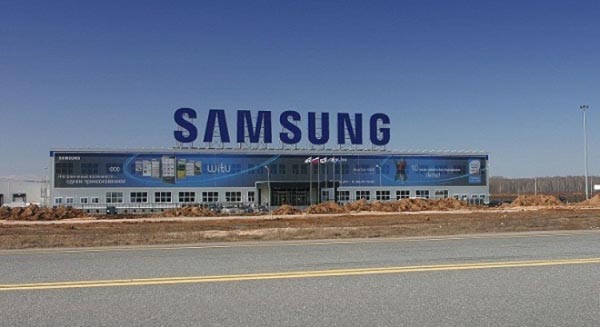 A factory of Samsung in Vietnam.

The South Korean Samsung Group is considering more investment projects in Vietnam. The giant's total investment in the country may reach $20 billion by 2017, according to the Ministry of Planning and Investment (MPI).
The ministry, it its latest report to the government, showed that in 2014 alone, Samsung poured $5.4 billion more into Vietnam, equal to 31 percent of the total foreign direct investment (FDI) registered by the end of November 2014.
This has made Samsung the biggest foreign investor in Vietnam with total registered capital reaching $12.6 billion so far.
Samsung C&T, a subsidiary of Samsung, has signed a memorandum of understanding (MOU) with the Ministry of Industry and Trade (MOIT) on the construction of the Vung Ang 3 1,200 MW thermal power plant in Ha Tinh province. The project, to be implemented under the mode of BOT (build, operation, transfer) has estimated capital of $2.45 billion.
Samsung has also shown its interest in the aviation sector, expressing its willingness to undertake some component projects of the Long Thanh International Airport in Dong Nai province.
The group is also considering setting up a shipbuilding complex in Khanh Hoa province, capitalized at $2.6 billion, which is expected to be one of the world's 10 largest shipyards.
Samsung is also the negotiating with the Vietnamese military telecom group about a project on bus management and smart healthcare systems in Vietnam.
The giant is also paying special attention to electronics projects. In July 2014, Samsung Display received an investment certificate for a $1 billion factory in Yen Phong Industrial Zone in Thai Nguyen province, specializing in making modern TV screen equipment.
Samsung Electronics has received the investment license for the Samsung CE Complex project in HCM City.
According to Nguyen Mai, a renowned analyst, some multinational groups have decided to leave China for Vietnam partly because of the significant preferences offered by the Chinese government to the country's technology groups.
Wait and see: economists
The news about the huge investment projects have been received by economists with a reserved attitude.
"Wait and see what they (the investors) will bring to Vietnam. It will not be good news if they only intend to set up low-tech assembling lines in Vietnam," an analyst commented, adding that what Vietnam wants is the source technologies, not the old machines and equipments.
As such, it is still unclear what benefits Vietnam would get from the huge investment projects.
Vu Tien Loc, chair of the Vietnam Chamber of Commerce and Industry (VCCI), noted that a lot of the "big guys" in the electronics manufacturing sector have been present in Vietnam for years, but the benefit Vietnam has received has been modest.
"In 2013, Vietnam exported $32.2 billion worth of electronic products, but the money was pocketed by FIEs, not Vietnamese owned," Loc said.
Dat Viet