VietNamNet Bridge – The first-ever Vietnam International Fashion Week ended after five formal nights (Dec. 1-5). The organizers – Multimedia Company – invited Singapore's FIDE Fashion Week experts to be advisors. This thorough and professional investment brought a new aspect for the event compared to the previous fashion weeks in Vietnam.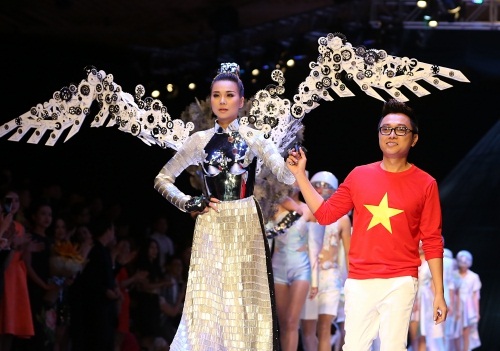 Supermodel Thanh Hang and designer Cong Tri.
Following the proper standards of international fashion industry, the event can be seen as a "weird food" for those who have a habit of going to fashion shows to see "long-legged girls" rather than clothes.
After the successful opening night with Cong Tri's collection, the later shows were all full, with 700 spectators.
The runway used during the fashion week was built in a minimalist style, accented with a giant conical hat amid the stage. The models had simple make-up and hair to honor the beauty of fashion. Most international designers and two Vietnamese designers – Cong Tri and Thanh Nga - used masks for their models in order to attract the audience's concentration on the costumes.
There was no artifice but the audiences were satisfied with the beauty of collections, blended with sound and light. Foreign designs like SongZio (South Korea), Tsolo Munkh (Mongolia), Roj Singhakul (Thailand), Antonio Grimaldi (Italy) and others were warmly applauded by Vietnamese audience.
The presence of foreign designers blew a new wind into the local fashion industry through their professional working style, and it added pressure on Vietnamese colleagues.
Well-known designer Cong Tri said he "sweated" when seeing the list of foreign designers attending the event but it was motivation for Cong Tri to create a collection that he said was one of his most complicated collections ever. Designer Li Lam also expressed her excitement in the "competition" with international colleagues.
Ms. Le Thi Quynh Trang, Chair of the Vietnam International Fashion Week, said: "This is not a playground, but it a real opportunity for designers. For international designers, we guarantee their rights by arranging separate meetings with the partners who specialize in distribution of famous fashion brands in Vietnam. This is the prerequisite to invite them to perform in Vietnam, a very small market for the fashion industry."
Besides the success, the event still had some problems.
A design by Ly Giam Tien.
The quality of collections was  unequal. Besides the collections of Vietnamese designers as Ly Giam Tien and Cong Tri that are highly regarded for the creativity, the others did not bring many differences.
Local designers were quite greedy when they introduced designs for daily life for performance and even wedding dresses. The collection of Hoang Minh Ha was considered perfect, meeting the criteria of high fashion but there were two designs borrowed from Dior.
Designer Le Thanh Hoa admitted: "Due to urgency and my greediness I put all the new ideas in the collection. After the show I received many comments and I quite regretted to not have much time to perfect my designs. However, this event has given me many lessons to develop my career in a more professional manner." Similarly, Hoang Minh Ha did not hide the influence of Dior in his designs, as this is his favourite brand.
The lack of a large number of professional models was also a big challenge for the event. There was no time to recruit more international models; the organizers had to use all available models in HCM City and Hanoi. Many new faces revealed their inexperience through their steps on the runway.
Ms. Quynh Trang admitted that lack of professional models was the biggest difficulty, but she confirmed that the organizers firmly said no to unprofessional models or famous models who had unreasonable demands.
"We want to create a venue where local designers not only communicate with their colleagues but also have the opportunity to look out to the world to learn from their foreign colleagues, to review themselves and to get exposed to a new concept of modern fashion so they can have the best development strategies in the future," Trang said.
It was not perfect but with what it has built, the Vietnam International Fashion Week promises to be a worth-waiting-for event for those who are interested in fashion.
T. Van