VietNamNet Bridge – The recent incident in which two Chinese contractors suddenly abandoned their contracts related to the Upper Kon Tum hydroelectric project has aroused great concern because this is one of many projects using Chinese technology and implemented by Chinese contractors. VietNamNet talks with Dr. Tran Dinh Thien, Head of the Vietnam Economics Institute, about this issue.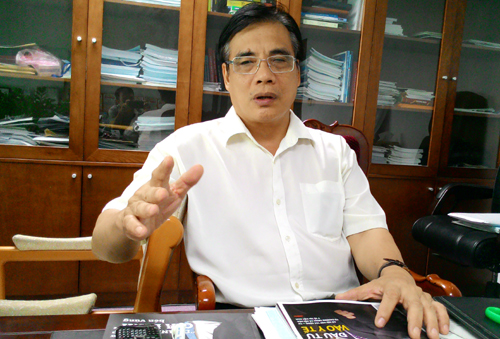 Dr. Tran Dinh Thien.
What do you think about the use of Chinese technology in Vietnam today?
We need to distinguish between technology imports from China and made-in-China technology.
China also has modern technology that is used in other countries. But the problem is that Vietnam only imports low quality and outdated technology from China.
China is the great factory of the world with the majority of products, including equipment, machinery, etc, all manufactured in China. Foreign investors flock to China to produce goods, and that is "in China", not "by China".
China also encourages Vietnam to purchase technology and machinery at cheap prices, which drives the "movement" to build cement blast furnaces, sugar factories and thermal power plants in Vietnam.
How can Chinese contractors easily win tenders of most big projects in Vietnam. Is it a simple way of offering lower prices to win the bid and then adjusting capital during the construction process?
It's our fault. We have allowed gaps for Chinese contractors to do so. The risk here is the turnkey model.
There is nothing to guarantee that after two years of warranty, the works built by Chinese contractors can run well. I've heard about some factories that could not run after the warranty time.
Objectively, our mechanism is too loose and has many loopholes, which are exploited by contractors.
What are the long-term economic consequences of this situation?
In the long run, it makes the process of modernisation of the country longer. The Ha Noi - Ha Dong urban railway project was delayed for three years. Assuming that this project is a strategic axis of the country's industrialization – modernization policy, our process has been delayed for a few years.
This is a trick of competition to make the rival lose in terms of time.
If you are slow, you can be rejected from the game. The construction of power plants, and of the Hanoi-Haiphong highway, is slow and it makes the process of industrialization slow. We promote industrialization, and attract foreign investment, but if we cannot supply sufficient power for that process and for investors, our image will deteriorate. Delays in technology bring about terrible consequences for our development.
It is difficult to blame Vietnamese enterprises, but frankly, the use of technology by Vietnamese enterprises is very poor.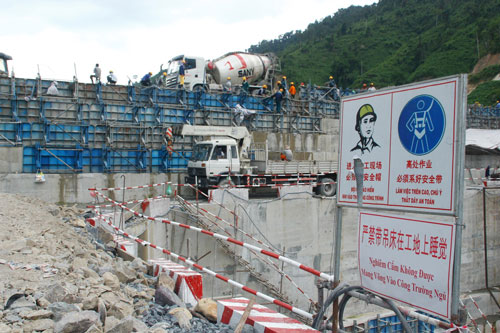 The construction site of Bung River hydropower project in Quang Nam province, implemented by Chinese contractors.  Photo by Petrotimes
Vietnamese enterprises only choose cheap technology. This issue is related to policy: firstly, the exchange rate policy only encourages imports, and it does not encourage production, so it will not encourage the imports of good technology.
For years, stable exchange rates and high inflation have led to a negative thing: encouraging imports, discouraging domestic production and competition, as well as technology imports.
Thus, the role of the state is to change the short-term approach and to set the orientation of technological change.
In 2012, the Chinese government published a list of thousands of factories using outdated production lines which must be eliminated. So, one way to deal with the outdated technology is sell them to Vietnam?
They do not want to lose all and try to sell backward technology to other countries.
Vietnamese enterprises must be aware of long-term benefits. The time to grab quick profits and run has passed.
The State must ensure a good business environment so businesses can make good choices and compete in a transparent way and encourage businesses to buy good things.
The Government should give a signal, so that enterprises can recognize the consequences of imports of outdated technology. The Government should also have policies to protect the environment by monitoring outdated technology.
Trung Ngon