VietNamNet Bridge - After Mr. Pham Nhat Vuong, the following names are said to be the most outstanding candidates for the second dollar billionaire of Vietnam.
On September 17, Wealth-X and UBS (Swiss Bank) released the report "Billionaire Census 2014". In particular, Vietnam has two billionaires with total assets of approximately $3 billion. One of the two names is confirmed to be Mr. Pham Nhat Vuong, Vingroup chairman, who was included in the list of Forbes billionaires for two consecutive years, with assets estimated at $1.6 billion (announced in March 2014).
The other name is still a secret. The following faces are said to be the brightest candidates to become the second dollar billionaire of Vietnam.
Mr. Ha Van Tham - Chair of Ocean Group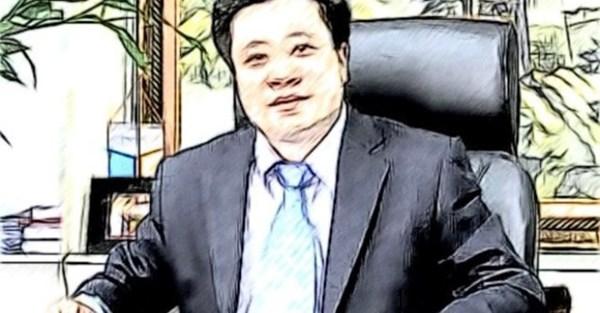 Tham is one of the top 10 richest people on Vietnam's stock market. After six years of establishment, Ocean Group has chartered capital of VND3 trillion, an increase of 300 times. A series of mergers and acquisitions have helped the Ocean Group to rapidly emerge as a leading conglomerate.
Tham is also Chairman of the Ocean Bank, Chairman of Ocean Hospitality, Chairman of Ocean Retail, a former member of the Board of Directors of the Vietnam Dairy Products Joint Stock Company (Vinamilk) and the VS Industry Vietnam.
Currently, the Ocean Group operates in various fields, from real estate to hospitality, finance and communications. In particular, real estate has been identified as the group's strategic business with huge projects in Hanoi, Ho Chi Minh City, Nha Trang, Da Nang, Vinh, and Quang Ninh. Some well-known projects are VNT Tower Nguyen Trai, StarCity Le Van Luong, and StarCity Center.
In the field of hotel business, the group has Ocean Hospitality (with chartered capital of VND1 trillion), which owns the hotel and resort chain StarCity, and Sunrise of 4- and 5-star standard.
In the financial sector, the group has Ocean Securities with a charter capital of VND300 billion, and the Ocean Bank. In the media sector, it has the Ocean Media.
Currently, Ocean Group holds 20% stake in Ocean Bank, 75% of the shares of Ocean Hospitality, 75% stake of Ocean Securities and 50% stake of Ocean Media.
Ocean Hospitality owns 96.92% stake in Saigon Givral, 74% of the shares of IOC, 62% stake in Tan Viet JSC, 83% shares of Suoi Mo Tourism JSC. It and owns the most famous ice cream brand in Vietnam - Trang Tien.
Holding a large fortune at Ocean Bank, Ocean Hospitality, Ocean Securities and others, and assets of private enterprises as Ha Bao, VNT Ltd, Thang Long Ocean, or Ocean Mark, Tham is likely to be named the second dollar billionaire in Vietnam after Pham Nhat Vuong.
Businesswoman Nguyen Thi Nga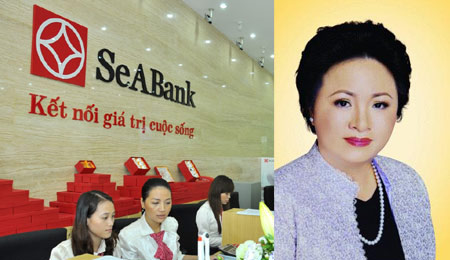 Dr. Alan Phan in early 2014 said that Mrs. Nguyen Thi Nga, Chair of Southeast Asia Commercial Joint Stock Bank (SeABank), will become the next dollar billionaire of Vietnam if she makes public her assets. Recently, a number of entrepreneurs and financial experts also agreed with Alan Phan.
On the list of "The powerful female entrepreneurs in Asia 2014" by Forbes, Nga numbered 29, and is one of the richest female entrepreneurs in Vietnam. She is currently the chair of SeABank, which has assets of $3.6 billion, of which the French bank Societe Generale holds a 20% stake.
Nga is also chair and CEO of the King Valley Company Limited, the platform for her to build BRG Group - operating in the fields of finance, banking and real estate.
The BRG Group led by Nga includes: SeABank, King Island Golf Resort (Son Tay District, Hanoi), Do Son Seaside Golf Resort (Hai Phong), Legend Hill Golf Resort (Soc Son District, Hanoi), Hilton Hanoi Opera hotel, and Hilton Garden Inn. Nga has also been the chair of Intimex Vietnam Corporation since 2009.
Masan Chairman Nguyen Dang Quang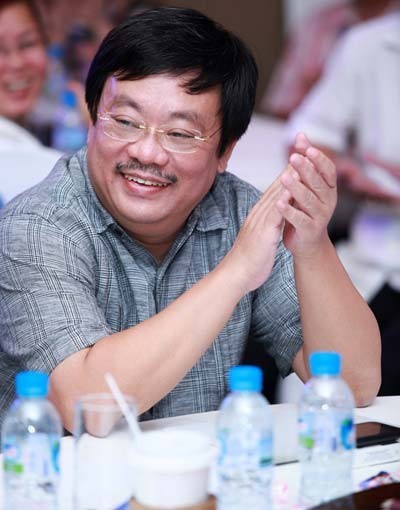 Nguyen Dang Quang is considered a candidate for the title of the second dollar billionaire of Vietnam, although he owned only 10 units of Masan shares worth VND830,000 ($40) by September 16. In fact the total value of shares of the companies owned by this man and the property and on the stock market owned by his family has surpassed $1 billion.
Specifically, in addition to 10 Masan shares (MSN), Quang also holds 23,000 shares of Masan Consumer (MSF) and 2,855 million shares of Techcombank (TCB). The total value of Quang's shares on the securities floor on September 16 was VND27.26 billion. The shares owned by Quang's wife and mother are worth nearly VND2 trillion.
Most notably, among the current shareholders of MSN, a company led by Quang owns 34.03% stake of Masan. If taking this volume of stock into account, Quang and his family hold securities valued up to toVND22.8 trillion or about $1.1 billion.
Quang was born in Hanoi and obtained a doctorate in nuclear physics in the Soviet Union. Returning to Russia after two years living in Vietnam, he established a company producing instant noodles and chili sauce. In 2001, he brought this firm to Vietnam and is currently the Chairman and CEO of Masan Group, the company with a market price of more than $3 billion in 2013.
Chairwoman of Hoan Cau Group - Tran Thi Huong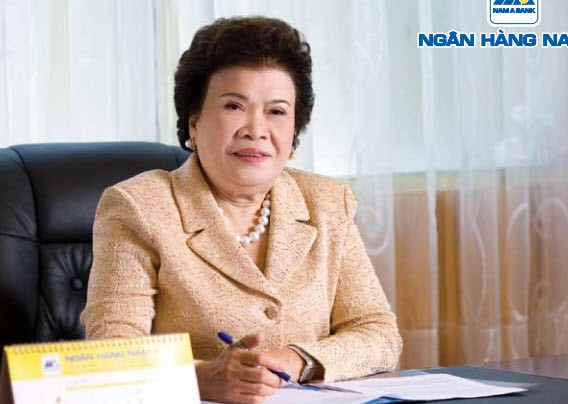 Mrs. Tran Thi Huong was born in the central province of Binh Dinh. She is considered one of the wealthiest female entrepreneurs in Vietnam. At the age of nearly 80, she still holds the highest position in a corporation with dozens of subsidiaries and investment partners. She is also a counselor at the South Asian Bank, where her three children take turns holding the highest position in the Board of Directors. Though her ​​fortune has never been disclosed, Huong is believed to be one of the richest persons in Vietnam.
Huong used to work as a tailor, then married and started a business in the industrial sector (within 5 years). She quickly got rich thanks to real estate. In 1993, she founded the Hoan Cau Ltd., specializing in the fields of real estate and construction materials. This business has 10 subsidiaries, with total charter capital (as of 2010) approximately VND6 trillion. In 2008, to host the Miss Universe pageant, Huong spent about $65 million in the Diamond Bay Resort and events around the competition.
In the 90s, Huong was known for two business deals in the drinks industry, including the $15 million investment to build the Vinagel brewery and then sold it to San Miguel for $25 million. She later spent $5 million to build a soft drink plant and sold it to Lipovital for $17 million.
Chairman of Him Lam Group - Duong Cong Minh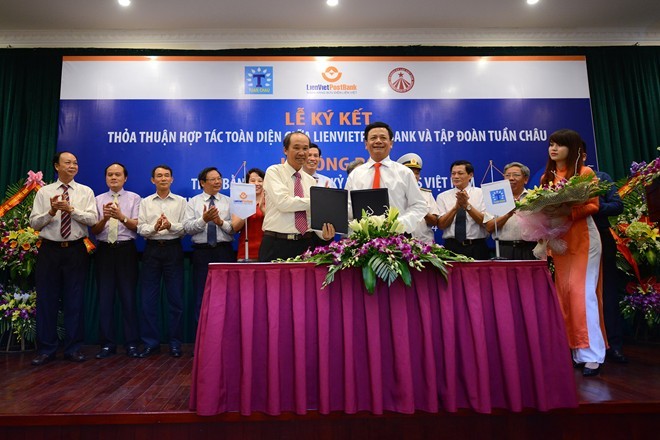 Mr. Duong Cong Minh (left).
Duong Cong Minh is best known for his role as the owner of the .Him Lam Corporation, a large real estate company in Vietnam, and chairman of the Lien Viet Post Bank, as well as the Lien Viet Securities. Minh is not very popular in the media so the value of his fortune is unknown.
According to a 2009 report, Him Lam Corporation had chartered capital of VND6.5 trillion, of which Minh owned 99%, equivalent to about VND6 trillion.
In addition to the Chairmanship at Him Lam, Minh is also Chairman of the Lien Viet Securities (LVS), Lienvietpostbank and Lien Viet Holding. At Lien Viet Holding, he holds about 31.3 million shares and about 80.4 million shares of Lienvietpostbank through Him Lam Group, equivalent to 12.5% of the capital. According to the annual report of Lienvietpostbank, this bank has chartered capital of VND6.46 trillion.
What makes the difference Him Lam Group's boss is his charitable works. He has spent thousands of billion of dong on charitable activities in Vietnam, particularly to build schools.
Na Son