VietNamNet Bridge - The so-called Chinese nominal sovereignty over the islands in the East Sea was rejected by the international community at the San Francisco Conference in 1951, which consisted of 51 participating countries.
Part 1: Ancient records show Vietnam's sovereignty over Hoang Sa - Truong Sa

Part 2: Vietnamese emperors claimed sovereignty over Hoang Sa, research shows


Part 3: Nguyen Dynasty rescued French vessels in East Sea

Part 4: Western witnesses of Vietnam's sovereignty over Hoang Sa

Part 5: Hoang Sa - Truong Sa belong to Vietnam: Chinese documents

Part 6: Vietnam's sovereignty over Hoang Sa in the French colonial period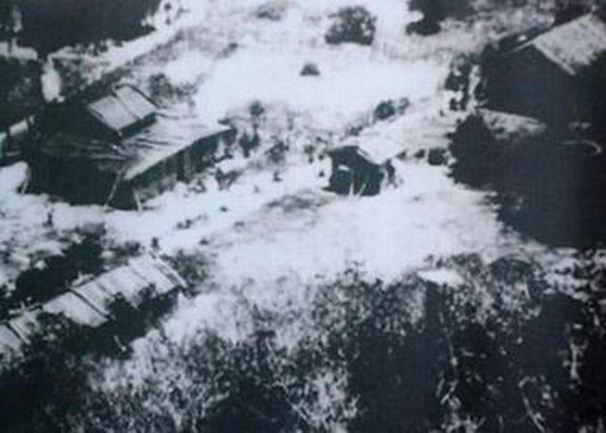 Vietnam's administrative headquarters in Hoang Sa (Paracel) Islands before 1945.
On April 29, 1932, the French government sent a protest showing the evidence of Vietnam's possession of the Hoang Sa (Paracels) and Truong Sa (Spratlys) Islands. Then, for the first time France "invited" the Republic of China to the international arbitration court, but China immediately claimed it an "indisputable fact".
On April 13, 1933, a warship of the French naval forces in the Far East under the command of Lieutenant Colonel De Lattre left Saigon for the Spratly Islands. An appropriation ritual of Western tradition was carried out. A document was drafted and signed, with 11 copies.
In 1934 - 1935, the Ministry of Foreign Affairs and the Ministry of Interior Affairs of the Republic of China silently named Vietnam's Truong Sa Islands as Zhongsha and literally transcribed 124 reefs and islets of Hoang Sa and Truong Sa into Chinese names, such as Dongsha, Xisha, Nansha and Zhongsha.
The French immediately stepped up investment in building more modern infrastructure facilities in Hoang Sa. After the survey of the Nha Trang Institute of Oceanography and Fisheries, in 1938 France sent security units to the islands to begin construction and management on these islands.
On Ba Binh and Phu Lam islands of Hoang Sa, a meteorological station, a sovereignty stele, a lighthouse, and a TFS broadcast station were built. Public officials who were assigned to work in Hoang Sa were provided with houses and other facilities to take their families to the islands.
Every month there was a ship from the mainland carrying food to them.
Also during this period, China drew new maps and named islands in Hoang Sa and Truong Sa in Chinese, which were changed constantly after that.
By 1938, Hoang Sa was closely managed by the French. The Republic of China did not aggressively claim for sovereignty as before but still stubbornly claimed their "indisputable sovereignty" over the islands.
In 1939, the war spread throughout Asia. Japan entered Indochina. To expand the territory, Japan asked France to hand over Hoang Sa; France objected. The British supported France, protesting Japan's ridiculous claim.
After Japan overthrew France in Indochina, all Vietnamese and French civil servants and soldiers in Hoang Sa were taken prisoners. Hoang Sa became a logistics base of Japan, which was used to serve the war in East Asia.
On August 19, 1945, August Revolution achieved success. On September 2, 1945, the Democratic Republic of Vietnam was established; President Ho Chi Minh read the Declaration of Independence at the Ba Dinh Square, ending French colonial regime.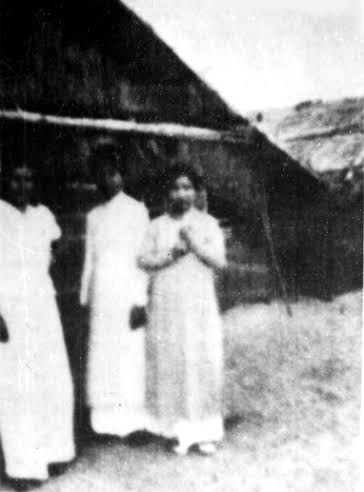 The wives of Vietnamese public servants on Hoang Sa. File photo.
After the Japanese were defeated, the French returned to Vietnam again. At the Allies' decision, Chiang Kai-shek army took over the north of the 16th parallel. France and China continued the dispute over Vietnam's Hoang Sa and Truong Sa.
Japanese troops withdrew from Hoang Sa and Truong Sa in 1946. The French returned to Vietnam, and immediately sent troops on the Savorgnan de Brazza vessel to replace Japanese troops on the islands from May 1946.
However, this unit stayed on the islands for a few months. During the period from May 20-27, 1946, Admiral D'Argenlieu, High Commissioner of Indochina, also sent the L'Escarmouche vessel to survey the situation on the Hoang Sa (Pattle) Island of Hoang Sa Archipelago.
While the French army and the Democratic Republic of Vietnam government led by President Ho Chi Minh were busy dealing with a full-scale war, a special fleet of the Republic of China left the Wu Tung Port on October 9, 1946 to Hoang Sa and Truong Sa.
The Republic of China then garrisoned Phu Lam Island in Hoang Sa in 1946 and posted Chinese flags and markers on it, France tried, but failed to make them leave Phu Lam. It then sent French and Vietnamese soldiers to garrison the Pattle (Hoang Sa) Island. In December 1947, the Republic of China drew up its map showing its U shaped claim on the entire East Sea, showing Hoang Sa and Truong Sa in Chinese territory.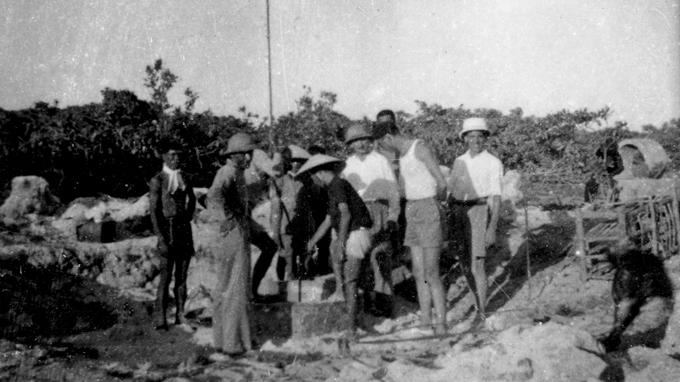 Digging wells in Hoang Sa in 1938.
In April 1949, chief of state Bao Dai's office head, Prince Buu Loc, in a press conference in Saigon, reaffirmed the sovereignty of Vietnam on Hoang Sa.
On October 1, 1949, the People's Republic of China was established in mainland China and the Republic of China, led by Chiang Kai-shek retreated to Taiwan.
In April 1950, soldiers of the Republic of China withdrew from Phu Lam Island. But the French were still stationed in the Pattle island. In 1954, France officially handed over the management of Pattle island to Vietnam.
Earlier, on October 14, 1950 the French government handed over Hoang Sa to the Bao Dai government. Premier Phan Van Giao presided over the transfer of power in Hoang Sa Islands.
The San Francisco Conference, with the participation of 51 nations, took place from September 5-8, 1951 to sign the Treaty of Peace with Japan. On September 5, 1951, at the plenary meeting, Foreign Minister Gromyko proposed 13 clauses. The clause relating to Japan's recognition of the sovereignty of the People's Republic of China over Hoang Sa and other islands was rejected with 48 no votes and 3 yes votes. Thus, the so-called nominal sovereignty of China over the islands in the East Sea was rejected by the international community within an international conference.
On September 7, 1951, at this conference, Prime Minister cum Foreign Minister Tran Van Huu of the Bao Dai Government solemnly declared that the Hoang Sa and Truong Sa Islands are Vietnam's territory: "Et comme il faut franchement profiter de toutes les occasions pour etouffer Germes de discorde, affirmons nous sur nos droits et les Îles Spratley Paracels rules ont fait partie de tout temps du Viet Nam ".
To be continued…
Duy Chien