VietNamNet Bridge – Homosexuality has been mentioned in Vietnam for a decade. Though it is not officially recognized, "the third world" has become a part of the Vietnamese society. However, it would be a long way for homosexual marriage to be recognized by the law.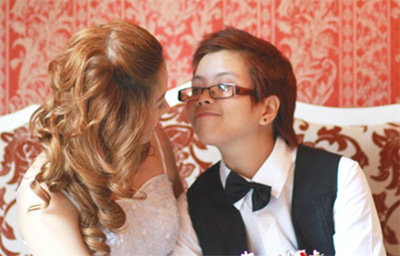 The wedding ceremony of Minh Quang and Thuy Linh in Hanoi in December 2010.
In late 2010, a video clip of a wedding ceremony of two women in Hanoi was posted on the internet. The video immediately caused a stir in the online community and the public. This is the first homosexual couple who organized the first public wedding party in Vietnam. In early June 2010, a gay couple in HCM City organized their wedding publicly.
The two homosexual weddings highly attracted the public. Some said that these are good signs for an opener society. Some others argued that this is ebullience and imitation of some young people.
VietNamNet discusses this issue with experts.
Le Quang Binh, Director of the Institute for Social, Economic and Environmental Research:

Homosexual love and marriage are still "sensitive" in Vietnam, with different opinions. This issue has especially captured the public's attention after the weddings of two homosexual couples.
There are two noteworthy viewpoints: National Assembly deputy, Prof. Nguyen Minh Thuyet said that Vietnam should have the law on homosexual marriage soon, while Doctor of Sociology Trinh Hoa Binh, who said that homosexuality is not recognized in Vietnam yet and it is necessary to "analyze to help them understand that they have mistaken, aped of homosexuality… and then gradually getting them back to normal".
The two above viewpoints are spoken out by two prestigious people in society and they are posted on the media so they certainly make influence to the society. I think we need to make clear analysis about this.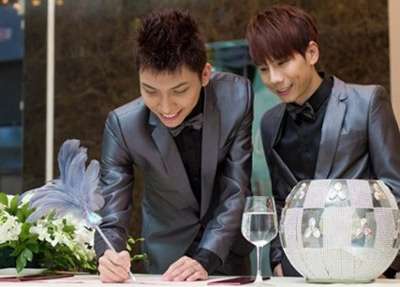 The wedding party of Pin Okio and Nel Fi in HCM City on June 4, 2011.
Dr. Khuat Thu Hong, Co-director of the Institute for Social Development and Research
: It is a high cost to be a gay or a lesbian in Vietnam. Why do they have to accept social discrimination or even their parents' abandon to be gays or lesbians? Why they have to pay for that if they do not really want it. There are homosexual people in Vietnam confined and even beaten by their parents when the parents discovered the truth.
Dr. Le Bach Duong, Co-director of the Institute for Social Development and Research
: in Vietnam, information on the media is mainstream, which is very influential in society. If reporters are not cautious in reporting news about homosexuality, homosexual people could be seen as second-grade citizens, who have troubles with morality and are dangerous for the society.
From the two recent same-sex marriages, discussions on whether our society accepts this or not and if it is accepted, is there any legal framework for it?
Both the two above viewpoints by Mr. Thuyet and Mr. Binh; we need further scientific analysis. Personally, I think Mr. Binh's statement is groundless and anti-scientific when he said that. It is necessary to analyze to help them understand that they have mistaken, aped of homosexuality… and then gradually getting them back to normal.
This is very dangerous, which can lead to the intervention of the state, the society and families to the life of homosexual people, which is very offensive for them.
Prof. Thuyet's opinion is worthy for discussion because it is a real issue of the today society.
Q: The US has open viewpoints and same-sex marriage has been discussed in this country for a long time. Until June 24 2011, same-sex marriage wasn't officially recognized in New York. Is it too early to discuss it in Vietnam?
Dr. Khuat Thu Hong
: there are a lot difference in social and cultural institutions between Vietnam and the US. In Vietnam, people's knowledge of sex in general and homosexuality is still limited.
In Vietnam, lack of knowledge is the major hindrance for the legalization of same-sex marriage while in the US, it is religion. Many states in the US have strict religious viewpoints. For example, Catholics protests same-sex marriage. The recognition of same-sex marriage in some states depends on the will of local constituents. The fact in the US is not related much to social and scientific aspects but political aspect.
Dr. Le Bach Duong: Vietnam is not influenced much by religions like in the US. Vietnamese are mainly Buddhist followers. I see the viewpoint of Buddhism is very flexible, not distinguishing clearly between right and wrong. "There is black in white and white in black". I believe that recognizing a new conception will not face big hurdles.
Dr. Nguyen Thi Thu Nam, Institute for Health Strategy and Policy: There are organizations protesting same-sex marriage and homosexuality in even the US and Canada. In these countries, conflicts of belief, religions and human being values are even harsher than in Vietnam.
In Vietnam, many people still question whether homosexuality is a disease and can it spread in the society?

Though same-sex marriage has just become legal in New York but in 1973, the American Psychological Federation rejected homosexuality from the list of mental diseases. The World Health Organization did the same in 1980.
Q: Do you think of social response when you publicly support same-sex marriage?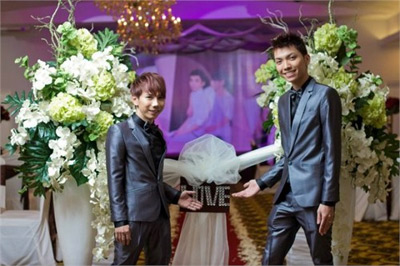 Dr. Khuat Thu Hong
: Bastard children were not legal in the past. Only children of legal couples were granted with birth certificates. But the society has changed and children born out of wedlock have been recognized and protected by the law like others.
People make laws so the law needs to be amended to meet the development of the society. It is like a growing-up child who needs new shirts. There is no law that satisfies all but it does not mean that it cannot be changed.
Dr. Le Bach Duong
: there is a fact that many clubs for homosexual people have been opened in many provinces and cities in Vietnam, sponsored by local health departments. It means that the Health Ministry does make it legal but relevant agencies understand and they have open moves.
Dr. Nguyen Thi Thu Nam
: The law is to protect people's interests. There is still misunderstanding and wrong actions against homosexuality. It is not appropriate to a civilized society.
Q: But long-standing conception of Vietnam in particular and Oriental culture in general is marriage to have children to maintain race. If same-sex marriage is legalized, it will be contrary to this traditional conception?Dr. Le Bach Duong
: Law-makers often complain that homosexuality raises difficulties for them. But I think law-makers cause difficulties for themselves.
Homosexual people are not subjects who disturb or harm our society. Once same-sex marriage become legal, it would help homosexual people to live in more responsible and stable manner.
Dr. Nguyen Thi Thu Nam
: The two first same-sex weddings urge people to think seriously of the value of same-sex marriage. In fact, there are many homosexual couples live together as families. It shows their need to make commitment of long-term marriage.
Dr. Khuat Thu Hong
: Homosexual people who want to get married are very responsible. They want to be equal like others. Moreover, there is a very small ratio of homosexual people in our society so we do not have to be worry of maintaining race. We can still have enough children and with the development of medical sciences, homosexual couples can still have their own children.
I think social conception will gradually change because any conception must serve people's happiness.
Gays and lesbians are part of our society and they wish to be recognized by the society and be equal with others; and we, sociologists, think that it's time to change. The law needs to be change to catch up with social development.
Hoang Huong