VietNamNet Bridge – Officials may extend the deadline for overseas Vietnamese to register for local citizenship. They may also make it easier for people who want to restore their citizenship.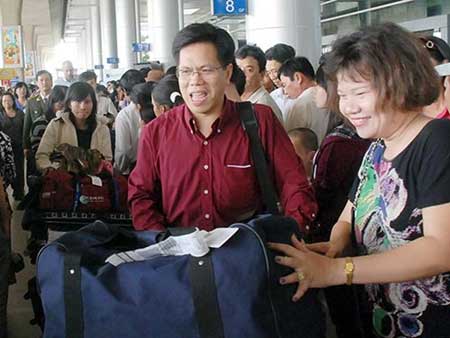 According to the Ministry of Foreign Affairs, so far only 6,000 overseas Vietnamese have registered.— Photo nld
Overseas Vietnamese risk losing their Vietnamese citizenship if they do not register by July 1, according to the Law on Vietnamese Nationality.
The law, effective from July 1, 2009, stipulates that overseas Vietnamese must register with overseas Vietnamese representative missions to retain their Vietnamese nationality within five years after the effective date of this Law.
According to the Ministry of Foreign Affairs, so far only 6,000 overseas Vietnamese have registered.
Currently, registration must be carried out by July, this year. Those who lose Vietnamese nationality must carry out tedious procedures if they want it restored.
Nguyen Minh Thong, vice chairman of the National Assembly Standing Committee on Legal Affairs, said that the committee had asked the Government to present the issue for discussion at the general session in May.
"We want to make sure in all cases that overseas Vietnamese can still maintain their relationship with the country," he said.
Earlier on Tuesday, during a meeting of the Ministry of Justice, ministry officials said they were gathering ideas from ministries, sectors and overseas Vietnamese on the issue.
Nguyen Cong Khanh, head of the Justice Ministry's Department of Civil Status, Nationality and Authentication, said that it was necessary for overseas Vietnamese to register if they wanted to enjoy citizenship rights.
However, Khanh noted that in some countries where only one citizenship is allowed, few have chosen to retain their Vietnamese citizenship.
He said amending the Law on Nationality would take time, but some short-term solutions would be used to extend the deadline. They would also make sure that those who wanted to restore their citizenship could easily do so, even online.
Khanh said before recommendations were made to Government, a meeting would be held next week between the Minister of Justice Ha Hung Cuong and the Foreign Affairs Ministry and Public Security Ministry on the issue.
Source: VNS