VietNamNet Bridge – War forced them to face off nearly four decades ago, but today this Vietnamese former pilot and the man he once aimed his missiles at have become close friends.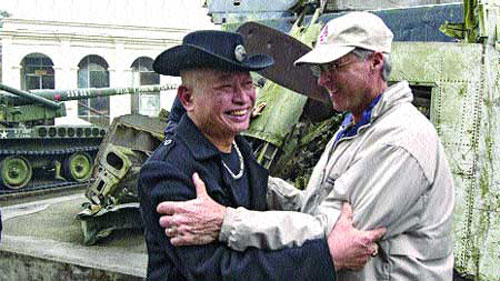 From enemies to friends: Former fighter pilots and ex-enemies Nguyen Hong My and John Stiles reunite after nearly four decades in the Viet Nam Military History Museum in Ha Noi. 
Fighter pilots and ex-enemies, Nguyen Hong My and John Stiles, with similar fates, reunited after nearly four decades in Ha Noi and unexpectedly become close friends.
Both men, during their youth, used to be closely associated with jet fighters flying across the skies of North Viet Nam; and both were once shot down and had near-death experiences.
Yet, there is only one difference that the war pushed them towards opposite sides and forced them to become unexpected enemies.
A Vietnamese and an American stood for a long time amongst the remnants of jet fighters, bomb shells, artillery pieces, and radar stations that are on display in the Viet Nam Military History Museum.
Retired Air Force Lieutenant Colonel Stiles paid special attention to the anti-aircraft guns, which he believed to have shot down his F-4 aircraft.
With memories of the brutal war still alive in his mind, he described to the other visitors how destructive was each kind of bomb that the Americans dropped in North Viet Nam.
It was also the first day that Stiles officially took his first steps into Viet Nam. Welcoming him was Former Colonel Nguyen Hong My, the pilot who shot down his jet on January 1, 1972, the day marking the start of a lifelong predestination between two people from opposite sides who used to fight for life in the same skies.
The war was fierce in early 1972. After being shot by a Soviet MiG-21 jet fighter piloted by My, Stiles was lucky to escape by parachuting to the west of the mountainous area in the central province of Nghe An. Stuck amid the trees for two days in the forest, he could only wait and watch, for either an American rescue helicopter or death.
At that time, he only thought about returning home alive. But hours of being stuck in the trees and continuous bombing attacks haunted him for several years thereafter.
In 2007, the American Air Force conducted war reviews and wanted to find the first person who shot down the American aircraft in 1972.
"The Viet Nam People's Air Force could only provide my name. I was released from service in 1974 and retired after that. The search team came right at my doorstep, and then, in 2008, I was invited to Ho Chi Minh City where I met an American, who was also a general in the American Air Force. It was such a rare coincidence because that American, named Dan Cherry, also shot me down in April 1972," recalled My.
In 2009, the first Vietnamese to shoot down an American aircraft in 1972 was invited to America to receive the recognition of Colonel of Honour in Kentucky. It was also the first time My met the pilot of the F-4 jet that he had shot down.
Meeting and talking to My, all the doubts and memories that kept obsessing Stiles over the years were dissolved. He said he believed for the past 37 years that he was shot down by a surface to air missile, until he met My in person and had the opportunity to clarify how the incident happened.
"John [Stiles] asked me in what situation I shot down his F-4, how I discovered it, and the moment it fell down. After I answered all his questions, John happily noted that it took him 37 years to thoroughly understand how that moment occurred. I also had to explain to him that in the north of Viet Nam, when the air force was fighting, the air defence force on land would stop fighting and vice versa," My said.
'We are friends'
The meeting with My in 2009 put an end to Stiles's past obsessive memories, and simultaneously brought him a new friend that he intimately calls "cowboy".
Stiles said that they had reconciled with each other and My has become his very dear friend.
"My is really a good friend of mine. He really impressed me at our first meeting and has visited me every year since. We have visited Vancouver, Washington and some other places together," Stiles added.
Fierce fighting
On January 17, 1972, a Soviet MiG jet fighter, with the call sign 5018, piloted by Nguyen Hong My took off from the Da Phuc Airport (which is presently Noi Bai International Airport).
"On that day, I spotted an F-4 jet fighter [piloted by John Stiles]. Our dogfight started from the northern province of Hoa Binh to the central provinces of Thanh Hoa and Nghe An," retired Colonel Nguyen Hong My recalled.
At that time, the speed of my MiG reached about 1,500 kilometres per hour. Arriving at Nghe An, I fired my last two missiles into the enemy's aircraft before flying back. Running out of fuel, I had to make an emergency landing at the Tho Xuan Airport in the central province of Thanh Hoa.
Due to the fierce dogfight, Pilot My broke his hand and could not recover to fly again during the war. In 1974, he was discharged from service.
On March 2, 2014, Stiles visited Ha Noi. His former enemy and current friend welcomed him with traditional pho noodles and coffee by the Sword Lake.
Like old friends, Stiles shared with My stories about a new member of his family, his mischievous niece and his day-to-day stories. They also had a lively chat about the old pictures on their iPads. Regular trips between the two countries since 2009 have brought Stiles closer to My's family and vice versa.
Although it was raining in Ha Noi, Stiles showed his excitement by visiting Hoa Lo Prison, Viet Nam Military History Museum, and B-52 Museum on motorbike. For Stiles, this was not simply a pleasure trip, but also a travel back in time. In Hoa Lo Prison, popularly dubbed the "Ha Noi Hilton", he walked past the cells where many American pilots were detained.
He never liked the Hoa Lo Prison as it made him feel sad.
However, he spent more time visiting the Viet Nam Military History Museum and B-52 Museum, where many remnants of aerial warfare on display.
Standing amongst the remains of the aircraft and lethal weapons, he said that he would return to Viet Nam because he loved the country's wet climate, traffic jam, and especially, his "cowboy" friend.
He plans to return to this country, to which he now has a fond attachment, and visit his close friend again.
Source: VNS