Bach Mai hospital saves life of baby with measles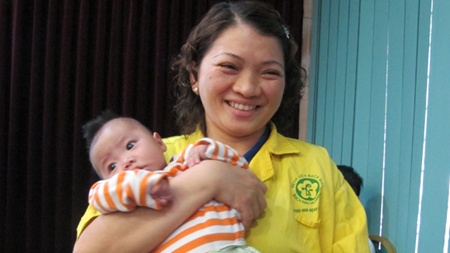 The Bach Mai General Hospital's paediatrics faculty has saved the life of a three-month-old girl, the hospital's second-youngest measles patient, who was discharged from the hospital on March 20.
The baby, Dang Truc Chi from Thanh Tri District in Ha Noi, was brought to the hospital one month ago with symptoms of measles, such as high fever, a rash, a serious cough and sniffling.
The faculty director, Nguyen Tien Dung, said that measles had attacked her lungs and destroyed her immune system.
"That's why the baby was given emergency aid with a respiration machine, an antibiotic injection and an antibody containing drugs and Vitamin A," explained Dung.
"The condition of the girl has improved after one month of treatment. She can now breathe normally and breastfeed," added Dung.
Her three-year-old brother was hospitalised the same day with measles. He was, however, discharged one week ago as his condition was not very serious. Both Chi and her brother haven't been vaccinated against measles yet, while their mother has been given the vaccine.
Dung added that his faculty had recently seen many cases of children under one with measles.
Dung said that parents should vaccinate their children against measles as that was the best way to prevent the disease. Children who show symptoms of measles should be brought to the hospital without delay to enable close supervision.
Previously, the hospital had received a 24-day-old baby with measles. However, the baby's case was not severe, and it was discharged from the hospital a few days later.
The Ha Noi Health Department has reported a total of 347 measles cases from 296 of the 577 communes and wards of the city since the beginning of 2014. The disease mainly affects children under the age of two and those who have not been vaccinated.
Fatal skin condition found in Quang Ngai
A resident has been diagnosed as infected with a potentially fatal skin disease in the province of Quang Ngai, following no cases of the disease being reported for 11 months.
The health centre of Ba To District, Quang Ngai Province, has confirmed it received a patient displaying symptoms of the skin disease, including dermatitis and a thick, horny layer of skin spreading across his hands and feet.
The 37 year-old patient, identified as Pham Van Troi, was sent to the health centre on March 19 with blisters on his hands and feet and an increased liver enzyme level, said the head of the centre, Dang Thi Phuong.
Troi hails from Ba Dien Commune, Ba To district. He was one of four members of his family to contract the deadly disease in 2012, with one of them dying.
The disease has killed 24 out of 240 people infected with it since it first appeared in 2011.
Local and foreign experts, including those from the World Health Organisation, have yet to find the cause of the disease or devise an effective treatment method, which has been mostly found to have infected residents of Ba To District.
Transport firms to submit drivers' health reports
Local transport companies must send medical check-up reports for coach and taxi drivers to the Ha Noi Transport Department before April 30.
The move follows a recent order issued by the department to improve the quality of public transport. Companies have been asked to work with health centres in the districts where they are located to quickly conduct the check-ups.
Chairman of the Ha Noi Automobile Transport Association Bui Danh Lien said that medical centres would face severe fines if any driver was found using drugs and still received a certificate.
Dao Minh Tuan, deputy director of Mai Linh Taxi, told Kinh Te Do Thi (Economic & Urban Newspaper) that most of the company's 4,000 drivers had valid medical certificates, so the company would send reports to the department as ordered.
However, Nguyen Hong Minh, director of Nguyen Minh Taxi Company, said that 40 days was not long enough for transport companies to carry out the instructions.
Deputy director of the department Nguyen Hoang Linh said the transport department would request that the health department mobilise more staff and medical facilities in districts where many transport companies were located.
Random inspections would be conducted and transport companies would have to end labour contracts with drivers if they were discovered using drugs, he added.
The city has more than 3,000 companies offering bus and taxi services.
Bodies of gold miners found after collapse
Authorities in Quang Nam Province yesterday confirmed that they have found the bodies of two of three illegal gold miners who were buried in a mine collapse on January 10.
Hoang Hoa, chief of the secretariat of the district people's committee, confirmed to Viet Nam News yesterday that the remains of two illegal gold miners were found on Saturday.
Hoa said authorities and families are continuing to search for the remaining victim.
Illegal gold mining remains a problem in the district, despite the efforts of authorities.
Five gold mines have collapsed since last April, killing 12 people, according to authorities.
Expatriates want to bridge Vietnam-US cooperation
Deputy Foreign Minister and head of the State Committee for Overseas Vietnamese (OV) Affairs Nguyen Thanh Son is undertaking a visit to the US and Canada to meet with OV communities.
During the trip, from March 10-27, Son hopes to further strengthen the cooperation between Vietnam and the two countries.
While in the US, the official held several meetings with OVs residing in the cities of New York, Houston and San Francisco as well as other districts of California, where hundreds of thousands of Vietnamese Americans are living.
Son met with entrepreneurs, local authority leaders and social operators in Houston. Many of the OVs expressed their hope that the Vietnamese Government will facilitate them to invest more back their homeland.
Representatives from several enterprises said they hope the committee will protect their interests and support them in completing administrative and legal procedures, allowing them to devote more time and energy to investing in Vietnam.
Several members of the communities said they are willing to serve as a bridge between US firms and those in Vietnam.
During a working session held between Son and the management boards of the Houston Sea Port and George Bush International Airport, it was stated that there is demand for a direct air route between Houston and Vietnam as well as maritime transport routes between their seaports.
The official said following his US visit, the State Committee for Overseas Vietnamese Affairs will continue working with relevant ministries and sectors to foster comprehensives cooperation between Vietnam and the US.
Hanoi outlines plans to develop green metropolis
A comprehensive plan to improve green spaces, parks and gardens in the capital has been announced by the city's People's Committee.
According to the plan, 18 new parks and gardens will be built and 42 existing areas will be upgraded around the city.
The area includes the districts of Ba Dinh, Hoan Kiem, Dong Da, Hai Ba Trung and a part of Tay Ho.
Authorities plan to build new green parks and upgrade existing ones, including Dong Da Park, Bach Thao Park and the Ha Noi Zoo.
The plan also aims to increase the green tree rate in old apartment complexes up to at least one square metre per person, a rate which the city has been struggling to achieve since the introduction of the Viet Nam Construction Standard in 2008.
At the same time, seven park zones are planned in the extended urban core area, which runs from the Red River to the 4th Ring Road.
Me Linh district's Quang Minh – Chi Dong zone is expected to be transformed into an area of industrial ecological parks, helping local people to continue making a living from the land.
Constructions of sport parks for professionals as well as public use will get underway in the Van Khe – Me Linh and Xuan Canh – Dong Hoi zones, including stadiums, indoor and outdoor games complexes and a multi-functional cultural centre that may be used for the Asiad Games in 2019.
In the Van Tri – Son Du and Co Loa – Viet Hung zones, the city will build entertainment parks in an effort to promote tourism, while the Yen Thuong – Ninh Hiep and Trau Quy – Da Ton zones will plant trees for research and conservation purposes.
Ministry urges haste on flood-proof homes
The Ministry of Construction has urged authorities in Mekong Delta provinces to speed up construction of flood-proof residential clusters to relocate people living in flood-and erosion-prone areas.
The programme has not been progressing as rapidly as expected, Deputy Minister of Construction Nguyen Tran Nam told a conference to review its second stage of the programme in Cao Lanh Town, Dong Thap Province last week.
He said raising of the foundations of eight clusters in Dong Thap, Vinh Long, and Can Tho city had not been completed.
In An Giang, Dong Thap, Kien Giang, and Hau Giang provinces, 15,000 additional houses planned for the programme had not been built, affecting progress, he said.
He urged local authorities to focus on the these projects so that the foundations could be raised, embankments built by the second quarter of this year, and people moved out of flood-prone areas by the end of this year.
He called for drafting regulations to manage and ensure environmental and hygiene standards at clusters which are already occupied.
According to figures released at the meeting, more than 35,500 families threatened by floods and erosion have been moved into flood-proof clusters and elevated areas or embankments.
These are among 55,463 households identified as residing in flood- and erosion-prone areas in the delta, and 177 projects to resettle them are under way in eight provinces.
Of them 76.6 per cent have clean water supply and 87.5 per cent have power supply.
These flood-proof clusters had enabled locals to minimise losses during the annual flood season, Nam said.
The ministry also encouraged residents living in temporary shelters in flood-proof clusters to build their own houses using plans approved under the programme.
In the first phase of the programme (2001 – 2005) around 1,000 clusters to house 150,000 families were built on a total area of 3,000ha in the provinces of Long An, An Giang, Dong Thap, Kien Giang, Tien Giang, Vinh Long, and Hau Giang and Can Tho city.
In the second phase a further 178 are being built to resettle 52,000 households.
Police arrest man for growing weed
The police in the northern port city of Hai Phong's Le Chan District on Thursday arrested one person for illegally using drugs and growing marijuana.
Do Hai Nam, 38, a local resident, was caught red-handed while using drugs at his four-storied house.
Eight bags of methamphetamine, one box of marijuana and a large amount of fresh and dried marijuana were seized from the house.
The police officers also found 23 marijuana plants growing on the third and fourth floors of the house, of which 16 were about one metre tall.
Nam is a drug addict and has committed two offences and been convicted once previously, according to the local police.
Phu Yen hosts aquaculture fest
The 2014 Viet Nam Aquaculture Festival will be held in the central province of Phu Yen's Tuy Hoa City from March 29 to April 2.
The event will include investment promotion and trade development activities, tourism promotion, conferences and an aquaculture exhibition with over 400 stalls.
HCM City to relocate 300 households
The Binh Thanh District People's Committee in HCM City is to relocate nearly 300 households in two delapidated buildings in the Thanh Da apartment complex by the end of June.
The two apartment buildings, block IV and block VI, have begun to sink and now lean towards one another. Residents will be relocated to a 1,050-apartment building in Binh Thanh's Ward 12.
Speaking at a meeting held on Thursday, Duong Hong Thang, deputy chairman of the Binh Thanh District People's Committee, said the urgent relocation had been organised because the two blocks were in danger of collapse.
The district will publicise an official relocation plan by March 25.
Each relocated household will be given VND6 million (US$280) to cover the transport cost of relocation.
Thang said the Binh Thanh District People's Committee was calling on investors to rebuild the two blocks.
The HCM City People's Committee has assigned responsibility to the district for rebuilding the two blocks within the next three years, he said.
The district has also begun a project to prevent river erosion in the Thanh Da area and help rebuilt-apartment buildings, Thang said.
Since 1996 the HCM City People's Committee has been planning to relocate households at the two blocks, but it has proven difficult finding investors as the potential profits are small.
The Thanh Da apartment building complex, which was one of the city's first apartment buildings, was built in 1960's and has 22 blocks on a total area of 22.7ha. Each apartment in the complex has an average area of 80sq.m
Nghe An builds new bridge over dam
Construction of a bridge spanning Kha Ang dam in the central province of Nghe An, the site of a past fatal accident, began on Saturday.
Construction of the bridge is set to cost VND41.9 billion (some US$1.97 million) and is scheduled to be completed within 36 months. The bridge is located in Nghia Dan District's Nghia Hong Commune.
In September 2013, five people were killed after a car carrying seven passengers was swept away by swollen floodwaters surging over the Khe Ang dam spillway.
The new bridge is expected to support local businesses, while ensuring the safety of local residents during floods.
More jobs to be created this year
The nation's workforce will reach 54.87 million in 2014, with more trained workers and fewer unskilled labourers to meet the country's economic restructuring and raise the competitiveness of businesses.
This forecast was revealed in the latest newsletter on Viet Nam's labour market, released yesterday by the Ministry of Labour, Invalids and Social Affairs (MoLISA) and the General Statistics Office.
The newsletter reported that the economy would create more jobs this year compared to 2013, especially in the fields of processing and manufacturing, construction, retail and wholesale, and hotels and food services.
It also said the unemployment rate in urban areas has remained constant, while job opportunities in agriculture will see continued decreases due to the process of urbanisation and industrialisation.
MoLISA forecast that this year's GDP growth will be on the recovery track, although it might not reach a record high. The GDP growth is predicted to reach 5.8 per cent, slightly higher than that of the previous year of 5.4 per cent.
The ministry also forecast that the number of participants in unemployment insurance would see a dramatic increase, at 85-90 per cent of the total number of participants in compulsory social insurance, thanks to the extension of those eligible to apply for unemployment insurance.
Until the end of last year, unemployment remained serious. According to the General Statistics Office, 900,000 unemployed people were recorded in the last quarter of last year, an increase of 48,000 against the same period the previous year.
During the same period, the unemployment rate among youth aged 15-24 continued to see a high increase, with 5.9 per cent. The rate is especially higher among university and college graduates aged 20-24, with 20.75 per cent.
The rate of permanent unemployment (those out of work over 12 months) among the unemployed is also reportedly high, at over 44 per cent, more than double that in the same period in 2013.
Good practices key to sustainable growth
Good agricultural practices (GAP) are considered the main strategy for developing Viet Nam's farming. They involve producing safe and high quality produce that can be certified free of any dangerous toxins.
Clean farming techniques are still a novelty in the country, despite the known presence of war-time chemicals and the continued use of sprays and even fertilisers that can contaminate produce.
Slowly, throughout Viet Nam, some farmers, influenced by a growing demand for "safe" fruit and vegetables, are switching back to traditional methods, which are usually much healthier.
This includes using more farm-made mulch and trying to develop ways of growing crops without having to resort to chemical sprays. In other words, "organic", a word people are using more and more in the West as they hunt out stores and supermarkets that sell such produce, even if it is usually more expensive.
The end result is produce that can be "certified" to be safe and free from all poisons. The boxes of produce and sometimes the individual items of fruit, are given labels stating that they were grown in toxin-free soil and without harmful sprays to repel insects.
Already in Ha Noi there are a dozen or so organic food outlets. Some of them are topped up daily with first class produce, some of it co-produced by French nationals on farms in nearby hill regions.
However, the introduction of the so-called "new" GAP system in Viet Nam has met a series of obstacles.
This was revealed at a conference on GAP and the trend towards growing safe fruit and vegetables held in Ha Noi on Tuesday.
Acting director of the agricultural ministry's Cultivation Department, Pham Dong Quang, said that the ministry had set up a legal framework and an itinerary to apply GAP based on the Law on Food Safety issued in 2011.
Farmers wanting to join the scheme will have to change some of their farming habits, even if the cost of doing so is more expensive.
Nguyen Thi Kim Oanh, head of Ha Noi Safe Food and Vegetable trading floor transaction division, said there was a great demand for safe vegetables, but little was being produced, despite much investment.
Oanh said slack management had even led to poor quality fruit and vegetables being sold at big supermarkets, including Big C and Metro.
"This seriously affects customers' belief in food quality. Once they are disappointed, they will lose interest in trying to buy safe, quality produce, even if they have the money," she said.
She added that some farmers had been growing quality produce, but they did not know where or how to market it.
Nguyen Thi Tan Loc, an expert of the Vegetables Research Institute, said that places for cleaning and bundling the vegetables were limited.
Most of them did not have modern production lines or equipment to handle big orders for export - and for supermarkets and restaurant chains.
Loc said that seed for quality crops often had to be imported at high expense.
The Ministry of Agriculture is developing policies to help farmers resolve their difficulties in selling safe vegetables, such as encouraging social organisations and co-operatives to set up production chains to take care of the whole process.
Viet Nam has nearly 823,700ha of land growing about 14 million tonnes of vegetables per year. About 85 per cent is for domestic use and the remainder for export.
Last year, more than 570 VietGAP certificates were issued to enterprises for producing vegetables, fruit, rice, tea and coffee.
Effective water, energy use urged
Deputy Prime Minister Hoang Trung Hai yesterday called for effective use and management of water and energy at a national meeting in Lai Chau province to mark World Water Day.
As a locality through which the Da River runs, Lai Chau is home to the country's biggest hydropower plants, such as Lai Chau, Son La, and Hoa Binh.
He cautioned that water resources were at risk of drying up due to the booming population and growing demand for water and energy. The world demand for energy would jump nearly 50 per cent by 2035, so the water supply needed for energy generation would see an approximate rise of 20 per cent.
The failure to effectively coordinate amongst each other would lead to countries and localities becoming engulfed in conflicts of interest, he warned.
Statistics reveal that Viet Nam's total volume of surface water reaches 830 – 840 billion cubic metres, about 63 per cent of which originates from the neighbouring countries. Viet Nam will face a major problem if the upstream nations fail to share water from cross-country rivers in a fair and just manner, added Hai.
With a system of crisscrossing rivers and lakes, the country holds huge potential for developing hydropower, one of the major sources that contribute to energy security, socio-economic development, and national modernisation.
He acknowledged that building new hydropower plants did have a downside, such as environmental pollution and susceptibility to climate change.
Hai lauded the Ministry of Natural Resources and Environment and the provincial People's Committee for their media campaigns highlighting World Water Day, which urged the members of the public to amend their dire habits regarding the efficient use of water and energy and promote sustainable practices.
Corn co-ops ease farmers' concerns
In a poor district in the Cuu Long (Mekong) Delta Province of Long An, the setting up of maize co-operatives is ushering in greater efficiency and helping protect the environment.
Situated in the north of Long An, Duc Hoa District has a total area of more than 42,000ha, of which over 50 per cent is made up of rice paddies.
But with its poor grey soil and water shortages, the district ranks among the lowest in the province in rice productivity.
"Since growing rice yields low profits to farmers, the province has adopted policies to restructure agricultural production by planting maize and sesame," Nguyen Thanh Tung, director of the province's Agriculture Extension Centre, said.
But a disconnect between production and consumption has perpetuated production inefficiencies, with farmers usually faced with price drops following a bumper harvest and vice versa, he said.
These problems have been addressed effectively by the Ecofarm Corn Project, which has brought together many small farmers to reorganise production and bring higher incomes to locals, he said.
Initiated by the extension centre and the Ecology Farming Corporation (Ecofarm), the project, which began in late 2012, also targets improving the quality of the soil and improve the long-term productivity and sustainability of agricultural production.
The company provides farmers with seeds and organic fertilisers at competitive prices on credit until harvest besides machinery to improve efficiency.
Agricultural experts work directly with farmers in the fields to make sure that their production techniques conform to standards, transfer technology, and sort out problems that may arise.
The project assures the purchase of maize products and by-products from farmers through contracts, Nguyen Dac Thanh, head of the Duc Hoa District Agricultural Extension Centre, said.
One innovation that has been introduced under this model is the conversion of maize waste into biochar, which is used to improve soil quality and help protect the environment, he said.
Funded by the Viet Nam Business Challenge Fund (VBCF), the project has brought together more than 100 maize farmers under three co-operatives, Nguyen Hong Quang, Ecofarm chairman, said.
Three months ago, for the first time, they planted maize on 103ha. The harvest began a few days ago and the co-operatives hope to get higher yields than normal, he said.
Huynh Van Ro, chairman of one of the co-operatives, My Hanh Bac, said: "At the beginning, we felt insecure about the new model. However, now, after the harvest season began, we feel excited to see productivity going up by more than 30 per cent."
Nguyen Van My, a member of the co-operative, said: "I was worried in the beginning, but no longer. Productivity is estimated to reach eight tonnes per hectare, one tonne higher than previous crops."
Mai Thi Rang, chairwoman of Tien Dat Co-operative, said for a long time farmers used to borrow at high interest rates to buy inputs. The project is helping farmers significantly cut costs, she added.
Thanh said since farmers had for long worked on their own, collecting them into co-operatives was not an easy task in the beginning.
But after seeing the higher efficiency of the new model compared to their traditional methods, more and more farmers are registering to enrol, he said.
Tung said the province plans to expand the model to thousands of hectares in future.
In a related development, the VBCF has agreed to provide a grant of nearly VND9.1 billion (US$430,900) to the Southern Seed Joint Stock Company for a project to help 2,200 poor farmers, mostly ethnic Khmer living in Cau Ngang District, Tra Vinh Province, switch from low-yield rice to maize.
Within 25 months around 1,100ha will be covered.
The VBCF is funded by the UK's Department for International Development and managed by SNV Netherlands Development Organisation.
It is a specialised fund that supports the private sector in Viet Nam in three sectors - agriculture, low-carbon growth, and infrastructure and basic services.
Ly Van Son, Ecofarm's deputy director, said maize is a high-demand crop in Viet Nam for animal-feed production.
Because of the heavy reliance on imported maize and other inputs, animal-feed prices in Viet Nam are high, resulting in large demand for locally produced materials, he said.
Red Cross gifts kindergarten
The Viet Nam Red Cross Society on Thursday handed over a kindergarten to local authorities of Phu Luong Commune, located in Hoa Binh Province's Lac Son District.
The school was built using a VND1.8 billion (US$85,000) grant from the society and the Geos and Subsea Services Company under the Petrovietnam Technical Services Corporation (PTSC).
The 300 sq m school includes three study rooms and two rooms for teachers, and will cater to around 500 children in Phu Luong Commune.
The commune has around 1,340 households and 8,632 people, of which more than 47 per cent are deemed to be living in poverty.
PM urges public sector clean-up
Prime Minister Nguyen Tan Dung has instructed all ministers to identify and dismiss under-performing public servants in order to improve the quality of public services.
The PM stated on Wednesday that all ministries and localities must maintain discipline in public services.
The state agencies should comply with regulations involving recruitment, training, assessment, appointment, promotion, and the salary policy of public servants, he asserted.
The PM also instructed ministries to issue regulations on commendations and reward those who detect and denounce any wrongdoings in the public services.
The PM noted that the Ministry of Home Affairs will issue a policy to dismiss under-performing public servants, including those who are not of sound character.
Public servants whose skills and background knowledge are not suitable for their current position and are not required for another position will also be dismissed.
The ministry will cut down on public employees whose performance fails to meet the professional standards required for their positions.
The Ministry of Home Affairs completed a draft decree to be implemented by 2020, to slash 100,000 employees of State-owned companies and State organisations in February.
The draft decree is expected to cost the government VND8 trillion (US$380.95 million).
The public has been invited to voice their opinion on the decree.
Thanh Hoa spreads methadone therapy
Methadone treatment for drug addicts has proved effective in reducing HIV/AID infections in the central province of Thanh Hoa, which houses six methadone-treatment centres with more than 800 patients.
The obvious effect of this therapy is the considerable improvement in the physical and mental health of drug users, according to the Thanh Hoa HIV/AIDS Prevention and Control Centre. It reported that 74 percent of patients have reduced their dependence either partly or all together, while 70 percent have gained weight to a healthier level after three months of treatment.
In a foreseeable future, the province plans to open another methadone-treatment clinic in Dong Son district.
Local authorities are aiming at a wider deployment of the method to treat 2,000 heroin addicts by 2015, after three years successfully undertaking the methadone treatment programme – which was first launched in Vietnam in 2008.
Vietnam has to date recorded 170,000 drug users, 14,000 of whom have undergone methadone treatment in 61 specialised clinics nationwide within the 2008-2013 programme, according to the HIV/AIDS Prevention Department of the Health Ministry.
After a two-year treatment course, only 14 percent of the patients still use drugs, 2 percent still clash with their family and a mere 1 percent still break the law. In contrast, nearly 76 percent of them have been employed.
This treatment has also proved economical, as its daily cost is about 15,000 VND (0.7 USD) per person in Vietnam.
The programme has set out to provide this drug replacement therapy to 80,000 addicts across the nation by 2015.
Vietnam seeks to promote technology commercialisation
Vietnam should further foster the application of science and technology in its production and business activities to boost its development in the future, an official has said.
Deputy Minister of Science and Technology Tran Van Tung made the comment during a conference in Hanoi on March 22, which discussed the role of venture investment in Vietnam's technology commercialisation.
By 2015, Vietnam expects to have 3,000 businesses applying research-based models in science and technology.
The ministry aims to promote technology commercialisation towards the Silicon Valley Model , which is a venture investment fund for assisting newly-started and sci-tech enterprises in developing their ideas and sample products into commercial products.
Speaking at the event, Bora, a venture investor from the Silicon Valley network said the investment trend helps enterprises not only make profits, but also realise their dream and passion.
Mekong Delta stems drought, saltwater intrusion impacts
Mekong Delta provinces are promptly taking measures to cope with drought and saltwater intrusion to minimise negative impacts on 700,000 hectares of rice, scheduled to be grown in April and May.
The Southern Institute of Water Resources Research forecasts that from March to May this year, saltwater will intrude about 40 – 50km inland, with droughts becoming more severe across the Mekong Delta region.
To deal with the problem, the provinces have prepared rice varieties that are resilient to climate change and tightened management of harvesting operations.
According to the Steering Committee for the Southwestern region, Ben Tre province has built 13 temporary dams to prevent saltwater intrusion and improve dozens of irrigation works. For the long term, it will complete facilities for a project making its northern saline land usable, in order to protect key rice areas in Ba Tri and Giong Trom districts.
Tien Giang has constructed 173 temporary dams and dredged 146 channels while 72 irrigation works in Dong Thap and Long An have been cleaned out to ensure water supply for 37,000 hectares of rice vulnerable to drought and saltwater intrusion.
At the same time, Hau Giang and Vinh Long have improved tens of channels providing water for 38,000 hectares of rice and fruit farm land.
In the summer-autumn crop this year, the Mekong Delta region plans to cultivate approximately 1.7 million hectares of rice from April to June. About 130,000 hectares have been planted so far.-
Pioneering Vietnam prepares for new TB drugs
Later this year, Vietnam will become the first country that treats multidrug-resistant tuberculosis (TB) cases with new medicines, a health official has said.
Dr. Nguyen Duc Chinh from the management board of the National TB Programme said two new medicines have been accepted so far. By 2018, vaccines that are more potent than Bacillus Calmette-Guerin will be on offer.
Hospitals nationwide are offering currently offering six-month therapy for TB patients, which is expected to be cut down to 3-4 months in the coming time, he said.
Under the national TB prevention strategy until 2020 (with a vision to 2030) recently approved by the Prime Minister, Vietnam is looking to control TB levels to below 20 patients for every 100,000 people by 2030 on the road to eventually eliminating the disease.
By late 2015, the country expects that the numbers of TB sufferers and deaths will be 187 and 18 per 100,000. By 2020, the respective numbers are forecast to be 131 and 10, with the rate of multidrug-resistant TB patients being kept at below 5 percent.
To realise the goal, Vietnam will review and amend policies, raise public awareness of relevant laws, and offer medical check-ups and treatment, especially in remote and mountainous areas.
On top of this, it will join efforts with countries worldwide to detect, treat and curb the cross-border spread of TB. Training courses both at home and abroad will be held while the enforcement of laws on TB prevention will be strengthened.
In the northern province of Ha Nam alone, a TB and lung disease hospital regularly embraces the latest technology and offers advice to patients and their families. It also sends medical staff to tertiary, post-graduate and on-the-job training courses.
Its yearly rate of TB infection is reduced by 3-5 percent. Up to 90 percent of patients with sputum smears that test positive for acid-fast bacilli are treated successfully, while the rate of deaths has been brought down to 0.3 percent. Last year, the province detected and treated over 900 TB patients.
According to the World Health Organisation, Vietnam ranks 12th among the 22 countries most burdened with TB, with some 130,000 new patients, 3,500 sufferers of multidrug-resistant TB, and 18,000 deaths annually.
Public transportation yet to meet demand
The rapid increase of personal vehicles in Vietnam is concerning urban transport management authorities, especially as public transportation has yet to meet the demand of commuters.
According to Nguyen Trong Thong, President of the Hanoi Public Transportation Association, a surge in personal vehicles in the past 10 years and ageing infrastructure have worsened traffic congestion, especially in major cities like Hanoi and Ho Chi Minh City.
In the 2002-2012 period, Hanoi saw annual average rises of 17.2 percent in the number of cars and 11 percent in the number of motorbikes. Meanwhile, the figures in Ho Chi Minh City were 14.8 percent and 9.8 percent respectively.
Thong proposed investments be made in the development of mass transit systems, including bus rapid transit (BRT), metro lines and elevated urban railways.
He also suggested the State has the financial clout to participate in the building of these systems in order to lessen the burden on the State budget in the long-term.
It is hoped that once operational, new public transportation will attract more passengers and reduce the use of personal vehicles.
The Ministry of Transport has implemented measures to develop public transit, including investing in upgrading the bus system and establishing centres to manage and operate public means of transport.
Mekong Delta geographic information system to run
A Mekong Delta geographic information system is expected to become a reliable reference source to serve regional localities in outlining their socio-economic development strategies.
The system, which will be up and running in Can Tho city first, will be annually updated with information concerning natural resources and conditions, disaster forecasts, and socio-economic performance in the region.
At a working session between the Vietnam National University - Ho Chi Minh City and Can Tho authorities in the city on March 20, Prof. Nguyen Van Hieu – head of the project drafting board said Can Tho will be responsible for technology transfer and personnel training in order to run the project.
He called for the strong involvement of scientists from regional localities and the Departments of Science and Technology, Natural Resources and Environment, Agriculture and Rural Development.
Deputy Chairman of the Can Tho City People's Committee Vo Thanh Thong requested the local Department of Science and Technology to work with relevant units to launch the project as soon as possible.-
Island tipped to become fisheries logistics HQ
Co To island in northern Quang Ninh province looks set to become a fisheries logistics hub for the entire Tonkin gulf.
Nguyen Thi Kim Ngan, a Politburo member and Vice Chairwoman of the National Assembly, suggested the idea at a ceremony marking the 20th anniversary of the island district on March 22.
She noted that Co To needs to pursue its renovation to improve residents' living conditions, promote local sustainable economic development and maintain national defence and security.
Co To district includes more than 40 islands with a total area of 4,600 hectares. About 150km offshore from Quang Ninh's tourism city of Ha Long, Co To has a population of over 5,000.
Over the past 20 years since its establishment, the island district has seen rapid socio-economic development and maintained defence-security, stated Nguyen Duc Thanh, Secretary of the district Party Committee and Chairman of the People's Committee.
Co To has obtained economic growth of between 12 and 15 percent a year. It reached a per-capital income of 1,200 USD in 2013 against 900 USD in 2010 and 400 USD in 2000.
Fisheries have become its economic spearhead, with an annual output of 10,000-15,000 tonnes of seafood while services and tourism make up a major proportion of its economic structure. The island received nearly 60,000 visitors last year.
In addition, Co To has improved transport infrastructure, built wharves and ship shelters, and constructed reservoirs to ensure clean water for 95 percent of the island's population.
At the end of last year, Co To fulfilled the national new rural building programme, escaped from poverty and was linked up to the national power grid.
To mark its 20 th anniversary, Co To was honoured with the Labour Order, first class.-
HCM City youth support urban development
Over 1,000 young people gathered at a ceremony in Ho Chi Minh City on March 23 to open the Vietnamese Youth Festival 2014, with a focus on building urban civilisation.
On this occasion, the Ho Chi Minh Communist Youth Union's chapter in the city introduced three groups of young volunteers. One of the groups will engage in activities contributing to inner city development.
A second group specialising in building new-style rural areas will visit suburban districts to offer advice and teach advanced agricultural techniques to local farmers.
Meanwhile, the third collection of volunteers will run social welfare activities, such as helping disadvantaged families repair power lines, offering fire prevention guidance and providing free medical check-ups.
Following the festival opening ceremony, a forum was opened for young people to discuss the ways of building a clean and civilised city.
HCM City steps up sustainable poverty reduction drive
Ho Chi Minh City has successfully implemented its poverty reduction programme for the 2009-15 period, heard a conference held in the city on March 21.
A report presented at the event stated that by the end of 2013, the city's poor rate was 0.8 percent, a large drop from the 8.4 percent rate recorded in 2009.
The national standard, which was approved by the Government, prescribes that poor households are categorised as those with an average income of 4.8 million VND (225 USD) per person per year in rural areas and 6 million VND (282 USD) in urban areas . Under that standard, the city now has no poor households.
Secretary of the municipal Party Committee Le Thanh Hai said the city has now set up its own poverty standard, with poor households categorised as such if their annual average income is less than 16 million VND (752 USD) per person. Households earning less than 21 million VND (987 USD) per person are classed as near-poor.
Under the new standard, the southern city now has 130,000 poor households (equivalent to 7.12 percent of the city's total population) and 50,000 near-poor households (making up 2.73 percent).
Hai added the new standard is closer to those applied by other regional countries, and called for all local people to involve themselves in the sustainable poverty reduction programme.
He asked the local authorities to pay attention to building effective poverty reduction models in combination with local socio-economic development, especially the construction of new-style rural areas .
It is necessary to better meet poor people's demand for essential goods and services, such as housing, healthcare services, education and jobs, Hai suggested.
In addition, he advised that preferential loans should be offered to accelerate local agro-aquatic-forestry development and provide vocational training for rural labourers in line with socio-economic development planning.
Power plants step up forest planting drive
The Ministry of Industry and Trade (MoIT) on Saturday launched a forest planting festival at the Son La Hydropower Plant.
The event, held in the northern mountainous province of Son La and attended by Deputy Prime Minister Hoang Trung Hai, is seen as a key component in fulfilling National Assembly and Government resolutions regarding the planning, construction and operation of hydropower projects.
Addressing the ceremony, Deputy PM Hai said planting trees would help stabilise water resources, thus raising the efficient operations of hydroelectric plants.
According to the official, between 2006 and 2013 the country completed 205 hydropower projects, which were built on nearly 20,000 ha of forestry land in 27 cities and provinces.
However, there have been only 11 provinces that have so far approved projects to plant trees over areas of 2,600 ha, according to the Deputy PM.
He also asked project investors to strictly observe the Government's instructions on planting forests, while requesting the Ministry of Agriculture and Rural Development to coordinate with localities in supervising the work.
Pham Le Thanh, General Director of the Electricity of Viet Nam, said the group considered planting trees as one of its responsibilities to the community, noting that planting forests helps prevent erosion, ensures ecological safety and improves the environment in areas surrounding the forests.
The EVN has instructed project managing boards to carry out planting forests to help replace the converted forestry land.
MoIT Minister Vu Huy Hoang voiced his pleasure with the significant contributions of hydropower plants to ensuring national energy security, curbing the impact of floods, irrigating farm lands and helping spur socio-economic development.
Statistics released by the ministry show that 50,950 ha of forest across the country have been converted for use in hydropower projects.
Inaugurated in December 2012, the Son La Hydropower Plant, which is described as a project that will help assure the nation's energy security, is striving to plant 300 ha of forest which were previously used for power purposes.
Poaching on in national park
Wildlife poaching was continuing to blight the southern province of Kien Giang's U Minh Thuong National Park despite regular patrols, according to the park's assistant director, Nguyen Van Cuong.
Poaching not only threatened rare animals but also increased the risk of forest fire, especially during the dry season, he said.
Five poaching gangs had been detected in the first two months of this year, he said, adding that local authorities arrested 96 people last year.
Tran Hong Dao, head of the forest rangers in the districts of U Minh Thuong and Vinh Thuan, said that residents in the park's buffer zone often caught fish, eels, snakes and other animals in the forest.
In extreme cases, violators even attacked rangers, Dao said.
Authorities would enhance their co-operation with both local rangers and police to protect the forest, Cuong stressed, and those who violated regulations would be strictly punished.
Locals have been encouraged to detect and report poachers, he said.
Recognised as an ASEAN Heritage Park last August, U Minh Thuong covers a total area of more than 21,000 hectares.
The national park is home to 243 species of plants and 500 species of animals, including a number of endangered species.
The park has also been recognised as one of the three highest priority sites for wetland conservation in the Mekong Delta
Starch plant makes way for housing
A factory in northern Thai Nguyen Province producing cassava starch has been forced to close down after failing to stop discharging untreated waste water into the environment. The waste is reported to have a revolting smell.
However, despite its bad track record, the company, owned by Son Lam JSC, has now been given approval to develop a 10- hectare housing complex adjacent to the site.
Provincial authorities said the factory owners may face a fine of up to VND854 million (US$40,100) for pollution breaches. It is also likely to be forced to repair serious environmental damage that it has created.
A report from the provincial Department of Natural Resources and Environment showed that the factory, located in Dong Bam Commune, had never built a waste-water treatment system despite commitments made in 2006.
Each year, the factory is believed to have discharged between 20,000 and 30,000 cubic metres of untreated waste water into the surrounding environment.
This is reported to have caused serious pollution to Linh Nham and Mat Rong streams and created a horrible odour.
Since 2008, the department, in co-operation with the Ministry of Public Security's Environment Crime Prevention Police Department, has fined the factory's owners a total of VND250 million ($11,750) for its slack behavious.
The department said that it had told factory management many times to stop polluting the environment, but nothing was ever done.
Last January, it was discovered that underground pipes had been laid to discharge waste water into neighbouring streams.
Results of tests reveal that water samples contained quantities of nine chemicals that were 10 times above approved levels. The factory was fined VND75 million ($3,520) and ordered to dig up the pipes.
76 year old woman found to have stone fetus inside her
A stone fetus was found inside of a 76-year-old woman at the General Hospital in Cam Ranh, Khanh Hoa Province on March 22.
Scans revealed that the woman experienced lithopedion, a condition in which a fetus develops outside of the womb and becomes calcified over time. The calcification revealed decades of the condition.
We initially believed she had a stomach bug, said Dr. Le Quang Vinh, the hospital's deputy director.
Doctors promptly conducted surgery to remove the fetus which was comprised mostly of dead tissue.
Medicine for mushroom poisoning must be available: DAV
The Drug Administration of Vietnam (DAV) will import treatments for mushroom poisoning.
The administration has received a report from Bach Mai Hospital in Hanoi about the increasing number of mushroom poisoning cases with insufficient treatment, said Nguyen Tat Dat, DAV deputy head.
The administration has asked the hospital to stockpile necessary medicines.
The Poison Control Center received 14 patients suffering from acute mushroom poisoning from Tuyen Quang and Thai Nguyen provinces in the North since March 14, said Do Doan Loi, deputy of Bach Mai Hospital.
Three died from poisoning and 10 are in critical condition with serious damage to the liver and digestive system after a series of blood filtration treatments.
The hospital contacted other hospitals including Viet Duc Hospital, 108 and 103 hospitals in search for liver donors. The children will have top priority for transplants.
Most patients are of ethnic minority in remote villages.
Organizations and volunteers will pass out informational leaflets to these people living without radio or television, said Dr. Pham Due, director of the Poison Control Center.
Private daycare centers in industrial parks to receive government's support
The government will financially support private daycare centers following the guidelines of the Prime Minister's project to assist and develop nurseries in industrial parks and export processing zones by 2020.
The project aims to strengthen the growth of these facilities and contribute to support female workers with children below 36 months old. From now until 2020, 80 percent teachers and staffs working in private daycare centers will be professionally trained.
Seventy percent of children below 36 months old will receive the opportunity for daycare in government-run centers. The government will also give assistance to 500 private centers.
The project aims to train managers, teachers, nursemaids, mothers, and caretakers of children below 36 months old. There will be policies implemented favoring working mothers of young children.
The Vietnam Women Association will work with the Ministry of Education and Training to provide training courses. Expenses will be drawn from local companies, organizations and individual donations.
There are 5,590 unlicensed daycare centers in the country, according to the Ministry of Education and Training.
Only 18.8 percent of families send their children to public kindergartens and more than 36.7 percent of families send their children to private daycare centers in areas with industrial parks, according to the Vietnam Women Association. Most female workers in these areas send their children to unlicensed daycares.
Among 10 provinces with high amounts of industrial parks and export processing zones, only 16.9 percent have kindergartens, according to the Vietnam General Federation of Labor. Only 39.9 percent of these kindergartens are public and 60.1 percent are private. Due to the shortage of public facilities, parents have sent their children to unlicensed private schools with questionable practices.
Thong Nhat Hospital to become biggest Geriatric Unit for retired people
Professor Nguyen Thien Nhan, member of Politburo and the president of the Vietnam Fatherland Front, presented the Second Independence Medal to Thong Nhat Hospital in HCMC on March 22.
The medal was awarded on behalf of President Truong Tan Sang.
"The hospital initially opened with 450 beds," said Professor Nguyen Duc Cong, director of Thong Nhat Hospital, "now it has more than 1,000 beds with 36 faculty performing advanced medical treatments."
The hospital has received a steady increase of patients every year with faster treatment.
Most of patients in Thong Nhat Hospital are elderly people and retired high-ranking officials suffering many diseases. The hospital leaders developed the geriatric ward and heart ward for more specialized services. Managers are hopeful that the hospital will have the best geriatric ward in the country.
Nhan recalled the hospital before and after Independence Day especially the "Labor Hero Unit in the Renovation Period" in 2005, hoping for the hospital to grasp modern and advanced techniques to become beloved medical clinic for seniors in the country.
Thriving businesswoman starts from scratch
Pham Thi Kim Huong, 33, CEO of Industrial Sanitation &Service Co.Ltd is a successful woman of the first generation to benefit fully since 1986.
Huong currently has 400 clients with 70 percent market shares and provides work for 3,400 laborers. Her service & industrial sanitation businesses started eight years ago with VND 11 million.
She initially didn't enter university because her father experienced a serious traffic accident.
"In order to save my father, we owed a huge sum of money from many relatives", said Huong.
After the incident, she entered Accounting and Finance College and graduated after two years.  She worked at various companies for a couple years and sent the salary to her home to care for her father.
For additional money, she worked at a cleaning service business and eventually quit her job to start her own. She only had three employees starting out cleaning banks. She eventually acquired additional contracts and her business grew into the mecca it is today.
She continues to study at HCMC Economic University of Business Management Department.
"It is not hard to run a large company. The hardest part is how to develop in the competition environment and to have good employees for long contract", Huong said.
Her slogan is to be a compassionate businesswoman. Her employees stay with her for a long time even though they are able to earn more money with other employers. She cleaned bathrooms with her employees when starting out.
"My mother's life is very difficult, she works many jobs to feed six children. She doesn't refuse any jobs to earn money. I learned from my mother's life therefore I always share the difficulties to my employees," said Huong.
Da Nang starts building of e-commerce development center
The Ministry of Industry and Trade hosted a ceremony breaking ground for construction of the e-commerce development center in Da Nang City on March 21.
The budget for the project is VND 340 billion (US$ 16.13 million) covering 4,969 square meters in Cach Mang Thang Tam Street, Hoa Cuong Nam Ward, Hai Chau District.
The center will comprise a 20-25 office buildings with high-tech equipment to develop e-commerce.
The center will be a link among businesses after completion of construction in March next year. They will build websites, create software, and train for a human resources department for e-commerce.
Export policy increases debt for labourers
Hundreds of young people in the mountainous areas of Quang Nam Province have taken out bank loans for work broad only to return in debts for not meeting requirements.
After the husband of Jo Dech Crich in Proning Village, Tay Giang District died, their family's financial situation became untenable, as she has to take care of five children. One of her sons, Clau Hor, decided to join the labour export programme but returned just one year after arriving at Malaysia. His family then incurred debts of VND23 million.
Depressed after the disappointment, he killed himself three months later. "I don't know why he returned from Malaysia and now I don't know how I will pay such huge debts," his mother said.
Dinh Van Chenh, from Son Tay District also returned from Malaysia after just one year. According to Chenh, the actual work that was promised never materialized. He had troubles communicating, was made to do heavy labour and earned a small salary. He said, "The wage was different from what was promised. When the company went bankrupt, I had to borrow money from other workers. They let me go because they didn't have any more jobs. Now I'm trying to pay back the bank."
In 2009, the Prime Minister gave approval to a labour export project, which sent people from poor villages to work overseas. It was hoped that the project would reduce poverty in those locations. Because most of the people in remote areas were not familiar with foreign languages and were relatively unskilled, they were provided with 12 months of study.
However, the reality of learning the necessary skills was not taken into account. Jo Dot Bun, from Tay Giang District said, "When I signed the contract, it  said I would have to study a foreign language for at least three months. But I only studied for one week before the company hired me and sent me to Malaysia."
The director of the Department of Labour, Invalids and Social Affairs in Quang Ngai Province admitted to some shortcomings in the programme. Most of the workers are considered unskilled, he said. He explained that this is the reason many are sent back to Vietnam.
But Abing Poi did not understand why he was sent back. He said, "I only took Sundays off and they still fired me. Someone called and told me that they would pick me up in Hanoi. Nobdy picked me up. It made me feel bad."
Giang Tay District has 115 exported labourers with 39 having come back while 25 out of 100 labourers to Malaysia have been sent back to Son Tay District. Many of these workers have sunk into deeper depression poverty. The Vietnam Bank for Social Policies in Quang Nam Province said their amount of bad debt has reached VND2 billion.
Le Hung Lam, the deputy head of the bank, said, "The cost to send a labourers abroad is high so with so little wages in return.  The labourers have to account for the expenses very carefully."
National action plan for green growth
PM Nguyen Tan Dung has approved the National Action Plan for Green Growth for the 2014-2020.
The plan focuses on four areas: Institutional building and local-level green growth plan, reduction of greenhouse gas emission and promotion of clean and recycled energies, green production, and green lifestyle and sustainable consumption.
Green growth will be integrated into sectoral and local socio-economic development planning schemes and plans. Small and medium-size enterprises will be assisted in improving production and management capacity to save energy.
Resources for the realization of the plan will come from the State, businesses, domestic and international communities.
A Green Growth Coordination Sub-Committee under the National Committee for Climate Change is responsible for coordinating with the Ministry of Planning and Investment, Ministry of Finance, and Ministry of Natural Resources and Environment to allocate the resources and supervise the implementation of the Green Growth Strategy as well as the National Action Plan for Green Growth.
National Steering Committee on anti-trade frauds formed
The PM has approved of the establishment of the National Steering Committee for Anti-Smuggling, Trade Frauds and Counterfeit Goods.
Deputy PM Nguyen Xuan Phuc was appointed as head of the committee.
Vice heads included the Minister of Industry and Trade, a Deputy Minister of National Defense and a Deputy Minister of Public Security.
The new body is in charge of crafting strategies and plans to combat smuggling, trade frauds and counterfeit goods and overseeing relevant ministries and agencies' performance in the task.
It is also responsible for directing the coordination among agencies and forces to timely expose, fight, prevent and handle infringements on the field.
It can send interdisciplinary delegations to investigate into large-scale cases in key hotspots.
Source: VNA/VNS/SGGP/VOV/Dantri/ND