VietNamNet Bridge – In order to control the quantity of goods that flight attendants take home, the national air carrier of Vietnam – Vietnam Airlines has applied new rules on luggage.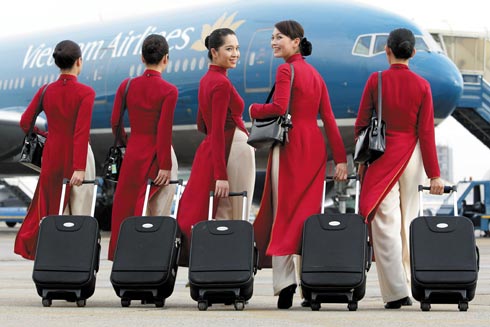 Vietnam Airlines stewards.
From March 17, flight attendants of short and medium routes are only allowed to carry only one small suitcase. Even the jacket bag must be put into the suitcase, instead of carrying separately as before.
According to a representative of Vietnam Airlines, before issuing this provision, the corporation made a small survey. The results show that for short and medium routes (trips last one to two nights), a small suitcase is enough for flight attendants and pilots to carry the necessary items.
For the long routes, the regulations on luggage don't change. Each person is allowed to carry a hand suitcase and a deposit suitcase not weighing over 32kg.
Vietnam Airlines representative confirms that whether flight attendants and pilots use a private entrance to and from the airport, they must go through the stages of security screening as passengers.
Last month, public opinion caused a stir with the Japanese media reported that crew members of Vietnam Airlines suspected of transporting stolen goods in Japan.
Four years ago, a Vietnam Airlines pilot was arrested for transporting goods from Japan to Vietnam. The pilot, named Dang Xuan Hop, declared that he was paid $100 for each transport. After the incident, he was banned from flying for a year – which is considered a severe penalty for pilots.
Vietnam Airlines representative also said, all pilots and flight attendants of Vietnam Airlines must sign a pledge not to smuggle and give a hand to smuggling. In fact, the salary paid for flight attendants is high, at least VND20 million ($1,000) a month, depending on the number of flight hours. In addition, they have a lot of allowances.
Dam De