VietNamNet Bridge – Herbs found in the wild can treat many ailments, so researchers are growing them on a wider scale in order to provide affordable herbal treatments for those in need.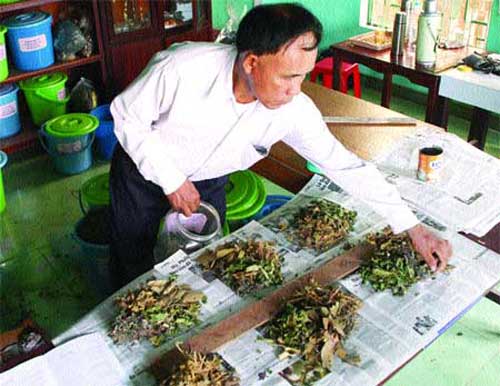 Traditional treatment: Charity clinic Tue Tinh Duong Hoa Nam in Hoa Vang Districtof Da NangCity has treated more than 6,000 residents free of charge in the last four years using Vietnamese herbs. 
A 64-year-old Ba Na ethnic teacher in the central province of Quang Ngai's Tay Giang District has pioneered the farming of ba kich (morinda officinalis), a tonic medicinal plant, which later helps his village escape hunger and poverty.
After graduating from the Thai Nguyen University's Biology Department, Briu Po returned to the district to teach at a high school, and then began working at the commune People's Committee as a chairman for almost 25 years.
He lived in poverty, until one day he was invited by Dr Ngo Van Trai from the Central Institute of Pharmaceutical Products to study the terrain for finding precious and valuable herbal remedies, including morinda officinalis.
Po said that after hearing about Trai's research, which showed that medicinal plants that have been over exploited by the local people are on the brink of extinction, he asked his wife to start growing them.
"In 2007, we tried growing 900 plants. Our villagers thought we were insane as they believed that the plant belonged to God, and hence, could not be planted by humans. They thought that all of our plants would die," Po recalled.
Despite all the negativism, Po put in his level best efforts, investing most of his time and labour into his ba kich garden, which is very easy to grow, tend, and sell.
After a year, Po reaped rich dividends, earning VND50 million (US$2,500) from selling his morinda officinalis roots to pharmaceutical companies.
"We are very happy to have such a big amount of money for the first time in our lives," Po exclaimed.
He currently has more than 6,000 plants and is expected to earn nearly VND300 million a year.
Taking cue from Po's success, almost all the villagers have followed suit, with Alang Bung growing 5,000 plants and Briu Hu planting 1,000.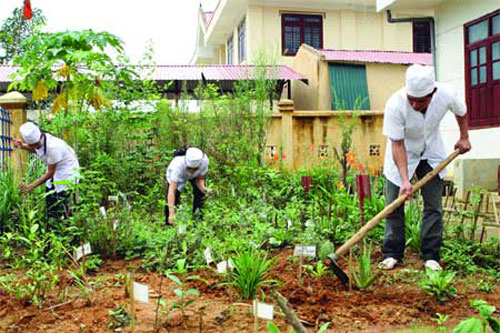 Caretakers: Staff of the health care station in Muong Muon Commune, Muong Cha District in Dien Bien Province tend their medicinal herb garden. 
Their living standards have significantly improved, noted Briu Hung, the deputy chairman of the Lang Commune People's Committee.
Hung said that the local administration has defined the plants as strong points to eliminate hunger and poverty.
"We have made a concrete plan to grow trees until 2020, which is aimed at encouraging the people to utilize and expand areas and build their unique trademark," Hung added.
Hoang Thi Yen, 50, from the Ha Noi's Hai Ba Trung District, proudly asserted that she is still alive and healthy, with all due thanks to the herbal remedy known as Trinh nu hoang cung (Crinum Latifolium).
Yen recalled that she had a big uterus tumour.
"The doctors have advised me on incision, but I was very afraid. The tumour kept growing in size until in 2009, my friend introduced me to the herbal product, which had successfully treated hundreds of women suffering from uterus tumour, just like me."
She believes that drinking daily would not have a negative effect on her health.
"Now, my tumour is much smaller as compared to earlier. The doctors say that it would not grow. My family, particularly my two children, are very happy because they no longer fear that I would die," remarked Yen.
Dr Nguyen Thi Ngoc Tram conducted research on the Crimum Latifolium herb in the 1990s. She later successfully created herbal products, such as Crila to treat uterus tumour and dihydroxytestosterone (DHT).
Dr Tram claimed that the products have helped treat the ailments of the local people, and reduced costs related to using western medicines, which they believe cause ill-effects to their health.
Pharmacist Nguyen Van Yen, the chairman of the Viet Nam Pharmaceutical Association, said that the herbs have been widely grown in Dong Nai's Long Thanh District, where the land is most suited for it and matches the GACP-WHO's standard.
According to the Pharmaceutical Products Institute, Viet Nam is one of the potential countries with a wealth of herbal remedies. But its traditional drugs are not appreciated as there is no strict control on their inlet.
Dr Tran Thi Hong Phuong, the deputy head of the Department for Traditional Medicines that 80 per cent of the medicinal herbs have been imported from China and no stringent control is in place for curbing this.
Le Hoang Son, the director of the HCM City's Traditional Medicines said that his hospital annually uses 100 tonnes of herbal materials, but 70 per cent of them are imported from China because Viet Nam has an array of rare herbs that are yet untapped.
According to the latest figures released by the Health Ministry's National Institute for Medicinal Materials (NIMM), the country had to import US$1.7 billion worth of medicinal materials, thereby leading to high costs being incurred for using the imported drugs.
Dr Nguyen Minh Khoi of the NIMMreported that Viet Nam has nearly 4,000 species of herbs, but many are on the brink of extinction.
"They are very important not just for treatment, but also for exports. So, we have to preserve them," he said.
Dr Mai Van Thanh,who graduated from a Chinese university for traditional medicines in 1999, has returned to Viet Nam to invest in a project to produce safe herbal materials.
Thanh said that his project aimed to preserve and develop precious,, and rare medicinal herbs by the local communities in Hoa Binh, Lai Chau, and Thanh Hoa provinces.
The plantsinclude hong sam (red ginseng), linh chi (ganoderma lucidum, a kind of fungus), tram huong (aloe wood or Aquilaria malaccensis), and dong trung ha thao(ohiocordyceps sinensis). "We assist the farmers in growing these plants in the safest manner, by avoiding the use of chemical fertilisers during the harvest and post-harvest period to ensure quality products," Thanh said.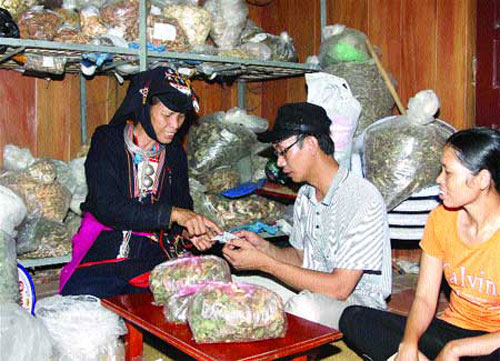 Guidance: Herbalist Trieu Thi Hoa shows a patient how to use Vietnamese medicinal herbs. Ba Vi Commune on the outskirts of Ha Noi is famous for processing these herbs:locals have collected 363 different varieties.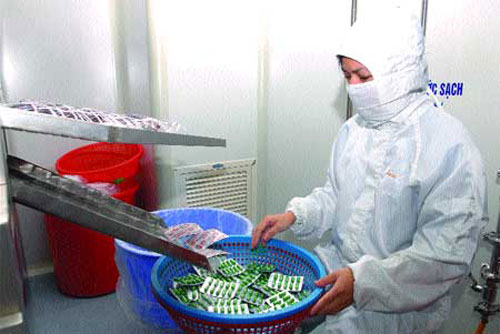 Job creation: Nam Duoc Company in Hoa Xa Industrial Park of Nam Dinh Province produces medicine from domestic herbs, creating jobs for 184 locals. 
Prime Minister Nguyen Tan Dung has approved an overall plan to develop traditional medicinal materials (TMM) until 2020.
The plan aims to develop TMM to eventually become a commercial sector, using modern science and technology, to create high-quality products, while managing, tapping, and using them in the best possible way and preserving genes, particularly in the case of rare medicinal herbs.
The Prime Minister approved eight key regions having natural TMM across the country in order to tap 24 species to reach a production capacity of 2,500 tonnes per year.
"We should additionally build five parks to preserve and develop national TMM representing the different regions and specific climatic zones, in order to conduct scientific research and development for preserving 50 per cent of the TMM until 2020 and 70 per cent by 2030," the plan says.
The regions include Sa Pa in Lao Cai Province, Sin Ho in Lai Chau, Ha Giang's Dong Van, and Quan Ba to grow dang sam (codonopsis), ha thu o, among several others.
Other regions include Bac Giang, Yen Bai, Quang Ninh, and Lang Son, to grow 20 species of medicinal plants on 64,000ha. Moreover, Hai Duong, Nam Dinh and Thai Binh will also produce traditional medicinal materials.
The plan has been welcomed by pharmaceutical companies and communities.
Hoang Minh Chau, the director of Nam Duoc Traditional Medicine Company said "The plan is well-oriented for our future development. We aim to use local materials to produce our products rather than using Chinese herbs."
"Although growing medicinal plants is difficult, we have carefully chosen suitable areas and eco-regions as well as seedlings to get high-quality yield," Chau said.
Nguyen Minh Tien, the deputy chairman of Ha Giang People's Committee said that his province had co-operated with Japan and South Korea to carry out research on the province's land and climatic conditions in order to safely grow in six poor districts for improving the standard of living of the local communities.
Source: VNS