VietNamNet Bridge - Heavy metals cadmium and lead were found in Chinese origin jewelry sold at some shops in District 5, HCM City.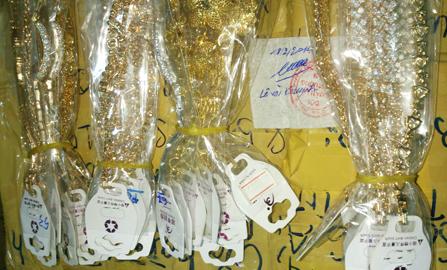 The jewels would be destroyed.
The HCM City Market Management Bureau said that all jewelry samples collected from 17,000 Made-in-China necklaces and bracelets from the An Dong Market in District 5 contained lead and cadmium.
"Though the content of lead and cadmium is not high, their presence in consumer products is not allowed," an official said.
The official said that the jewels would be destroyed.
This kind of jewelry is sold in most markets in Saigon, particularly the An Dong Market, at very cheap prices, from a few thousand to a few tens of thousand VND.
"Made in China jewelry is very popular because they are eye-catching and cheap. At the first look, you don't know that they are fake," a fake jewel trader in District 6 said.
According to experts in chemistry, cadmium (Cd) is a heavy metal used in producing paint, industrial coloring, electroplating and it is a corrosion inhibitor. It is also used as a polishing material.
Cadmium is a toxic substance to humans. If exposure (eating) with large amounts, it can cause acute poisoning. Long-term exposure can disrupt liver function, make bone pain, anemia, hypertension, and fetal malformations.
With the lead, regular exposure through eating will cause vomiting, constipation, weight loss, convulsions or coma in serious cases.
"For jewelry, prolonged exposure to products containing cadmium or lead will certainly affect health. They can cause skin irritation, itching or possibly ulcers if it is used for a long time," a chemical engineer said.
In 2010, HCM City market management seized and destroyed nearly 8,000 products including necklaces, bracelets and rings which contained lead and cadmium.
Le Ha