VietNamNet Bridge – Since the day he hit the jackpot, everyday 10-20 people lie and bow in front of Mr. Huynh Thanh Dung's home in Long An province to cry help.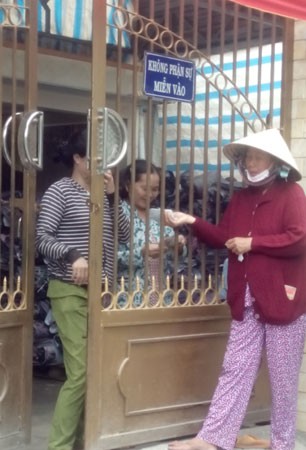 Everyday lottery ticket sellers come to the house to offer lottery tickets.
Dung, a man in Hamlet 5 of Nhi Thanh Commune, Thu Thua District, the southern province of Long An won the special prize worth VND8 billion ($400,000) in a lottery on January 28.
According to Dung, that morning, his neighbor named Nguyen Van Do, invited a number of people to buy lottery tickets. Among the lottery tickets was several tickets with number 855 514, which were considered "unlucky" so many people refused to buy.
At that time Dung and his wife were taking care of ornamental plants. Dung bought 10 lottery tickets with the "unlucky numbers" to help his neighbor.
In the afternoon, Dung could not believe in his eyes when he saw the lottery results. His lottery tickets with "unlucky numbers" brought him VND8 billion. Dung said after paying taxes, he had VND7.14 billion.
However, Dung's family has got troubles.
The next day, tens of people flocked to his home to lie and even kowtowed and cried to ask for money. Dung gave them money and since then, his home has been surrounded by tens of strangers everyday, who come to ask for money.
Some days, local police had to intervene to maintain security and order.
Local authorities also received many letters, which were sent to the commune authorities but on the envelopes, the writers noted that they asked the authorities to give the letters to the lottery winner – Mr. Dung.
Dung and his wife were so tired and they left their home to avoid troubles.
According to a local official, as soon as he won in the lottery, Dung presented VND150 million to local government to help poor people during the lunar New Year.
Dung also gave VND1 million and Tet presents to 12 local families and VND100 million ($5,000) to the lottery ticket seller.
According to some local people, before winning the jackpot, Dung and his wife were known to be generous people who usually helped poor people.
CSTC