VietNamNet Bridge – With many urbanites worrying about the use of growth chemicals in vegetables, services providing small hanging gardens and care for fresh vegetables grown at home are prospering.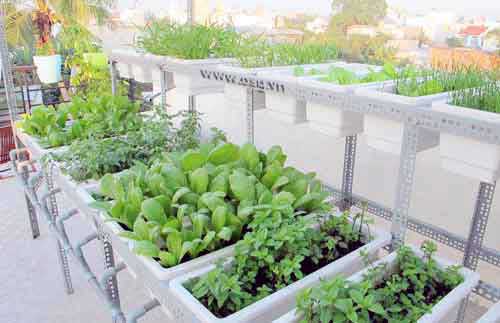 Many companies provide materials to help urban families grow vegetables at home, and also send agronomists to guide them. – File photo
There have been media reports recently about incidents of vegetables being found treated with growth chemicals and having pesticide residues which exceed the permitted thresholds. This has prompted many urban households to grow vegetables themselves for their families. Previously, people grew vegetable spontaneously, but this has now become a "movement".
Small vegetable gardens and vegetable-growing trays around houses and yards do not seem strange to people any more in big cities like Ha Noi and HCM City.
Vu Thi Lan in Cau Giay District of Ha Noi said she has been planting vegetables for two years, mostly in Styrofoam boxes. "Although my terrace of 20 square metres was covered with vegetable trays, its output was not high and was not enough for my family," she said.
Lan recently asked for help from a company that designs vegetable gardens. They sent an agronomist to guide her in garden care.
"The agronomist guides me on how to plant and care for vegetables until harvest. Now we don't have to worry about not having clean vegetables for our daily meals anymore," Lan said happily.
Luong Huynh Phuong in Tay Ho District also feels proud that her family has a vegetable garden on the rooftop, which has various kinds of vegetables like lettuce and mustard greens.
"We were a bit worried while eating vegetables bought from the market. So my husband and I spend time on weekends on planting vegetables on our roof terrace. Eating our own vegetables brings us peace of mind and also saves some money," she said.
Pensioner Nguyen Van Liem in Kham Thien Street said that instead of growing bonsai as before, he and his wife have turned to planting vegetables. They have a 4-square-metre terrace garden, mostly used for growing spinach and sprouts in trays and pots.
"We consider the planting of vegetables like doing exercise every day that helps reduce the stress of urban life," he said.
Instead of using foam boxes containing soil, many families use specific tools designed for growing vegetables at home, such as plastic pots, hangers, drip irrigation pipe systems, organic soil and microbial fertilizers. They also hire companies which help design and care for the domestic gardens, with packages costing between VND7 to 10 million (about US$330-480).
Many companies provide materials to help urban families grow vegetables at home, and also send agronomists to guide them.
Nguyen Minh Vi, deputy director of the Song Minh Trade and Import Export Company which specialises in providing materials and services for planting vegetables at home, said, "Now there's a large demand from residents in big cities, especially families with small children, the elderly and vegetarians, for home-grown vegetables."
Vi said the supply is very diversified in both vegetable species and prices.
"Clients who don't have much money could choose to buy plastic containers, soil, fertilizers and seeds to grow vegetables themselves. Each plastic pot is sold for VND150,000. Each seedling is sold for VND3,000 and a bag of vegetable seeds costs VND15,000."
She said the clients who are better off financially can choose the service package costing about VND7 million or more to set up a clean vegetable garden.
"We take over the designing, materials and installation process and send agronomists to care for vegetables that will be enough for a family of four every day. The engineers will meet the family once or twice a week, depending on the growth of vegetables."
Vi said Ha Noi customers mostly buy instruments for planting vegetables themselves, while people in HCM City usually buy a service package.
Agronomist Vu Xuan Quyet in Cau Giay District in Ha Noi, who specialises in providing services for planting vegetables at home, said the demand for consultation, designing and care of vegetables in Ha Noi has increased greatly of late.
"We've got a lot of orders and often visit our customers' houses to design vegetable gardens for them. Depending on each house's area, the gardens are designed and aesthetics ensured, while keeping in mind the best utilisation of light for vegetables' growth," he said.
"The service package, including the agronomists who take care of the vegetables, is VND500,000 higher than just the sale of materials.
"Every day, an agronomist can visit more than ten families, mostly to check how their vegetables are growing and whether the garden needs a change in the way it's being cared for," said Quyet.
Dong Anh Tuan, a counselor from Green Sai Gon Biotechnology Company, said that so far urban residents had been growing vegetables spontaneously without paying attention to technology. So, their effectiveness was low.
"Growing vegetables at home has become a trend of late, and the people's need to have fresh vegetables everyday is increasing. Seizing this opportunity, many companies have set up processes for planting and tending vegetables in accordance with the conditions today of the urban population," he said.
In new urban areas in Ha Noi, such as Trung Hoa-Nhan Chinh, Nam Trung Yen, Dinh Cong, "mini" vegetable gardens can be seen easily.
Every afternoon, the elderly and children water the vegetable pots. The scene looks like as if it is a new countryside, beside concrete high-rises.
"Agronomists have really helped boost the output of our gardens," said Vu Thi Lan.
Source: VNS