Today, the lifestyles of Vietnamese people are changing, including how they prepare for the Tet (Lunar New Year) holiday and their entertainment during the festival.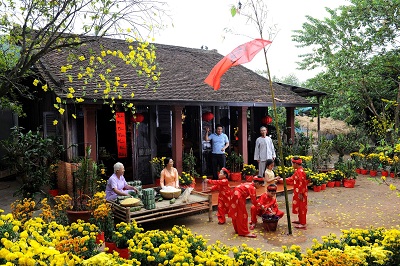 According to Vietnamese tradition, the Tet is a time for every family to come together and enjoy traditional foods, such as banh chung (glutinous rice cake), gio (pork sausage) and dua hanh (pickled onion).
But in recent years, the ways Vietnamese enjoy the Tet holidays have changed much.
People, especially the well-off, love travelling to explore and relax, rather than remaining busy cooking and cleaning in their houses prior to Tet.
This travelling helps ease the burden of housework for women, but it also causes the traditional Tet to lose its poetic flavour.
This year, to change the way her family observes Tet, Kim Ngan, a bank clerk in Ha Noi, booked a five-day tour for her family to visit Malaysia.
"We've worked hard for a year, so we decided that we should relax this Tet and our family should have a tour abroad," she said.
People who love the traditional Tet cannot forget images of a pot of banh chung being cooked and evaporating during an evening close to the New Year's Eve. Adults and children sat around the pot, chatting. After a night in which they stayed awake, during the next morning, while the adults picked up the cakes, the children were eager to taste their own tiny cakes.
But today, many Vietnamese families don't cook square glutinous rice cakes themselves. They ask, "Why should we have to suffer from cold water and bend our backs to wash dong leaves and green beans? Why do we need to stay awake to watch the pot of cakes, when we can easily buy them from food shops? Moreover, why do we have to be busy cooking for the feast while in this modern society, we can have good food all year round?"
Many families now choose Tet as a time for travelling, because they are better-off and do not care as much about traditional ways of celebrating Tet.
Many young people, including many young women, in recent years have chosen to travel, rather than stay at home to help their mothers cook.
The director of Hanoitourist Company, Luu Duc Ke, said the trend of Vietnamese choosing to travel abroad sharply increased this year.
"At present, tours to visit Asian countries with our company doubled, compared to last year," he said.
Deputy general director of Ha Noi Redtour Nguyen Cong Hoan also said many clients choose foreign tours, rather than domestic ones.
"The difficult economic situation does not impact well-off families. To date, our company has arranged more than 1,500 foreign tours," he said.
In the past, talking about Tet, people would think about the eagerness of young children, while adults were busily preparing offerings for worshipping ancestors and buying new domestic utensils. In the minds of many elders, the New Year feast should be prepared a month before the holiday.
But now, everything is available in the market, so people feel no need to prepare food before Tet.
In the past, people were so busy preparing for the Tet feast, and sometimes it took all day.
"But today, we are busy with our jobs, so young people like me can easily find all the traditional foods, like dua hanh, banh chung and chicken in the markets and supermarkets. We can also simplify the feast," said Lien Huong, a state employee. The preparation of the feast changed over time and with each generation. Young people now also use Western foods, such as sausages and hams, and many families do not prepare traditional foods, but switch to eating lau (hotpot), which has various kinds of vegetables and is delicious and convenient to eat in winter days.
During the time of the market economy, everything is available, and this helps housewives have more time for travelling, rather than being as busy as before.
But there is also another side of the coin.
"Cohesiveness among family members when we work together is still like before. Therefore, in addition to food that we can buy at supermarkets, my family still makes banh chung, as an opportunity for the whole family to get together," said Nguyen Thi Thoa from Xuan Thuy Street.
According to Dr Hoang Cam from the Institute for Cultural Research, under the Institute of Social Sciences of Viet Nam, Tet is a time to pay tribute to ancestors, wishing for health and happiness.
"That's why sincerity [to our ancestors] is more important. Simplicity of the food flower and burnt offerings is just the adaptation of each generation to the current changing life," he said.
Entertainment activities during Tet have also changed. It is easy to see that in recent times, as many festivals have been restored throughout the country.
According to statistics, Viet Nam now has more than 8,000 festivals, including many folk festivals.
But along with these resurrected ceremonies, at some localities some gambling and fortune telling activities appeared during the events and this impacts upon the sacredness of the traditional festivals.
"The festivals are necessity for cultural and spiritual life. Today, with better economic conditions, many localities organise and restore festivals," said Hoang Cam.
"But much of the entertainment during Tet has also changed," Cam said. "In the past in many mountainous areas, locals used to play con ball throwing, but today fewer people play it. Similarly, many young ethnic people no longer sing old folk songs, and have turned to modern songs."
"The people will choose the activities that suit them. They adapt to fit the socio-cultural context, particularly in the current times. In the integration process, the process of acculturation is strong, so cultural change is also fast," Cam said.
Source: VNS