VietNamNet Bridge – The Can Tho General Hospital has announced to successful reconnect the penis of a patient whose penis was cut by his wife while he was sleeping.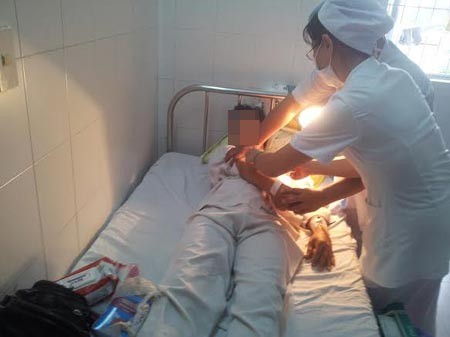 The patient.

According to medical records, at 4.10pm on January 3, the hospital received patient Phan Van D, 45 years old, a native in Binh Thuy District, Can Tho City, with a cut-off penis.
According to the testimony of the patient's relatives, the man's penis was cut off by his wife when he was sleeping. Shortly after, the patient's relatives froze the penis with ice and took the man to hospital.
Doctors said that the penis was cut about two hours earlier. A group of four doctors conducted an emergency surgery to reconnect the penis.
The surgery lasted four hours and was successful. Currently the patient is recovering very well and he will be discharged from hospital in the next few days.
The patient, Mr. D, said that the incident occurred at about 3am on January 3, when he was sleeping. Then he called a younger brother to take him to hospital.
At the hospital, D's brother told doctors that his penis was cut with scissors but D's wife said that she cut it with a knife.
The woman felt regret for her act and asked for her husband's forgiveness.
Before cutting her husband's penis, this woman had warned her husband several times that if he has promiscuous behaviors, she would cut off his penis.
"I thought that she joked but she did it," D said, adding that his wife is very jealous with his business partners.
Le Ha