VietNamNet Bridge – Yesterday, January 7, Duong Chi Dung – former chief of the state-owed Vietnam Shipping Lines Corporation (Vinalines) declared that Deputy Minister of Public Security – Mr. Pham Quy Ngo – as the one who informed him of the prosecution, which helped him flee Vietnam in May 2012.
Two former Vinalines bosses face death sentence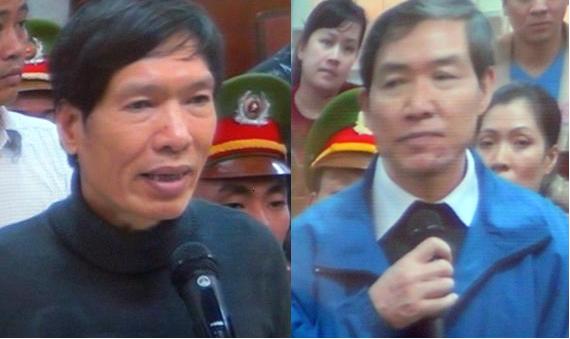 Duong Tu Trong (left) and Duong Tri Dung at the trial yesterday.

Hanoi's People's Court on January 7 began the trial of former Deputy Director of the northern port city of Hai Phong's Police Department, Duong Tu Trong, for helping Duong Chi Dung, Vinalines ex-chairman, flee Vietnam in May 2012.
The ex-police boss, who is Dung's younger brother, and his six accomplices, including four dismissed police officers, has been charged with "organising for other persons to flee abroad".
The prosecutors asked for between 18-20 years in jail for Trong and sentences ranging from 5-6 to 17-18 years for the others.
Trong's six accomplices are Vu Tien Son, ex-Deputy Head of the Social Crime Investigation Police Section; Nguyen Trong Anh, Son's former subordinate; Hoang Van Thang, a former officer of the Environmental Crime Investigation Police Section; Dong Xuan Phong, a former official at Hai Phong City Customs Department; Pham Minh Tuan, former Director of Bach Dang Enterprise in Hai Phong City; and Tran Van Dung, 45, aka Dung "Bac Kan", a resident in Hai Phong's Hong Bang district.
Duong Chi Dung, who was sentenced to death on charges of intentionally violating State regulations on economic management, causing serious consequences, and embezzlement at a trial in December last year, appeared in court as a witness.
According to the indictment, after receiving a tip that his brother Dung would be arrested and prosecuted, Trong colluded with his accomplices to arrange for Dung to escape to Cambodia from Moc Bai border gate in southern Tay Ninh province on May 23, 2012.
The People's Procuracy affirmed that Trong was the mastermind behind the plan for Dung to flee abroad, which directly compromised the State management of immigration, blocking the investigation of the Vinalines case and negatively affect public trust in law enforcement agencies.
At the trial yesterday, as a witness, Dung declared that at noon on May 17, 2012, he called Deputy Minister of Public Security Pham Quy Ngo. The same afternoon, Dung went to Ngo's home and they made an appointment for the same evening.
Around 6pm, Dung received a call from the deputy minister, who said that the decision to prosecute and arrest Dung had been approved. "Ngo told me that I should run away," Dung declared.
Dung added: "I was sentenced to death so here I just declare the truth".
Ngo is the chief investigator of the violations at Vinalines. He is now during a treatment process.
The hearing will continue today, January 8, 2014.
On 17/5/2012, the police conducted prosecutions against the case of intentionally violating state regulations on economic management at Vinalines. The decision to prosecute Dung was signed the same day.
On 18/5/2012, the investigating agency enforced the search and arrest warrant but Dung was not at home or the office. That day, the Ministry of Public Security released the wanted notice against Dung.
In mid-June 2012, an international wanted notice was released by Interpol.
On 4/9/2012, Dung was arrested in Cambodia.
On 7/9/2012, the case of "organising for other persons to flee abroad" was prosecuted. Tran Van Dung was the first suspect arrested (4/92012).
On 5/12/2012, Vu Tien Son was arrested.
On 18/12/2012, Dong Xuan Phong was arrested.
On 27/1/2013, Hoang Van Thang was arrested.
On 28/1/2013, Nguyen Trong Anh was arrested.
On 22/2/2013, Duong Tu Trong was arrested. At that time Trong was Deputy Chief of the Administration and Social Order Management Police Agency of the Ministry of Public Security.
On 20/3/2013, Pham Minh Tuan was arrested.
VietNamNet/VNE/VNA