Police forces to launch crime crackdown before Tet
Minister of Public Security General Tran Dai Quang has ordered the ministry's units and provincial departments to launch a crackdown on crime across the country ahead of the Lunar New Year (Tet) celebrations which falls in late January.
He asked law enforcement bodies to take the initiative in detecting and defeating terrorism and sabotage schemes and activities by hostile forces, as well as encourage local residents to join in crime prevention.
Police forces are also required to further investigate and root out criminal gangs and drug trafficking rings .
At the same time, the minister ordered police units to work closely with relevant agencies to fight smuggling, trade frauds and counterfeit goods, particularly along borders.
The police are also demanded to intensify management over the use of weapons and explosive materials, and ensure traffic safety.-
HCM City Police apprehend drug ring, seizing drugs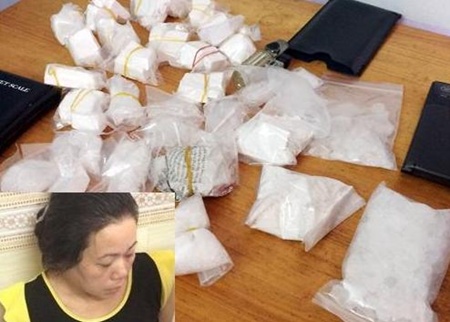 HCM City police on Saturday arrested members of a drug ring in District 1, seizing seven cakes of heroin – weighing 2.2 kilos, 284 grams of methamphetamine and over 6.5 kilos of other drugs.
Five members of the ring, led by Vo Thi Ngoc Hanh, 42, of HCM City's District 1, were arrested. They are members of the same family, according to officials.
While searching Hanh's home, police found 1.1 kilos of heroin, while an additional 0.68 kilos of heroin and 20 gram of methamphetamine were discovered at other gang members' homes.
An initial investigation showed that the drugs were hidden in gang members' homes in District 1 and then sold to drug users in District 7 and District 8. Each day, the gang sold some two cakes of heroin.
40 market kiosks destroyed in huge fire
Nearly 40 kiosks selling clothes and shoes were destroyed by fire at the Nha Xanh (Green House) market in Cau Giay District this morning.
According to officials at Ha Noi's Department of Firefighting and Prevention, the fire began in a corner of the market at around 6.15AM, but was not put out until two hours later after the department's deployment of trucks and firefighters. Delays were caused by the narrow road leading to the market, witnesses said.
The cause of the fire is being investigated.
Located in Phan Van Truong Street, Nha Xanh market is said to frequently cause traffic congestion and proposals have frequently urged shutting the market down.
Sa Pa snowfall damages farms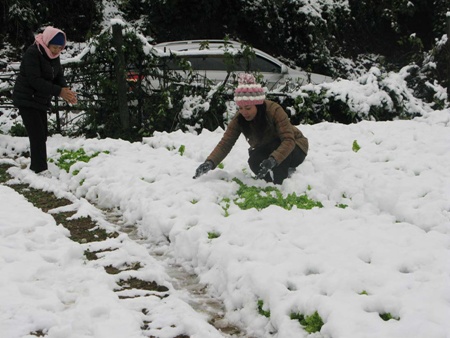 Snowfall in Sa Pa Town in the northern mountainous province of Lao Cai, which began Sunday, has caused serious damage to farms.
According to the town's Department of Agriculture and Rural Development, 100 hectares of chayote and another 100 hectares of flowers were destroyed, and all vegetables and other crops were buried by snow.
Heavy snowfall also led to constant traffic congestion on Highway 4D connecting Lai Chau and Lao Cai provinces. More than 50 cars were unable to continue driving, as of noon yesterday.
Local authorities reported that some 5,000 people flocked to Sa Pa to watch the snow, adding to the traffic congestion.
The province has quickly mobilised workers and rescuers to remove snow and assure that travel remains safe.
Vietnam, US cooperate in landmine clearance
Vietnam and the US signed a memorandum of understanding (MoU) on cleaning up unexploded ordnance (UXO) and landmines left over from the war on December 16.
The signatories were US Ambassador to Vietnam David Shear and Deputy Minister of Labour, Invalids and Social Affairs (MoLISA) Bui Hong Linh.
The MoU aims to establish a long-term humanitarian cooperation in Vietnam, with a focus on dealing with the consequences of UXO/landmine in the post-war period through international exchange of delegations and information, capacity building, and technical and financial assistance.
At a speech in Hanoi, MoLISA Deputy Minister Linh, who is also Deputy Head of the National Steering Committee for Mine Action, highlighted the significance of the MoU, saying it lays a firm foundation for international collaboration on mine action, whilst at the same enhancing the two countries' relations.
Ambassador David Shear said the MoU is an important step in realising the joint vision of the two State leaders, aimed at increasing bilateral ties in the future.
Denmark's US$42 million for Vietnam's poverty reduction
During the six-year programme, average poverty rate in the five provinces dropped considerably from more than 25% in 2007 to 10 – 12%.
The Embassy of Denmark announced on December 16 that it has successfully implemented the Agriculture and Rural Development Sector Programme Support (ARD SPS) project worth US$42 million under the agreement of cooperation between the Danish and Vietnamese Governments.
The project running from 2007 to 2013 helped reduce poverty, particularly in Dien Bien, Lao Cai, Lai Chau provinces in the north, and Dak Lak and Dak Nong provinces in the Central Highlands.
The project was focused on sustainable growth in upland rural household welfare arising from improvements in resources management, agricultural production and marketing, with a focus on the poor upland farmers, in particular women and ethnic minorities.
More than one million farmers and their families in the five provinces have benefited from the project and will continue to enjoy support for further participation in infrastructure and pilot models, said Danish Ambassador to Vietnam John Nielsen at a conference co-organised by the Embassy of Denmark and the Ministry of Agriculture and Rural Development (MARD).
Int'l workshop focuses on water, health
Scientists from Vietnam, Japan, Thailand, Indonesia, Malaysia, Bangladesh and Laos joined together in an workshop held in the central province of Thua Thien-Hue from December 15-16 to discuss issues related to water supply in urban areas and the effects of water quality on health.
The event, organised by the Hue University of Sciences in conjunction with Tokyo University and several other Japanese universities and research institutes, heard 50 reports on ecological health and the assessment of health risks related to the water environment in urban areas.
The reports introduced new methods in environmental impact assessment, and studies and projects on the environment and health implemented in several countries in the region.
The workshop provided participants with a good opportunity to share information and look for cooperation opportunities in the fields of urban sanitation, environment and climate change, while fostering cooperation among universities and research institutes of Japan and Vietnam.
Japan is one of the countries providing support for Thua Thien–Hue in the field of urban water supply.
Japan's Yokohama Waterworks Bureau worked with Thua Thien-Hue Construction and Water Supply Company (HueWACO) to carry out a US$600,000 project to improve water supply management in the locality.
Since 2002, the Yokohama Waterworks Bureau has dispatched experts and helped the locality train personnel in this sector while implementing various water supply activities in the central province.
Vietnam, Netherlands work for sustainable Mekong Delta
The Vietnam-Netherlands Inter-governmental Committee on climate change adaptation and water management has made public a plan to develop Vietnam's Mekong Delta in a safe and sustainable manner.
The committee convened its third meeting in Hanoi on December 16 in the presence of Deputy Prime Minister Vu Van Ninh.
The Mekong Delta plan, which was grounded on the Netherlands Delta plan and has benefited from the close cooperation between the Governments of Vietnam and the Netherlands, lays down a long-term vision together with proposals for the Mekong Delta to adapt to climate change, manage its water resources and prosper sustainably in the coming time.
At the meeting, both sides screened and assessed the process of implementing the strategic partnership agreement signed in 2010, covering university and higher education partnerships, water management and climate change adaptation.
A high-level roundtable conference discussing joint coordination with international donors to aid the Mekong Delta's development was held, seeing the attendance of representatives from the committee, the World Bank and the Asian Development Bank.
On the sidelines of the meeting, the Delf Technology University of the Netherlands and Vietnam 's Irrigation University signed an agreement on the establishment of the Vietnam-Netherlands Water and Environment Centre (Vinwater).
The centre will provide services on applicable research and scientific consultancy, alongside boosting technology exchanges and knowledge transfer related to water and environmental issues.
New flagpole overlooking Hoang Sa Archipelago inaugurated
A national flagpole facing Hoang Sa (Spratly) Archipelago was inaugurated in Ly Son island district in the central province of Quang Nam during a ceremony on December 16.
The 20m-flagpole was built at a cost of VND850 million raised by the Vietnamese Student Association (VSA) and the Bank for Investment and Development of Vietnam.
Addressing the ceremony, Deputy Secretary of the Quang Ngai Youth Union Central Committee Nguyen Hoang Hiep said the flagpole not only contributes to confirming national sea sovereignty, but also helps educate youngsters on their engagement in protecting the nation's sea and islands.
On the occasion, the Vietnamese Student Development Fund also presented a computer to the provincial Youth Union and 10 scholarships valued at VND1 million each to poor students in the district.
The Hanoi Youth Union Central Committee also granted a VND200 million power facility to Ly Son district.
As many as 158 national flags have also been sent to the Ly Son Youth Union, which is in charge of taking care of the flagpole.
Seminar discusses water sector's science and technology
Hanoi hosted an international seminar on December 16 to discuss collaborative initiatives for the science and technology of water sector for sustainable development of urban areas in Vietnam.
The event aimed to disseminate information and promote cooperation among units to improve the quality of human resources and the status of science and technology within the water sector in Vietnam.
Deputy Minister of Natural Resource and Environment Tran Hong Ha said that the world has celebrated the Water Day this year to emphasise the need to strengthen cooperation on water initiatives and devise solutions for allocating water among industries and nations using  common water resources.
Paul M.Craig, a US water pollution researcher in the US said that underground water in southern Vietnam has been seriously affected by arsenic pollution.
More than 30 scientific reports were delivered from international and local experts with the focus on the development and management of water resources, policies, development of environmentally friendly technologies adaption to climate change.
Int'l symposium on water and health in urban areas
The international event has been held in the central province Thua Thien-Hue on December 15-16 by Hue University of Sciences, the University of Tokyo, and Japanese Research Institute.
The focus of discussion was on the development of an international network of health risk assessment in urban area as well as health and environment projects being carried out in Vietnam, Thailand, Laos, and Indonesia.
Prominent is the "Vietnam-Yokohama safe water supply management project" undertaken by the Yokohama Waterworks Bureau and the State- run Thua Thien Hue Water Supply and Construction Company with an estimated budget of US$600,000 from December 2013 to November 2016.
The project aims to transfer water supply technology from Japanese to Vietnamese partners  in the Central and Southern regions of Vietnam in relation to filtered sand restoration in Quang Te 2, enhancing skills of leakage tracking in the area of Vy Da with the drainage rate dropping from 14% to 6%, simulation of water pipe upgrading in accordance with new technology and Scada system upgrading at Van Nien and Quang Te factories.
Tuyen Quang leads nation in forest acreage
The northern mountainous province of Tuyen Quang is taking the lead in forest acreage, increasing its forest coverage to 64.3 percent in 2013, up from 31.2 percent 20 years ago.
According to statistics, the province has planted almost 45,000 ha of forest since 2010. In 2013 alone, the locality invested nearly 400 billion VND (18.8 million USD) to plant 13,788 ha of forest. Forest planting plays an important role in reducing poverty in Tuyen Quang, generating on average 60-70 million VND/ha in revenue.
Tuyen Quang has almost 447,000 ha of forest, accounting for 76 percent of its natural land. The province considers afforestation an important economic sector, contributing to sustainable poverty reduction and environmental protection.
In recent years, the province took several measures to encourage the investment and involvement of the whole of society in afforestation as well as forest development and protection.
In addition, Tuyen Quang devised a plan for developing areas to grow raw materials for wood and paper processing plants with a total area of over 209,000 ha.
In order to continue tapping the effectiveness of forest planting and promoting forestry-based economic development from now until 2015, and beyond to 2020, the locality focuses on developing special use and protective forest, while creating links between forest planting, product processing and consumption.
It will also focus on mobilising social resources and calling on economic sectors to participate in forest protection and development.
The province has set a target of reaching a planted forest output of 90 cu m of timber/ha/period against the current output of 75 cu m of timber/ha/period, creating jobs for about 90,000 labourers by 2015.-   
House built for flood victims in Quang Ngai
The Association for Support of Vietnamese Women and Youth in Germany has provided 3.2 billion VND (150,400 USD) to help build new houses for 80 poor households living in flood-hit areas in Mo Duc district, the central Quang Ngai province.
The provincial Vietnam Fatherland Front held a ceremony in the district on December 14 to hand over the houses to the beneficiaries.
Recently, the chairman of the provincial People's Committee has decided to allocate 40 billion VND (1.88 million USD) for a project to build housing for local individuals and families who made contributions to the revolution under a decision issued by the Prime Minister this year. About 1,000 families will benefit from the assistance.
Director of the Quang Ngai province's Construction Department has been assigned to work with relevant departments and local authorities to implement the project.
Central provinces target unsafe roads
The transport departments of central Da Nang City and Quang Ngai Province have joined forces for operating a safe bus route between the two localities.
The move is expected to help curb traffic accidents and over-speeding on the route.
Nguyen Xuan Ba, Deputy Director of Da Nang City's Transport Department, confirmed the news for Viet Nam News on Thursday.
Overloaded 16-seater vans speeding over 100 kilometers an hour had become a common sight on the 130 kilometer-stretch during the past several years, which had resulted in many accidents and rendered passenger travel unsafe.
"We have agreed to strictly supervise the vans travelling between Da Nang and Quang Ngai. We have also installed a Global Positioning System (GPS) in all vans travelling on the route, as well as in vehicles managing the services of all vans," Ba stated.
"The new route under surveillance, which became operational in October, saw 48 vans travelling between the two locations at a safe and controllable speed of 50 kilometers per hour," he revealed.
He added that four bus stops and ticket stalls have also been added to the route for the convenience of commuters.
The Deputy Head of Quang Ngai Province's Safe Traffic Board, Le Hai, reiterated that the new regulations and surveillance of the route will help put a stop to over-speeding and the practice of plying overloaded vehicles on the road.
Earlier, 16-seater vans used to habitually speed on the route in order to pick up as many passengers as they could.
A regular commuter pointed out that almost all vans carried nearly double the number of passengers than required for profit.
Following the agreement between the two transportation departments, vans will receive support for the GPS installation, as well as financial assistance.
Le Chi Thanh, Director of the Quang Ngai-based Thong Nhat transport co-operative, noted that the agreement would also guarantee profits for van owners and drivers with stable vehicles and safe passengers.
According to data, 16-seater vans are involved in 80 per cent of the accidents on the route between Quang Ngai-Da Nang and Quy Nhon-Da Nang.
Some 77 accidents have occurred in Quang Ngai province during the first six months this year, killing 75 people and wounding 42 others.
New Mekong Delta plan targets sustainable use
The Viet Nam-Netherlands Inter-governmental Committee on climate change adaptation and water management has made public a plan to develop Viet Nam's Mekong Delta.
The committee convened its third meeting in Ha Noi yesterday in the presence of Deputy Prime Minister Vu Van Ninh.
The Mekong Delta plan, which was grounded on the Netherlands Delta plan and has benefited from the close cooperation between the Governments of Viet Nam and the Netherlands, sets a long-term vision together with proposals for the Mekong Delta to adapt to climate change, manage its water resources and prosper sustainably in the coming years.
At the meeting, both countries evaluated the process of implementing the strategic partnership agreement signed in 2010, covering university and higher education partnerships, water management and climate change adaptation.
A high-level roundtable conference discussing joint coordination with international donors to aid the Mekong Delta's development was held, which included representatives from the committee, the World Bank and the Asian Development Bank.
On the sidelines of the meeting, the Delft University of Technology of the Netherlands and Viet Nam's Water Resource University (WRU) signed an agreement on the establishment of the Viet Nam-Netherlands Water and Environment Centre (Vinwater).
The centre will offer services, including applicable research in water resources and flood risk management, consultation in related thematic fields to contribute to forming a master plan, feasibility studies, knowledge transfers and capacity building.
At the signing ceremony, Professor Dr. Nguyen Quang Kim, Rector of WRU, said that with the support of the Netherlands, the centre will adapt global innovative solutions to the local situation in Viet Nam to better serve the needs of local and international organisations and address the challenges of the water sector in the country.
Professor Dirk Jan van den Berg, president of Delft University, said the establishment of this science and technology organisation would not only form a stronger and more effective partnership between the two universities, but also contribute to the development of Viet Nam's water management sector and strengthen the relationship between the two nations.
Breast cancer project promotes prevention
The Ministry of Health launched on Sunday a breast cancer prevention and control project with two partners that will increase public awareness about early detection, prevention and treatment.
The campaign, "We Care for Her", will run from 2013 to 2015 and will include actions plans developed by the ministry, the Supportive Fund for Cancer Patients-Bright Future Fund, and the Roche Company.
The campaign will be conducted in Ha Noi, HCM City, Da Nang, Hue and Can Tho.
Nguyen Tuan Hung, deputy head of the ministry's Personnel Department, said that globally 1 million breast cancer cases were detected each year.
"Due to low awareness and lack of resources, people do not know enough. Patients often get treatment at a late stage, which leads to less than desirable results, he said.
"That's why we hope this project will lead to new results and help people live a healthier life," he added.
Inge Kusuma, representative of Roche Viet Nam, said that 7,000 new breast cancer patients were diagnosed annually in Viet Nam, with 35 per cent of them dying.
The four-phase project will be initiated with the slogan, "Together we care for women and prevent breast cancer" through the media and celebrities, as well as the project's major partners.
Information about early prevention and treatment will be included.
Phase two will provide specialised knowledge to advocacy groups, who will be trained by instructors from the three partners taking part in the project.
For phase three, doctors will be trained in breast cancer diagnosis and treatment, and during phase four, free clinical exams will be given for women in five cities.
Representatives from Roche and the Supportive Fund for Cancer Patients-the Bright Future Fund will offer these free exams in cooperation with hospitals that specialise in cancer care.
They will also support the training of doctors and nurses in breast cancer prevention and control, especially for women who are HER2-Positive.
Efforts sought to give children healthy hearts
Thousands of Vietnamese children living with congenital heart disease, the most common type of birth defect that can lead to death, are awaiting social support to regain control over their lives.
According to the World Health Organisation (WHO), the incidence of congenital heart disease in the general population is 0.8 percent.
General statistics collected from Vietnamese localities showed that at the end of 2012, the country has nearly 17,800 children born with a heart anomaly, with more than 5,000 undergoing surgery.
Thousands of new cases are discovered every year while only 2,000-2,500 children receive surgery annually on average.
The figures indicate that it currently takes five to six years to bring healthy hearts to child heart patients.
Of the children with the disease, 38.8 percent are under-six years old while 58.8 percent aged between six and 15 belong to poor families or those living near the poverty line.
Nguyen Trong An, deputy head of the Child Care and Protection Department under the Ministry of Labour, War Invalids and Social Affairs, blamed the high expense of each surgery - about 40 million VND (1,880 USD), although it has been known to rise as high as 100 million VND.
Although regulations say children under the age of six with health insurance get free healthcare, the Health Insurance Fund has cover for only 55 percent of the total cost.
Meanwhile, children above six years old can hold health insurance cards and receive 80 percent support of hospital fees, unlisted drugs and expenditures bump up the cost further still, leaving poor families and those living near the poverty line unable to pay surgical costs for their children.
He attributed the high cost to the scarcity of qualified surgeons and medical facilities in Vietnam, adding that according to the international standards, each million people needs one surgical centre for congenital heart disease. It means that Vietnam is thirsty for about 80 centres to fulfill the demand of its 90 million people.
However, the country in fact has only 19 heart surgical centres nationwide, he said, adding that not all of them are able to conduct surgeries of diagnosed congenital heart defects.
Over the past time, many charitable and humanitarian organisations have channelled support to poor children born with heart failure.
The Ho Chi Minh City Sponsoring Association for Poor Patients has financed 70 percent of surgical fees for patients aged between six and 16.
Since its inception five years ago, the "Heart for Kids" programme jointly launched by Vietnam Television, the military-run telecom group, Viettel, and East Meets West have mobilised nearly 90 billion VND from 7,000 individuals and organisations to help nearly 2,000 children.
Over the past decade, sponsoring funds for Vietnamese children from central to grassroots levels have gathered hundreds of billions of Vietnam dong in support of poor children with congenital heart disease.
Joining the endeavours, the Sunny Korea, a non-governmental organisation of the Republic of Korea (RoK), will provide 17 million USD fund to heart surgeries designed for Vietnamese children in the RoK during the period of 2014-2020 under a memorandum of understanding recently inked by the orgnisation and the Vietnam Children Sponsoring Fund.
Notably, the Prime Minister on October 4 approved a decision on the policy to support surgeries of congenital heart anomaly.
Accordingly, almost all children with heart disease who are born to poor families or those living near the poverty line can receive free surgery and support for accommodation and travelling during the treatment.
With the great effort of the whole society, children with congenital heart anomaly are expected to enjoy a normal life like their peers.-
VNA/VNS/VOV/SGGP