VietNamNet Bridge - Many countries took decades or even centuries to enter the stage of aging an population, but it was only 16-18 years for Vietnam. Most of the elderly people are not retired; 70 percent still have to work for a living.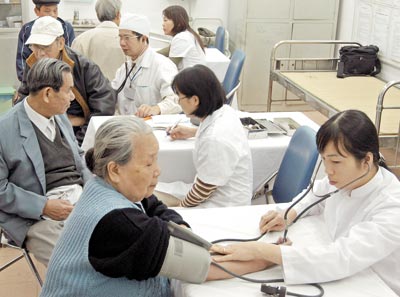 In 2009, the General Statistics Office predicted that by 2017 Vietnam would enter the stage of an aging population. But just two years later, the prediction became obsolete.
In 2011, Vietnam officially entered the aging stage. The  aging speed of Vietnam is the fastest in Asia and the world, said Mr. Nguyen Van Tan, Deputy General Director of the General Department of Population and Family Planning, at the launching ceremony of the national action month on population in Hanoi this week.
The reason for this situation is that the average life expectancy is increasing while the birth rate and the death rate decrease. Vietnam's life expectancy increased about 1.5 times over that in the world.
However, Tan said that the healthy life span in Vietnam is not high. On average, each elderly person in the country suffers from 14 years of illness in his life. Up to 95 percent of the elderly are ill, mostly chronic diseases such as heart disease, high blood pressure, diabetes...
In addition, the proportion of the elderly living alone is growing, mainly the elderly women. Most of them have difficult lives. They mainly rely on social care, family's care or have to work without accumulation.
Only 30 percent of the elderly people have a pension or allowance from the state budget. Some 30 percent do not have health insurance. The pension and social insurance funds of Vietnam are facing enormous challenges.
The elderly care system does not keep pace with demographic change. Vietnam has only one national geriatric hospital.
Experts recommend that Vietnam needs to prepare its economic potentials, develop its social security system to bring a happy life for the elderly and at the same time, it should have a long-term strategy to slow down the transition time from aging to aged stage. Specifically, the birth rate should be maintained reasonably, not to be too low as South Korea and Japan today.
With 90 million people, Vietnam's population ranks 14th in the world, 8th in Asia and 3rd in Southeast Asia.
Cam Quyen