Rural living standards still very low in VN

A survey released on Wednesday reveals a large and persistent gap in development outcomes between residents living in mountainous and lowland regions.
The survey was produced after more than 3,700 households in 12 cities and provinces nationwide were polled last year.
Called Viet Nam Access to Resources Household Survey, it has been conducted every two years since 2002.
The latest one shows that income for most rural households continues to come from farming and livestock, especially in the north and central highlands.
In addition, members of small ethnic groups have much lower access to essential goods, such as safe drinking water and high quality housing.
At the same time, richer households are much less likely to own agricultural land for any of their income.
According to the Institute of Policy and Development Strategy for Agriculture and Rural Development (IPSARD), farming is still relevant to how households earn income and accumulate wealth, but income from household enterprises and wages is also quickly becoming important. Luu Duc Khai, an expert from the Central Institute for Economic Management, called on the Government to put resources into improving living standards in rural areas, increase vocational training to meet demands - and provide opportunities for farmers to access credit and loans.
Khai said that the Government must focus on helping those who no longer relied on farming. "We should put resources on training them right in their home town so they can focus on expanding and generating incomes from agricultural production instead of forcing them to seek work in cities," he said.
The survey was produced by the University of Copenhagen, Institute of Labour, Science and Social Affairs, the Central Institute for Economic Management and IPSARD.
Government to build more centres for lonely elderly
The Ministry of Construction proposed that the Government set up centres to take care of lonely old people in 10 provinces and cities.
About 1.15 per cent of Viet Nam's elderly, or 100,000 people, are unable to take care of themselves, according to the ministry. However, only 3,500 live in social centres.
Minister of Construction Trinh Dinh Dung said that there were not enough such centres to house the entire nation's old people. While there are more than 400 nationwide, only 180 take care of the elderly; the others house disabled people and orphans.
Moreover, Dung added, these centres look after old people's living conditions but do not pay enough attention to their spiritual lives and mental health.
Under the proposal, each province and city will set up one centre that can take care of about 50 old people. The centres will be built under state, non-state or community models.
State centres, funded by the state budget, care for old people who contributed to the resistance wars or are poor and cannot take care of themselves.
Non-state centres enjoy priority policies related to land, capital and taxes but look after old people who can pay for check-up and treatment services.
Community-based centres are supported by external organisations and individuals.
Each centre will cost about VND12 billion (US$571,400) to build, which will come from a combination of local budget and funds for social services and includes VND10 billion ($476,190) for construction and VND2 billion ($95,200) for equipment.
The centres will be piloted in the northern provinces of Cao Bang and Tuyen Quang, the central provinces of Thanh Hoa and Nghe An and the southern provinces of Tra Vinh and Dong Thap.
They are expected to open by July 2015.
Meanwhile, associate professor Luong Ngoc Khue, director of the Ministry of Health (MoH)'s Medical Service Administration, suggested setting up specialised geriatrics hospitals or geriatrics wards within established hospitals.
According to a plan approved by MoH, National Geriatrics Hospital 2 with 500 sick beds will be built in 2015 and two geriatrics hospitals will be built in HCM City and the central city of Da Nang.
Khue also suggested daytime hospitals, which would provide services during the day so patients could go home in the evening.
Doctors and medical workers should be trained to specialise in geriatrics, he said, and supporting services at home for the elderly, including cleaning, cooking, physical therapy and health consultancy, should be improved.
Professor Nguyen Cong Khan, director of MoH's Science, Technology and Training Department, added that a steering committee for geriatric health care would be set up by MoH and the National Assembly's Social Affairs Committee by the beginning of next year.
By the end of next year, the committee expects to build an overall plan for taking care of the elderly.
Work begins on hydroelectric dam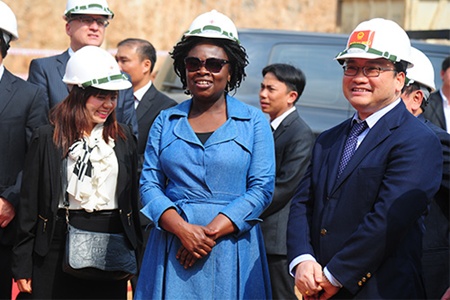 The first phase of dam building on the Ma River for the Trung Son hydroelectric project kicked off yesterday.
Deputy Prime Minister Hoang Trung Hai attended the ceremony held in Trung Son Commune, Quan Hoa District.
Addressing the event, the deputy PM lauded local authorities, the project's investor and the constructors for their great success in land clearance and other preparatory work for the multi-purpose project. He urged the provincial People's Committee and local authorities to implement resettlement work and ensure a better life for people asked to move.
The project is the first of its kind in Viet Nam financed by the World Bank, which is providing 80 percent of the total cost (US$330 million). The remaining amount will come from Trung Son Hydropower Co Ltd, a subsidiary of Electricity of Viet Nam, the project's investor.
With a capacity of 260 MW, the four-turbine plant is expected to add over 1 billion kWh to the national power grid every year. The project also aims to control floods in the lower reaches of the Ma River and create momentum for socio-economic development and poverty reduction in Quan Hoa District.
Notably, the project will contribute to Viet Nam's climate change programme by generating clean energy and avoiding the production of an estimated 1 million tonnes of carbon dioxide per year.
Construction began in November 2012 and is scheduled to finish in August 2017.
Sea exploiters face heightened fines
Fines for illegally invading sea and island areas and the continental shelf of the Socialist Republic of Viet Nam for tourism purposes will be as high as VND1 billion(US$48,000) under a new decree that comes into effect on January 1.
Offences such as installing undersea cables and pipelines without the government's permission and illegally exploiting sea currents, wind energy and other non-living resources will face penalties of VND800 million-1 billion ($38,400-48,000).
Individuals or organisations caught committing activities that could negatively affect legal undersea cables and pipelines will face charges of VND400-500 million($19,200 – 24,000).
Other violations in aqua management, environmental protection and maritime activities beyond port waters will also be subject to punishment.
Consumers need food supplement guidance
Health experts including doctors should be required to provide specific counselling on proper use of food supplements in order to avoid any damage that these can cause, experts said at a conference last Saturday.
Nguyen Thanh Phong, deputy director of the Viet Nam Food Administration under the Health Ministry, said right understanding and proper use of food supplements was vital to a person's health.
The conference on food supplements was organised by the Viet Nam Food Administration in co-operation with the Lao Dong (Labour) Newspaper.
Phong said that proper use of food supplements was a good preventive measure against various illnesses, but health experts including doctors had a very important role to play in helping consumers learn how this could be done.
He said existing regulations would be amended to add counseling on proper use of food supplements to a doctor's duties.
Dr Le Van Truyen, former deputy minister of health, said the network of pharmacies in the country should be used effectively to help provide right knowledge on food supplements to consumers. He said this had to be done because most Vietnamese people still had the habit of consulting pharmacists before they go to doctors or hospitals.
The use of this network for providing specific advice on food supplements had proved effective in many countries, he said.
Truyen also called for tighter monitoring of advertisements promoting food supplements.
Phong said false or exaggerated claims in advertisements relating to food supplements accounted for 53 per cent of violations recorded in the first ten months of this year.
Nguyen Manh Hung, vice chairman and general secretary of the Viet Nam Standardization and Consumers Association, said advertisements of many food supplements in the market carried false information or exaggerated their benefits, leading consumers to believe that they are wonderful remedies for all diseases.
In this connection, the association received many complaints from consumers about product quality, Hung said.
For instance, one consumer saw a TVShopping channel advertisement on Dan Sam Tea that claimed it could treat high blood pressure. After drinking the tea, her blood pressure went up further. Hung said there had been many instances of people's health conditions worsening after taking advertised supplements.
He said health experts had warned that food supplements could cause allergies and even lead to deaths in worst case scenarios.
Trieu said relevant authorities should co-operate with media more closely in order to control advertising content.
He said merely requiring or encouraging manufacturers and distributors to be honest in their advertising of food supplements was not enough for consumers to develop a right understanding on their use.
Phong said although the advertising content of products and services including food supplements was examined and approved by relevant authorities, the media, including newspapers and television, had to be more careful in scrutinizing it and exposing any mistakes.
The manufacturers and distributors should realise that false and exaggerated advertising not only harms consumers' health but also reduces public trust in food supplements, which could inflict economic damage, he added.
Phong said the market of food supplements has developed rapidly in the country over the last 12 years, with the number of products increasing from several hundred to more than 10,000 now. Sixty per cent of these products are made in Viet Nam.
As of 2012, there were 1,781 enterprises producing food supplements in the country.
Trieu suggested that authorities study the management of food supplements in other countries and find ways to develop a healthy market as well as healthy practices.
He said Viet Nam had a large number of medicinal plants that could be used to produce food supplements. The nation was yet to take full advantage of this precious resource, he said, calling for greater co-operation between scientists, pharmacists, doctors and manufacturers in the production of domestic food supplements.
Enterprises already engaged in making food supplements should upgrade and use advanced technology in their operations, Trieu said.
Anti-terrorism drill held at HCMC airport
A counter-terrorism and rescue drill took place at Tan Son Nhat International Airport in HCM City on Saturday.
The large-scale simulation involved forces from the municipal Police, Air Defence Division 367, the Ministry of Transport and the Department of Health, in collaboration with the 44 international airlines operating at the airport.
The drill was held under the scenario of an attack by 15 terrorists who held 200 passengers as hostages and shot security staff dead at the airport. All forces were mobilised to rescue the hostages.
Billions of dong returned to state
Nearly 7,000 people have had their monthly allowances reduced after localities were found to have improperly carried out preferential policies towards citizens who made meritorious contributions to the country.
Inspectors from the Ministry of Labour, Invalids and Social Affairs found that as many as 609 files of people listed as having made meritorious contributions to the country were found to have been forged or included false statements.
At the same time, VND 75 billion (US$3.5 million) has been returned to the state budget, according to Minister of Labour, Invalids and Social Affairs Pham Thi Hai Chuyen.
Driver schools to be privatised by 2014
Car driving training centres nationwide will be privatised and equitised by the end of 2014 in a move to improve the quality of training and even the playing field between public and private centres, said Dinh La Thang, Minister of Transport.
There are 316 driving training centres nationwide, of which 125 are privately-owned, according to the Viet Nam directorate for roads.
The percentage of people wishing to learn to drive increased from 25 – 37 per cent between 2004 and 2010 and then jumped to 43 per cent this year. As a result, driving centres have mushroomed.
However, although all facilities compete fiercely to attract learners, state-owned centres have an advantage because they receive all their funding from the State, said Nguyen Van Quyen, deputy director of the Viet Nam Road Administration.
Nguyen Vi Tung, director of a driving centre in Ha Noi, said that his centre struggled with skyrocketing land use fees but could not increase tuition because competition was too intense.
In addition to attracting learners, centres need to have a high rate of passed examinees. Therefore, they have to find ways to help their students pass the exam, which can often be costly.
According to a centre director in the northern province of Hai Duong, a private centre has to pay 50-60 per cent more to ensure that a student passes than a state-owned centre.
Centres often attract learners by cutting tuition fees, which in turn cuts learning time – which means many drivers on the road are not very skilled and there are more accidents, said Nguyen Dinh Nghi, deputy director of the Police Bureau for Administrative Management of Social Order.
To solve the problem, the ministry will tighten supervision over centres. It instructed agencies to create a level playing field between private and state-owned training facilities.
Health Ministry holds talks on new tobacco rules
The Ministry of Health and the Vietnam Fatherland Front held a conference on November 28 for district officials in southern provinces to explain in detail the law on tobacco harm-reduction that took effect on May 1.
The law prohibits selling tobacco to people under 18 years old. It also requires cigarette manufacturers to include health warnings on the front and back of cigarette packages.
Vietnam has nearly 16 million smokers, and is one of 15 countries with the highest rate of cigarette smoking in the world, according to the Vietnam Steering Committee on Smoking and Health.
Tobacco use is the cause of 40,000 deaths in the country each year, according to the ministry.-
Soc Trang benefits from mangrove forest project
As many as 20 hectares of mangrove forests have been planted over the past two years in the Tran De district of southern Soc Trang province, helping mitigate the impact of natural disasters in the area.
The point was raised at a workshop held on November 29 by the Soc Trang Red Cross society to review how the UK-funded project in the field has panned out.
The project, which was sponsored by the UK Premier Oil Company, aims to improve and increase the area of mangrove forests in the coastline areas of Soc Trang province, preventing soil erosion caused by rising sea levels.
Following the success of a pilot scheme in 2011, the company granted 1.6 billion VND (75,000 USD) to local residents to plant over 100,000 trees over 20 hectares, which will be expanded further next year.
Deputy Chairman of the Tran De People's Committee Lam Van Be said he hopes the province will receive more support from both domestic and foreign sponsors to increase the layers of protective forest density to shield local communities from natural disasters.-
Firms struggle to get climate change funds
Small and medium-size enterprises are having difficulty in getting funds to adapt their businesses to the impacts of climate change.
Pham Thi Thanh Hang, director of the Investment Co-operation and Development Centre for Small and Medium Enterprises, yesterday told a workshop in Ha Noi that it was hard for enterprises to meet requirements for borrowing.
Although mechanisms have been issued to encourage enterprises to adapt to climate impacts, she said they were ineffective.
"I think the mechanisms and policies are impractical," she said.
"I expect policy-makers and managers to do something to fix the situation," she added.
Pham Thi Kim Hoa, a participant at the conference, said that dozens of small-and medium enterprises in northern Hoa Binh Province were rejected when applying to borrow money from supporting funds.
This was because they lacked the skills to draw up detailed plans to persuade fund management boards to lend them money.
In response, the Association of Small and Medium Enterprises has been asked to provide training courses for enterprises to improve their skills.
According to Hoa, several small and medium enterprises in Hoa Binh Province had no idea what to do to cope with climate changes.
She blamed the mass media for failing to provide specific messages about how climate changes will affect enterprises.
Hoa recommended that the mass media should be used more frequently to pass on information.
She added that enterprises should be invited to workshops discussing climate change so they had a chance to learn what they should do.
The workshop was co-organised by the Viet Nam Chamber of Commerce and Industry, and the Ministry of Natural Resources and Environment's Department of Meteorology, Hydrology and Climate Change.
Thousands of helmets donated to pupils
Johnson & Johnson, in collaboration with the AIP Foundation, has donated 3,848 helmets to first graders at 32 schools in Dong Nai, Quang Binh and Ha Tinh provinces under the Helmets for Kids program.
Since April, Johnson & Johnson has donated 21,476 helmets.
"During the 2012-13 school year, helmet usage rates in our Helmets for Kids project in schools has jumped from 26 to 96 percent," said Mirjam Sidik, CEO of AIP Foundation.
Along with the helmets, students received road safety training via quizzes, painting contests and parades. Fun and educational road safety extracurricular activities were organized at all 32 project schools.
In addition, the Helmets for Kids programme conducted three teacher training sessions in HaTinh, Quang Binh and Dong Nai provinces.
The training gave 377 teachers the skills to talk about the importance of helmet use to parents and students alike. Teachers will be able to organise road safety workshops for students and parents throughout the school year to sustain high helmet use rates and safe road behaviors.
Billboards were installed at school gates to serve as daily reminders for parents and students about the importance of proper helmet use.
New bridge to facilitate socio-economy in northwestern
The new Viet Tri bridge, which connects the northern provinces of Vinh Phuc and Phu Tho, is expected to facilitate socio-economic development in the northwestern region once completed.
Construction of the bridge, which spans the Lo River, began in Phu Tho on November 30.
The 736.5m long and 22.5m wide bridge will be built in 18 months in the form of BOT (Build-Operate-Transfer) at a total investment of more than 1.9 trillion VND (89.3 million USD).
The new facility will also benefit tourists who come to visit and offer incense to Hung Kings, the founders of the country, at their temple in Phu Tho province.-
Free check-ups provided for people in mountainous region
One thousand people in Mu Cang Chai district in the northern mountainous province of Yen Bai were provided with free check-ups and medicine at a community health festival held from November 30 to December 1.
The festival formed part of a pilot project sending young volunteer doctors to mountainous, remote and border areas.
The situation of the health sector and the demand for health workers in the mountainous region were also reviewed during the two-day event.
Jointly held by the Vietnam Youth Federation, the Vietnamese Young Doctors' Association and the provincial People's Committee, the event aimed to ensure social welfare and improve people's health.-
Poor heart patients in Tra Vinh receive free check-ups
More than 1,000 poor patients, mostly children, in the Mekong Delta province of Tra Vinh received free heart check-ups on November 29-30.
The service was jointly conducted by the provincial Red Cross, the Chau Thanh district General Hospital and the Hoan My Saigon Hospital (HMSH).
This is the second time the HMSH has organised humanitarian activities for poor heart patients in Tra Vinh.
According to doctor Pham The Viet from the Hoan My Saigon Hospital, after check-ups, the hospital will join other sponsors to cover all the costs of heart surgery on child patients and 10-20 percent for adults.
On the occasion, the hospital signed a cooperation agreement with the provincial Red Cross to provide free heart check-ups and surgery for about 100 local children in 2014.-
Lao Cai markets to remain traditional after upgrade
Authorities in the northern mountainous province of Lao Cai plan to expand and upgrade traditional markets in Bac Ha district to facilitate more trade by ethnic minority communities and attract more tourists.
Tran Huu Son, Director of the provincial Culture, Sports and Tourism Department, said locals should be able to offer more than agricultural produce at the markets, and the space should be big enough for them to display their wares and for tourists to watch trading activities.
Apart from agricultural produce, there should be a space in the market for cultural products like khen (bamboo flute) and they can attract more tourists and buyers if they perform with the instruments, he said.
The province also plans to arrange accommodations for tourists, who wish to stay there overnight and attend the early morning trading sessions, he said.
The plan will relocate the market sites to facilitate access by both locals and tourists without affecting the daily routines of ethnic minority communities, Son said.
"We will not let the traditional markets be commercialised and lose their identity," he assured.
Presently, tourists flock to just one big traditional market at the heart of Bac Ha town held every Sunday morning to get a glimpse into traditional customs and lifestyles.-
Vietnam needs to promote cultural diversity: UN official
A human rights official from the United Nations has asked Vietnam to work harder reducing the negative impacts of development projects and maximise the strength of cultural diversity in order to boost sustainable development.
Speaking at a November 29 working session in Hanoi to announce her findings on the implementation of cultural rights in Vietnam - following her visit to the country from November 18-29 - Farida Shaheed explained the impacts of tourism and the teaching of history on the exercise of cultural rights.
She suggested Vietnam introduce measures to ensure the right of local people to participate in the management of tourism activities in the most profitable way. She also stressed the need to build tourism models that do not negatively impact native cultural practices.
This is the first fact-finding tour of a UN Human Rights Council expert in Vietnam to study difficulties in the implementation of cultural rights.
During her trip, Shaheed visited Hanoi, Ho Chi Minh City, central Hoi An town and northern Sa Pa town.
Nearly 10,000 nutritional supplements circulated in Vietnam: Ministry
Nearly 10,000 nutritional supplements are being circulated in the country and 40 percent of them are imports.
The Ministry of Health released the news at a seminar themed "Nutritional supplements: Role in prevention and management and orientation in future" on November 30.
The ministry's Vietnam Food Administration said that within 10 recent years, growing number of variety of nutritional supplements has been announced in Vietnam.
Consumption of these supplements goes up gradually. Accordingly, as many as 1,800 producers and distributors have been licensed in the country.
The administration also noticed management of these nutritional supplements. There are many problems in management of nutritional supplements, especially with many people taking part in a multi-level selling system and exaggerating the use of the supplements.
In addition, the health watchdogs can't control the quality, prices and content of these supplements.
Source: Dantri/VOV/Nhandan/SGGP/VNS/VNA