VietNamNet Bridge - The second time hosting the United Nations Day of Vesak, the Vietnam Buddhist Shangha is expected to welcome 10,000 people, including 1,500 leaders of Buddhist shanghas, Buddhist sects, Buddhist scholars and Buddhist followers from 100 countries around the world.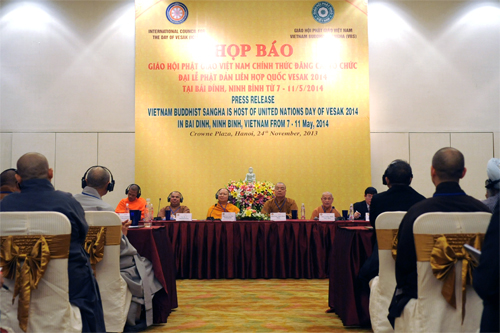 The press conference on the UN Days of Vesak 2014 in Hanoi on Sunday.

The 2014 United Nations Day of Vesak themed "Buddhist Perspective towards Achieving the United Nations Millennium Development Goals" will be held at Bai Dinh Pagoda in Ninh Binh province from May 7-11 next year.
Besides the spiritual ceremonial activities, Vesak will hold forums and scientific conferences, which focus on the current issues of the world such as "sustainable development and social change," "global warming and environmental protection," "peace building and post-conflict recovery"...
The event aims to celebrate the tri-sacred day of Vesak internationally, and foster co-operation among Buddhist communities and institutions, develop Buddhist solutions to the global crisis and disseminate Buddhism through academic activities, religious ceremonies and ways of life. It also aims to popularize Vietnam's image, culture, people and ecological and religious tourism development.
This will be the second time Vietnam has hosted the event. In 2008, the Vesak celebration in Hanoi was attended by over 600 Buddhist delegations from around the world.
The event is being organized by the Vietnam Buddhist Sangha in collaboration with the International Council for the Day of Vesak.
The 2014 United Nations Day of Vesak would be an important event contributing to the role of Vietnamese Buddhism in international integration and to affirm Vietnam's position and responsibility towards the UN, said Most Venerable Thich Thien Nhon, Standing Vice President of the VBS, at a press conference on Sunday.
Vesak also known as Buddha Purnima is a holy day observed traditionally by Buddhists in Nepal, Sri Lanka, Tibet, Bangladesh, Bhutan, India and the South East Asian countries of Singapore, Vietnam, Thailand, Cambodia, Laos, Malaysia, Myanmar, the Philippines, and Indonesia. Sometimes informally called "Buddha's Birthday", it actually commemorates the birth, enlightenment, and death of Gautama Buddha.
P. Linh