VietNamNet Bridge – At least six people were killed and many others fainted in a fire at Fuse Bar yesterday, Nov 19.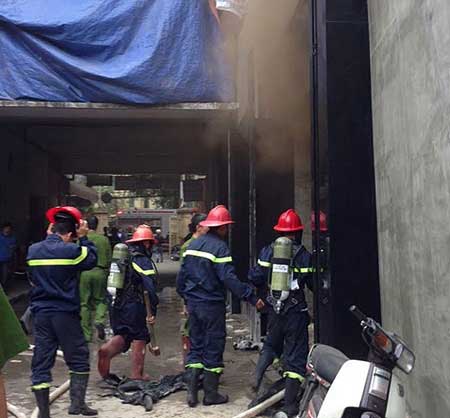 Firefighters stamp out the blaze at Fuse Bar. The fire was under control after nearly two hours. 
The bar, located inside the popular Zone 9 complex at 9 Tran Thanh Tong Street, was being repaired when a big explosion occurred at 2:30pm. The blaze was allegedly caused by the carelessness of some welders at work.
Three fire trucks, tens of firefighters and two ambulances were dispatched to the spot and the blaze was distinguished after one and a half hours.
According to Nguyen Hoang Anh, Deputy Chief of the Ha Noi General Electricity Company, the bar owner turned off the circuit breaker so nearby houses were not affected.
The company would co-operate with local authorities to examine the scene and would provide electricity to the bar again if it was safe, she said.
Vice director of the Ha Noi Police Nguyen Duc Nghi directed the investigation of the case.
Zone 9's transformation from an abandoned factory to one of the city's most popular destinations has not been without incident. On September 21, a balcony collapsed, leaving one woman unconscious.
Source: VNS