VietNamNet Bridge - According to the latest report of the National Center for Hydro-meteorological Forecast, a tropical depression will get stronger to become the 13th storm, which will be only about 100 km off the coast of the central, southern central and southern central highland of Vietnam at 1pm today, November 6. The 9-level storm will cause widespread rains.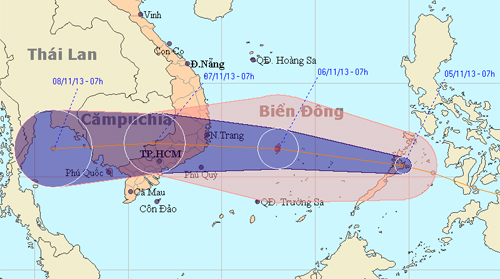 In the afternoon of November 5, the tropical depression was about 290 kilometers east southeast of the Song Tu Tay Island, with winds speed up to 61 kilometers per hour (level 7).
By 7am yesterday, the low-pressure centre was above the north end of Palawan Island in the Philippines, with winds moving at 50-61 km per hour, according to the National Hydro-meteorological Forecast Centre.
According to Mr. Bui Minh Tang, Director of the National Centre for Hydro-meteorological Forecast, the tropical depression will move fast with speeds up to 30 km an hour, and in less than a day, it will be moving for 1,400 km and can be strengthening into a storm.
From 3-7pm on November 6, the storm – at level 9, will make landfall into coastal provinces from Phu Yen to Ca Mau and the southern Central Highlands provinces of Dak Lak, Lam Dong and Dak Nong, Tang said.
"The more the storm moves closer to the coast, the stronger it will be. At about 1pm on November 6, the storm will be only about 100 km from shore, with strong winds. Therefore, central and central highland provinces need to prepare to confront the storm before noon today," he said.
Meanwhile, Haiyan, a powerful storm born in the Pacific Ocean, was found at latitude 6.5 degrees north and longitude 145.9 degrees east yesterday, according to the center.
Storm Haiyan is moving in a west and north-west direction with winds of 25km per hour and will likely enter the east part of the East Sea on Friday.
Tang said that as the storm strengthened, it would affect the mainland from Da Nang to Ca Mau and Kien Giang provinces as well as the sea.
Prime Minister Nguyen Tan Dung sent an urgent message to central coastal localities yesterday, ordering authorized agencies to minimize damages by taking actions such as informing ships operating offshore about the storm's development and banning vessels from going offshore.
Localities were instructed to evacuate residents in high-risk areas and help others strengthen their houses before 1pm today.
The National Steering Committee for Storm and Flood Prevention and Control held an online conference yesterday with coastal provinces from Da Nang to Ca Mau and Kien Giang and Central Highlands Lam Dong Province to discuss coping measures.
Deputy Prime Minister Hoang Trung Hai stressed that the storm would strike areas that were not usually hit by such weather, so it was especially important for localities to be prepared and raise awareness.
He asked provinces from Quang Ngai to Ba Ria-Vung Tau to keep a close watch over reservoirs.
Number of storms and tropical depressions in 2013 hits record
Over the past 49 years, 1964 was the year with the highest number of storms and tropical depressions – 16. However, that record may be broken this year, with up to 18 storms and tropical depressions, said Mr. Le Thanh Hai, deputy director of the National Center for Hydro-meteorology Forecast.
"The storm season this year is so special," Hai added.
According to Hai, there were 12 hurricanes and four tropical depressions in the East Sea this year. At present, a tropical depression near the East Sea is being strengthened into a storm (13th storm) and another one named Haiyan is highly possible to enter Vietnam (14th storm).
"Thus, the number of hurricanes and tropical depressions in the East Sea may reach 18, surpassing the record in 1964 with 16 storms and tropical depressions. This is rare in the past 49 years," said Hai.
Hai added that it is also special this year that there were up to seven storms in the Pacific in October alone, surpassing the record number in October 1989, with six storms.
Hai said that Vietnam may have to face 1-2 more storms this year.
Le Ha