VietNamNet Bridge – "My village is full of silversmiths, let me make you a ring to wear..." This folk verse has long been associated with Dinh Cong Village in Hanoi's Hoang Mai District, which is renowned for its silver craft making.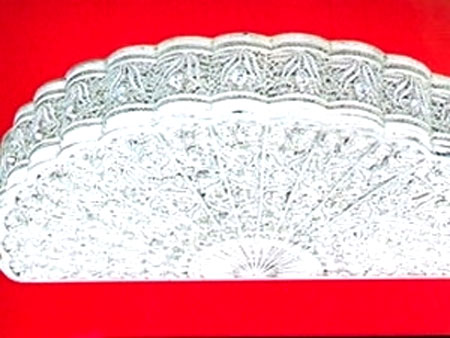 A silver product made by Dinh Cong villagers.
In memory of the famous silversmith Quach Van Truong, Dinh Cong Village was once full of people producing silverware. However, these days there are only two remaining families keeping this traditional craft alive.
Silver making involves three techniques that sound deceptively simple: decoration, engraving and bending. The completed products are shiny, slender and have a sophisticated beauty.
This traditional craft requires artisans to do all the work painstakingly by hand. According to Truong, the silver used to create jewellery must be nearly pure to ensure that the finished work will be hard and shiny enough.
"What this craft requires most is diligence. You have to work all day just to make a tiny flower. Without patience, you will not be able to live with it," Truong said.
It takes months to finish a silver product. The quality is highest when patterns are attached evenly on the product and no welding marks can be seen.
"The creator of this jewelry must have very precise eyes and skilful hands. We have the same kinds of products in Malaysia, but the sophistication is not this high. This is flawless and truly beautiful," said Alex Teh, a Malaysian tourist.
In order to preserve the traditional craft, Truong makes sophisticated decorative items as well as jewellery. The talented hands of the silversmith create works containing hundreds, even thousands of harmonious details.
Truong's son, Quach Phan Tuan Anh, is also joining his father to preserve their family's traditional profession. The young man holds two bachelor degrees but is determined to stay at home and maintain the quintessence of the silver carving village.
There is no limit for the level of difficulty, he said, adding that the artisans have to strive to get past the challenges as they are also the motivation for them to stay with this work.
While it may not be as colourful as painting or as natural as pottery, the silver making trade has its own charms, creating pure and beautiful works of art that never grow old.
Source: Vietnam Plus