VietNamNet Bridge - General Vo Nguyen Giap had many other names in his illustrious life, which were associated with a heroic period of Vietnam's history.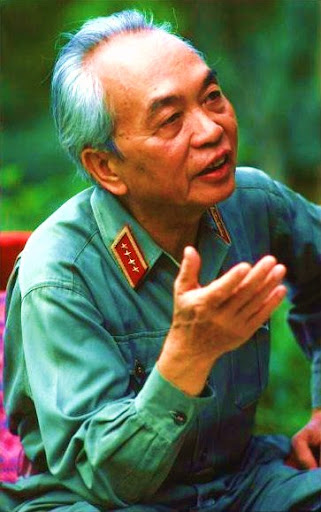 General Vo Nguyen Giap. Photo: Alex Bowie.
Many people still believe that General Giap's original name is "Van" but in reality, Vo Nguyen Giap is his birth name.
According to the habit of many families in Vietnam in the past, parents usually named their children in accordance with their year of birth. However, General Giap was born in 1911 (Year of the Pig or Tan Hoi in Vietnamese), unrelated to the letter "Giap".
Perhaps, his father, teacher Vo Quang Nghiem put his desires on the names of his children and these names had an effect on their lives.
Vo means martial arts, Nguyen and Giap mean the first, Giap is also mean amour. Vo means amour. Despite graduating from the law school and working as a journalist and a teacher, Mr. Giap later became a world-wide famous high-ranking general and commander. Meanwhile, his brother, who was named Vo Thuan Nho (learning and studying), later served as Deputy Minister of Education.
At school, he used the names Vo Nguyen Giap and Vo Giap. His law degree (granted by the Hanoi University of Law in 1938) specifies the name Vo Nguyen Giap or Vo Giap.
During his life, General Giap used many different names.
In 1929-1930, he used pen names Van Dinh and Hai Thanh on the articles in Vietnamese and French on "Hon Tre" (Young Soul) or Notre Voix (Our Voice) and Le Travail (Labor) newspapers.
After the August Revolution, writing for the government newspapers, he used the names Vo Nguyen Giap and Hong Nam.
On 3/05/1940, joining Mr. Pham Van Dong (later the Prime Minister) to cross the border to China to meet with Ho Chi Minh, Vo Nguyen Giap used the alias Duong Hoai Nam.
Later he named his youngest son Hong Nam. His grandson, Hong Nam's son, is named Vo Hoai Nam.
Pen name Van Dinh was also used by Vo Nguyen Giap in a book co-written with Mr. Truong Chinh (later Party Secretary General, Prime Minister and National Assembly Chairman) in 1938.
A popular alias is "Van." This alias was used before the August Revolution. Many generals, military officers and his inferiors usually called him "Mr. Van." Senior leaders of Vietnam at that time were also commonly known by such aliases sch as "Mr. Than" (Truong Chinh), "Mr. To" (Pham Van Dong), "Mr. Ca" (Nguyen Luong Bang)...
In the uprising order issued on 12/8/1945, Vo Nguyen Giap signed on behalf of the Liberation Commission with this alias.
In Dien Bien Phu campaign, his codename was Hung. His letter sent to President Ho Chi Minh and "Comrade Truong Chinh and the Politburo" presenting his new policy of warfare at Dien Bien Phu dated 30.1.1954, used this name.
At the battlefield of Dien Bien, General Vo Nguyen Giap occasionally wrote important commentaries for the Radio Voice of Vietnam under this name.
In the Central Highlands campaign in March 1975, he used the code name "Chien" while General Van Tien Dung, who was sent to the South to control the campaign, was called "Tuan". The two generals contacted with each others using these names.
In the last stage of the war against the US, General Giap again used the alias "Van." The historical telegram dated 7/4/1975 sent by General Giap to military units that were moving to the South was signed by this familiar name.
Tran Cham