VietNamNet Bridge – The official Facebook page about General Vo Nguyen Giap has been set up to post valuable information about the General and to share and receive the affection of the people for the great general.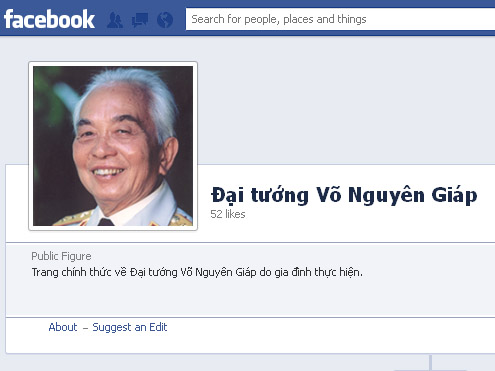 The page was launched on October 8 by the family of General Vo Nguyen Giap, at https://www.facebook.com/VietNamVoNguyenGiap.
The Facebook page provides information and valuable pictures about the General. The page keeps being updated by the General's family.
The Facebook page is a place for all people to share and express their feelings as well as pictures of the great generals of the nation.
According to latest information, the time for paying farewell to the General at his home No. 30 Hoang Dieu Street, Hanoi, will end today, October 11, instead of October 12 as schedule.
It is estimated that hundreds of thousands of people have come to the house in the last few days.
This morning, October 10, the people queued for kilometers long around the house, waiting for their turn to pay homage to the great general. Some photos taken by local newspapers:
M. Lan