VietNamNet Bridge – Nguyen Thi No was once a drug addict with little reason to live except for her next hit.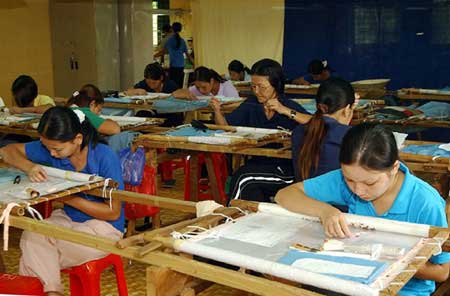 Former drug users are trained in embroidery at a workshop at the Phu Van Rehabilitation Centre in HCM City. Thousands of former drug users like No have been helped to reintegrate with society through the city's rehab programmes.
But with the help of a local rehab programme, the 36-year-old is now working as a painter and stenciller for house interiors.
"I feel very satisfied with my life now," she said.
As an addict, No said she often couldn't think clearly.
"Everyone around me, including my relatives, thought that my life would end with drugs, and there would be no hope for me," she said.
"It can be difficult to give up the drug habit."
In 2002, No was sent to the Bo La Rehabilitation Centre in Binh Duong Province, and two years later, she began taking vocational training courses at the Phuoc Binh Centre for Education, Labour and Social Affairs in Dong Nai Province.
She sees this time as a milestone in her life, not only for the job training she received but also for the life skills she learned.
No said she began "to live with more responsibility". But reintegrating with society at first was not easy.
Many companies were reluctant to hire her, afraid that she would relapse or even steal their property.
But she refused to allow such attitudes to deter her from fulfilling her filial duty and seeking work.
Remembering the encouragement and trust of her teachers at Phuoc Binh Centre, she told herself to "keep trying, keep trying."
Using her skills learned at the centre, she was hired as a seamstress at a garment company but later quit. She still was not used to strict schedules and regular working hours.
After a few more jobs, she apprenticed with a friend and began working at her current job that requires her to paint decorative patterns on walls and ceilings of houses.
Many of her neighbours, she said, have been tempted by drugs.
They look to her as a role model, which makes No "feel very happy".
Like No, Nguyen Thi Hong Ngoc of District 5 also faced discrimination when she returned home after rehab, but she now has a stable job.
Nguyen Thi Loan Anh, deputy head of the Phuoc Binh Centre and one of No's teachers, said the two women were often invited to the centre to talk to other addicts.
Speaking to her peers was not something new for No, as she had worked as a teacher's assistant her final two years at the centre.
"Their experiences serve as a source of encouragement for the former drug users who want to return home and take the next steps in their life," Anh said.
Gov't assistance
Phuoc Binh as well as other centres in HCM City are under the supervision of the city's Department of Labour, Invalids and Social Affairs.
During their six- to eight-month stay at the centre, the drug addicts learn about HIV prevention and the dangers of relapse.
Phuoc Binh, which works with employment agencies in the city, currently has 422 former addicts living at the centre.
Since the beginning of the year, 489 have returned home and of that figure, 198 have found jobs, she said.
Earlier this month, the Department of Labour, Invalids and Social Affairs organised a job fair for the people in rehab centres.
Nguyen Van Minh, the department's deputy head, said that jobs and loans given to rehab patients had helped to prevent them from returning to drugs.
The city has carried out many drug-rehab programmes, including a pilot project in districts 6,11 and Cu Chi that offers companies that hire rehabilitated drug addicts VND1 million for each person employed.
In addition, the city offers loans of up to VND20 million (US$952) from the Bank for Social Policy so that rehabbed patients can start a small business.
The department also encourages local People's Committees to help patients work in community service jobs like bus station guards or garbage collecting.
Since 2004, the city has also required the Nhi Xuan Industrial Park in Hoc Mon District to give priority to rehabbed drug addicts for jobs.
Despite a plethora of programmes, Minh said many former addicts are not reached by the programmes because of the weak effort of local district governments.
By 2015, the city wants to have at least 70 per cent of former addicts with jobs.
A Tan Phu District official in its labour division said the city should offer preferential taxes to some companies that hire rehabbed patients.
He said the current VND1 million grant was too low, and that many companies refused to hire them because their skills were too poor.
According to Anh, deputy head of Phuoc Binh Centre, the six- to eight-month vocational training period at rehab centres should be extended to meet enterprises' demand for more highly skilled workers.
A second chance
According to the City Social Evils Prevention Division, an average of 3,000 former addicts return home after rehabilitation each year. To date, the city has found jobs for 1,979 rehabbed drug users.
The Bank for Social Policy has provided a total of VND906 million ($43,142) in loans to 106 former addicts. These loans are used to start small businesses.
Despite help from the city, the number of relapsing drug addicts rose from 87 in 2010 to 262 in 2011 and 304 in 2012.
Currently, a total of 5,733 drug addicts, some of whom are relapsed patients, are living at the city's rehabilitation centres.
Source: VNS