VietNamNet Bridge – Storm Wutip killed at least nine people and injured 199 others in central provinces while one person remains missing, according to the latest updates from the Central Committee for Flood and Storm Control.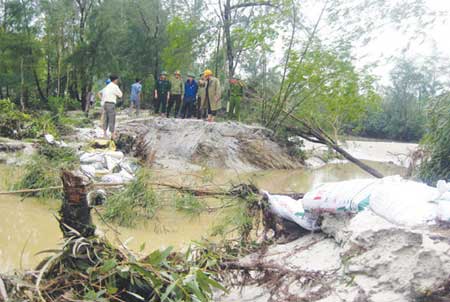 Part of a stone embankment that collapsed in Thach Ban Commune, Thach Ha District, in Ha Tinh Province due to heavy rain and floodwaters from Storm Wutip.
The dead include a 36-year-old woman swept away by floods in Nghe An Province, and a 1-year-old girl killed by a falling steel plate in Quang Binh Province.
Meanwhile, two Radio Voice of Viet Nam correspondents were killed in Quang Binh Province after a 150-m steel antenna tower collapsed on top of them.
In Nghe An Province, local rescue teams yesterday morning (Oct 2) discovered the body of the provincial Industry and Trade Department's deputy director Nguyen Tai Dung after a nearly 10-hour search.
Dung was killed on Tuesday night when his car, carrying instant noodles and bottled water to flood-affected locals, was swept away by floods. His body was found in his car, although his driver survived.
The committee said about 370 houses had collapsed, 25,700 were flooded and a further 194,000 had their roofs blown off.
Up to 17,000ha of rice and other crops were destroyed in the storm, while nearly 23,000 metres of road were damaged, bringing traffic to a standstill for hours.
The Storm and Flood Prevention and Rescue Centre's Central and Central Highlands Office estimated the total cost of the damage to be around VND4.9 trillion (US$232 million).
According to the office, 13 out of 69 nearby reservoirs overflowed due to heavy rains triggered by the storm in central and central highland provinces.
In Ha Tinh Province, heavy rains with rainfall up to 200mm, from Tuesday night until yesterday morning, caused two river embankments to burst, inundating hundreds of local households in Thach Ban Commune.
Nearly 200 soldiers of Viet Nam and Laos were sent to evacuate residents to safe ground, with a blackout in the commune due to heavy rains.
Farmers of several districts in the province suffered big losses when marine and poultry farms were swept away by the harsh weather conditions.
Nguyen Van Nguyen, a farmer rearing 10,000 chickens in Thach Ha Commune, said that his chicken farm was inundated by waters 1 metre deep, causing VND1.2 billion ($56,800) in damages.
Head of the provincial Aquaculture Department Nguyen Cong Hoang said that nearly 300ha of aqua farming had been swept away, adding that authorised agencies were yet to calculate the damage.
In Quang Binh Province's Canh Duong Commune, an initial loss of VND38 billion ($1.8 million) was reported due to the storm with strong winds and 3-4m big waves.
Pham Quoc Hong, a local resident, said, "I haven't seen a strong storm like this in 30 years."
Hundreds of local fishermen mourned the loss or severe damage to their fishing vessels anchored off Loan River.
Meanwhile, thousands of students at 30 local schools in Nghe An Province were kept home from school due to floods.
Authorities of all the provinces have supported local people to remedy the storm's consequences.
In a related movement, the Viet Nam Fatherland Front's Ha Noi Chapter donated VND7 billion ($331,000) to people in six storm-affected central provinces.
The Ministry of Health has sent medicines, chemicals for sterilisation and life jackets for the flood-affected localities.
The ministry ordered its health departments in the localities to be on duty 24 hours to help storm's victims.
The National Centre for Hydro-meteorological Forecasting said the provinces of Nghe An, Binh Dinh and northern parts of central highland provinces had been put on high alert for floods and landslides.
The centre also predicts that about two storms or tropical low-pressure systems would batter the East Sea this month. October is expected to bring heavy rains to the central region, flash floods forecast to hit the region this month, the centre said.
Vietnam calls help for storm victims
Chairman of Vietnamese Fatherland Front Nguyen Thien Nhan has urged all Vietnamese people from all walk of life both within and outside Vietnam to help victims of tropical storm Wutip.
Chairman Nguyen Thien Nhan made the appeal in Hanoi on October 2 saying that practical assistance would help local people early stabilise their lives and resume production activities.
The Vietnamese Fatherland Front received a total of 28.8 billion VND on the first day of campaign from both individuals and organizations.
Hanoi Fatherland Front decided to disburse 7 billion VND from its Rescue Fund to help people in six central provinces. The hardest-hit Quang Binh Province will be granted 2 billion VND while five other provinces including Nghe An, Ha Tinh, Quang Tri, Thanh Hoa and Thua Thien-Hue given 1 billion VND each, the Hanoi's Fatherland Front announced on October 2.
Chief Office of Hanoi's Vietnamese Fatherland Front Nguyen Thi Kim Dung said Hanoi will launch a campaign to raise fund for central local people on October 7.
HCMC Fatherland Front on the same day donated 10 billion VND while Vietnam National Oil and Gas group offered 5.5 billion VND.
According to the latest report from the National Steering Committee for Flood and Storm Prevention, the tropical storm Wutip claimed 9 lives, and injured 199 in six central provinces by October 2.
The typhoon, the strongest one sine 2006, has destroyed 372 houses, unroofed over 194,000, flooded over 25,700 houses, hospitals and public communities, damaged 120 vessels and over 2,000 fish ponds.
Nearly 17,000 ha of rice and other crops have been submerged. Many sections of hydraulic systems, dykes, and water reservoirs in the region were seriously damaged.
Transportation was blocked in many areas in the region due to flood. Many areas have suffered prolonged blackouts.
Local authorities of six central provinces and Red Cross associations have actively involved in rescuing and providing food for people trapped in the flooded areas.
VNS/VNA