VietNamNet Bridge – Ha Noi and HCM have made progress in curbing traffic congestion in the last five years with a number of drastic measures, said Dinh La Thang, Transport Minister and deputy chairman of the National Committee for Traffic Safety.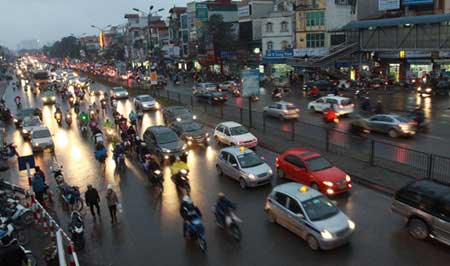 An intersection on Le Duan Street. Ha Noi and HCM City have conducted comprehensive measures to address the growing problem of traffic congestion in the last five years.
In 2008, the Government passed a resolution mapping out comprehensive measures for the two major cities to address the mounting problem of traffic congestion, which was fast becoming an urgent social issue causing economic loss and disrupting people's lives.
Five years later, while large-scale problems still remain, progress is being made.
Speaking at a meeting yesterday (Sept 11) to summarise the implementation of the resolution, minister Thang highlighted the opening of more ring roads and flyovers, an increase in traffic police patrols and the re-organisation of bus routes and timetables as key measures that have impacted positively on the congestion situations in the cities.
During the last five years, the number of traffic jam hotspots reduced from 124 to 57 in Ha Noi, and from 120 to 76 in HCM City.
The number of traffic accidents and subsequent deaths and injuries decreased yearly and there are now far fewer cases of traffic congestion which last for over 30 minutes.
Ha Noi People's Committee Vice Chairman Nguyen Van Khoi said that since 2008, the city has built more than 372 kilometres of road, raising the percentage of land for transport from 7 per cent of its area to 8.15 per cent.
Seven flyover bridges, 18 pedestrian overpasses and more parking areas helped the city to curb traffic jams, he said, while admitting that an imbalance remains between the development of technical infrastructure and social infrastructure.
He also acknowledged there has been slow progress in relocating universities and hospitals from busy inner-city areas.
Khoi's counterpart in HCM City, Nguyen Huu Tien, said that over the last two years, the number of traffic jams in the city reduced about 80 per cent. This year, no major traffic congestion has been reported.
At the meeting, Deputy Prime Minister Nguyen Xuan Phuc pointed out major existing traffic problems, including improper management over pavement and road use, illegal parking and the operation of fake taxis.
Phuc urged the two cities and relevant ministries and agencies to seek more effective measures by improving planning and embracing technological advancements. He also noted the need to engage the private sector more in public passenger transportation.
Source: VNS