VietNamNet Bridge – Passengers on boats or ferries who refuse to put on life jackets or life-saving equipment will receive a fine of between VND100,000 (US$4.8) and VND 200,000 ($9.6).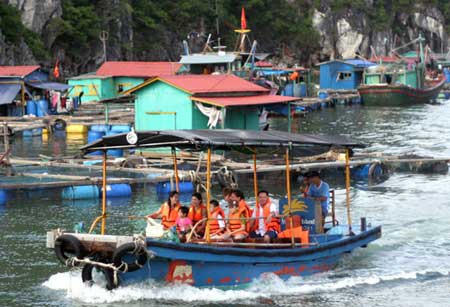 Tourists visit Lan Ha Bay by boat in the northern city of Hai Phong. Passengers on boats and ferries will have to wear life jackets or face a fine. The regulation aims to improve safety on waterway transport.
The fines follow Government Decree No.93/2013/ND-CP sanctioning administrative violations in the fields of maritime transport and inland waterway transport, which aims to decrease the number of deaths resulting from inland water accidents.
Tran Sy Duy from the Viet Nam Inland Waterway Administration who participated in drafting the decree told the Tien Phong (Vanguard) newspaper that the Ministry of Transport last year released a circular regulating that all passengers on boats and ferries must wear life jackets or life buoys during journeys, but did not mention sanctions for violating passengers.
According to the Director of the Administration, Tran Van Cuu, Government Decree No.60/2011/ND-CP on administrative punishment methods for inland waterway traffic only stipulates a fine of between VND200,000 – 2 million ($9.5-95) for boats not equipped with rescue facilities or firefighting equipment.
"Some passengers on boats and ferries lack safety awareness. Although some boat owners equipped their boats with life jackets, the passengers did not agree to wear them. So the penalisation of passengers is a method to help save their lives," Cuu said.
However, inspections of the inland waterway, which aim to ensure the feasibility and boost the implementation of the decree, would meet many difficulties.
The country has more than 200,000 kilometers of rivers and canals, of which 42,000 kilometers are involved in the traffic waterway system. Yet, only 20,000 kilometers of the system are under the management of traffic authorities.
"The Ministry of Transport and the Ministry of Public Security should soon promulgate a joint circular which would allow local authorities to handle inland waterway traffic violations," said Nguyen Quang Nhat from the Waterway Police Administration.
The latest accident in which a boat sank on the Soai Rap River in HCM City early this month killed nine people. The boat was not equipped with enough life jackets or life buoys for its passengers.
According to the National Traffic Safety Committee, a total of eleven inland waterway accidents killed ten people in July.
Source: VNS