VietNamNet Bridge - Suspected as sensitive places which are the home to prostitutes, drug addicts and gangsters, a series of large discotheques in Saigon have been checked.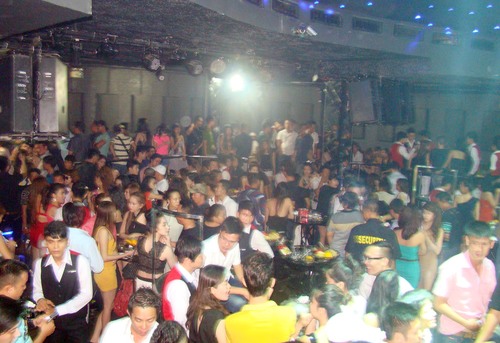 New Saigon Discotheque is checked by police.
The New Saigon Discotheque (No. 11 Cong Truong Me Linh Road, District 1) has a prime location in the heart of Ho Chi Minh City. This place was once famous for the name Bar 1102, known in slang as "second to none." This discotheque is designed as a magnificent castle, luring hundreds of people every night.
More than three days after being checked at the New Saigon discotheque at dawn on August 18, Lan Chi, 20 years old, living in District 10 said she would never dare go to such a place. The 2nd-year student of a private university said, on the night of August 17, she and her friends entered the disco to attend a friend's birthday party. This was her first time so Chi was overwhelmed by the spectacular scenery with colorful lights and rumbling sound.
"We just drank beer and watched others dancing. Everyone looked beautiful. Some friends of mine are also very stylish. It was so fun so we were there until midnight," Chi said.
At dawn, hundreds of policemen suddenly broke into the disco. There were about 400 people still dancing in the deafening music and flashing lights at that time. The space was densely with cigarette smoke.
Seeing police, hundreds of visitors found their way out but the entrances were blocked. Trained dogs were used to seek drugs. At the end of the check, dozens of people who were positive to drugs and some suspects were asked to go to the police office for investigation.
"The scene there was chaotic. When the light was turned on, a lot of people were nervous and frightened but some were still calm. A group was rigorously checked by the police. Later I knew that they were detected with drugs and weapons. Now I'm very scared," Chi said. Chi and her group had to submit their identification papers for the functional forces.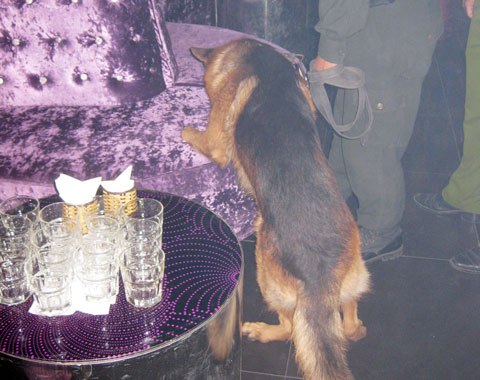 Dogs sniff out narcotics.
District 1 Police seized 17 pink tablets, a plastic packet of powder, three shisha pipes and many foreign wine bottles... Through on-the-spot tests, 13 customers including 11 men and 2 women were positive for drugs. In addition, 26 others were taken to police headquarters for being suspected as members of criminal gangs. Among the suspects in custody, police discovered Nguyen Ngoc Cuong (31 years old) held a police card. Urgent search at this man's house on Cach Mang Thang Tam Road, District 3, the authorities also found a police hat, a gun firing rubber bullets, 9 bullets and the gun use certificate granted by the police of Lam Dong province.
After investigation, police determined that the police card used by Cuong belongs to another. Cuong said he picked out the card in District 3. The gun use certificate is faked and the gun is the gift from an overseas Vietnamese.
Earlier, in the early morning of June 29, the police raid Club 39 in Kumho Plaza Building, 39 Le Duan, District 1. At that time, there were more than 500 people in the club. The police seized over 20 drug users and suspected for investigation. Club 39 is located in the basement of the building. This place is the destination of young people of rich families and playboys at nights. In the early year, this bar was checked twice in over a month. The police also seized drugs and many suspects.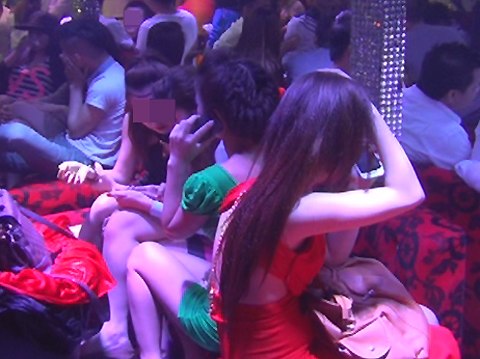 Customers in the Gold club 02 discos.
The Gold Club 02 disco (No. 2 Ho Huan Nghiep, District 1) is the biggest and most stylish players disco in Saigon. Located on the center road, next to many other bars but Gold Club 02 is always packed with young men and women every night.
In the early morning of a day in April, when hundreds of people were playing inside, the police force silently approached. Policemen controlled two guards outside, who were suspected to sell drug to customers. Hundreds of police officers blocked the road and struck inward. Detecting the police, many people threw drugs to the floor. Like a number of other clubs, this place violated the law.
HCM City police also combined with interdisciplinary teams of social and cultural forces to check dozens of restaurants, bars, small discos in the city.
As the home to the highest number of clubs in Saigon, District 1 authorities said they would continue checking clubs here in the coming time in order to prevent and stop crime, a senior official of District 1 said.
Translated by Le Ha