VietNamNet Bridge – Receiving his mother's portrait from an Australian war veteran, 84-year-old Le Sang from Da Nang City had tears welling up in his eyes as if he had just seen his mother, Phan Thi Dien, in the flesh.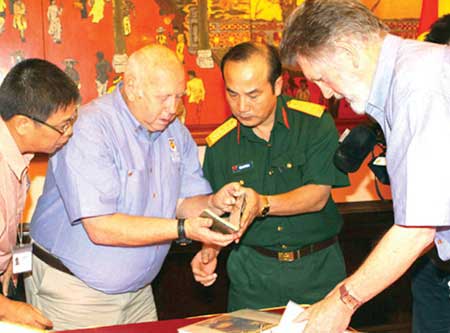 Lest we forget: War veterans from Viet Nam, New Zealand and Australia study war memorabilia that has been handed over to Vietnamese people.
The portrait is one among other such war memorabilia the Australian Centre for the Study of Armed Conflict and Society handed over to Vietnamese people on Monday under the Operation Wandering Souls project.
"The portrait was painted by my brother, painter Le Dinh Sung," Sang said. "It would have been burnt to ashes if Dennis hadn't retained it."
"In my opinion, only a person with a clear conscience and sense of humanity keeps a portrait of an unknown person for a long time. The war separated my family, now seeing the portrait I feel like I meet my mother and brother again."
One day in 1968, an Australian consultant G W Dennis came to an isolated village in the central province of Quang Ngai after it had been attacked. He found a woman's portrait in a burning house. Although he couldn't read the handwriting on the back side of the portrait, he still thought that it must be important for this family. He brought it back to Australia and kept it until he found out about the project.
In co-operation with the Marin Ha Noi Centre, the project, launched by Australian and New Zealand veterans, aims to return to Vietnamese families items such as letters, personal diaries, drawings, notebooks and photographs that were found on the battlefield or removed from bodies.
Apart from the portrait, the Australian veterans also brought many letters, sketches and paintings collected from battlefields in Binh Dinh, Ba Ria-Vung Tau and Dong Nai provinces. All the relatives of the soldiers felt moved when they received the war memorabilia.
After 45 years, Huynh Thi Sau, 64, from Binh Dinh Province, received her mother's letter written to her when Sau served in the army as a nurse. The war put obstacle in the postman's way, preventing the letter from being sent to Sau. Now, thanks to the project, it was received by addressee.
Bob Hall, team leader of the project, said it was time to heal and appease the pain caused by war.
"We want to help the Vietnamese people in the way they helped us find, identify and repatriate our MIAs," Hall said.
"It's the right thing to do, returning them. If the situation was reversed we'd like them to have done this for our families."
Hall said he knew that in Vietnamese culture, those who die in unmarked graves are believed to be "wandering souls" who are unable to find peace. The families of the fallen long to find their MIAs (just as Australian families longed to find theirs).
"That's a lot of grief. We can't help with all of this problem, but we can make a difference in cases where Australians and New Zealanders were involved."
Le Huu Loc, chairman of the Binh Dinh People's Committee, said the invaluable war memorabilia would help educate young people about the patriotism and the nation's glorious history.
"We don't call the fallen soldiers 'wandering souls'," he said, "we call them 'immortal souls', because they live forever in our mind, their souvenirs remind us of their sacrifice forever."
Source: VNS