VietNamNet Bridge - Thousands of people in the dangerous areas of Quang Ninh and Hai Phong have been requested to evacuate to the safe place. At the same time, storm Jebi is speeding up and has crossed Hainan Island to enter the Gulf of Tonkin at the wind speed of 90 km per hour.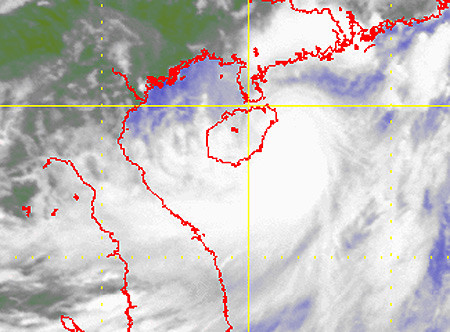 Storm Jebi landed Hainan Island of China at 2pm, August 2.
In Hai Phong northern port city, Cat Hai island authorities have asked people in dangerous areas to move to safe places. The number of people must evacuate is estimated at more than 3,000.
On the morning of August 2, more than 600 residents of the town of Cat Hai and Hoang Chau commune of Cat Hai district were moved to Hai Phong city. About 250 people living on boats and float aquaculture cages were also taken to a safe place. The evacuation must be completed before 6pm on August 2.
Also in the morning of August 2, more than 1,000 vessels of Cat Hai district anchored at docks and shelter. The local forces are moving the last 24 aquaculture cages to the shelter.
Hai Phong authorities have asked transport companies to temporarily halt waterway services to protect passengers, especially travelers.
Local residents in low-lying areas and fishermen at caged fish farms have been ordered to move to higher grounds before 07.00am on August 3.
The municipal administration has asked its organizations to cancel meetings scheduled for August 3 to cope with the approaching storm.  
In Quang Ninh province, the local authorities and people are also preparing to confront the storm. In an urgent meeting today, August 2, the provincial administration ordered its organizations to cancel all meetings and stop excursion and overnight stay services on Ha Long Bay - one of the most beautiful in the world.
The local government also requested residents living in aquaculture areas and on Ha Long Bay to move ashore before 08.00am on August 3.
Local rescue forces were asked to work around the clock, especially in sea dyke-protected districts of Van Don, Co To, Hai Ha, and Tien Yen.  
The coastal provinces of Quang Tri, Quang Binh, Thua Thien-Hue, Thanh Hoa, Thai Binh, Nam Dinh, Haiphong and Quang Ninh have informed fishing vessels of the storm's direction and instructed them to travel ashore or seek nearby storm shelters.
Thai Binh, which was hit hard by storm Bebinca in June 2013, has banned all fishing vessel from setting sail as of August 2. It has dispatched working missions to inspect prevention work in flood-prone and sea dyke-protected areas.
The provincial administration has asked local organisations and residents to reinforce public works and houses, quickly trim trees, clear mud from canals and put all pumping stations on standby in the event of severe flooding to save the newly transplanted rice.
Storm Jebi is expected to pound the north-central coastal provinces from Nghe An to Quang Ninh as of August 3, with gale-force winds gusting more than 100kph and heavy downpours of up to 300-400mm.
The storm, which is regaining strength, will threaten the sea dyke system of these provinces as huge waves of between 3-5m in height lash the shore.
The National Hydro-meteorological Forecasting Centre has warned that torrential rains accompanied by strong winds may flood low-lying areas and cause flash floods and landslides in mountainous localities.
Le Ha