Methadone treatment a success
Drug addicts treated with methadone were much less inclined to break the law, Deputy Minister of Health Nguyen Thanh Long said yesterday, July 8.
Long was addressing an online conference to review the last six months of the fight against AIDS, prostitution and drug addiction, held in Ha Noi.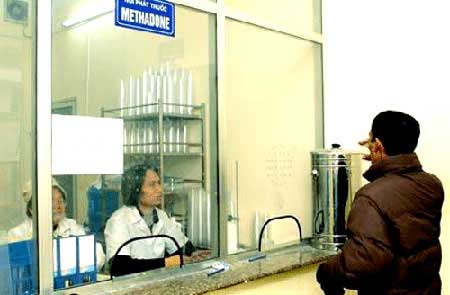 Statistics from the ministry show that nearly 14,000 drug users in 21 provinces received methadone treatment in the first half of this year.
He said that after 24 months of treatment, the ratio of drug addicts who broke the law had fallen from 40.8 per cent to 1.34 per cent.
The ratio for those in conflict with their families also fell from 90.36 per cent to 2.27 per cent.
Statistics from the ministry show that nearly 14,000 drug users in 21 provinces received methadone treatment in the first half of this year.
Similar projects around the world have shown that one dollar spent on methadone treatment can save seven or more dollars in terms of health-care costs or crime prevention expenses.
The daily cost for methadone treatment is about VND15,500 a head. A survey in 11 provinces showed that before methadone treatment, drug users were spending about VND230,000 a day on drugs.
Online participants agreed that the biggest challenge to the success of the methadone treatment programme in Viet Nam was to secure adequate supplies of the heroin substitute. Up until now, it has been mainly been provided by donors.
Currently 36 provinces have drawn up programmes to provide the treatment.
At the meeting, Deputy Prime Minister Nguyen Xuan Phuc asked agencies to persist with goals and measures to fight HIV/AIDS, drugs and prostitution which were on the rise in remote northwestern and central provinces.
He called for tougher inspections and prosecutions.
Phuc local authorities to compile and spread anti-drug and prostitution documents, use the State budget in a cost-effective way and mobilise social resources and international aid.
They were also told to promptly submit to the Government projects on renewing drug detoxification schemes and assisting localities in building community-based rehabilitation models.
Phuc asked the Ministry of Public Security to work with agencies to detect and crack down on drug crime, including the smuggling of drugs into Viet Nam.
Reports show that the illegal drug trade has grown dramatically, particularly along the borders. Since the beginning of this year, police have investigated more than 10,000 drug-related cases involving 15,000 people.
The number of HIV/AIDS-infected people is lower than for the same period in 2012. However, the sexual transmission of HIV is increasing, especially among women aged 30-39.
Scholarships for poor students
The General Electric (GE) Fund has granted disadvantaged students 10 scholarships worth US$3,450 each for the 2012–2014 academic year.
Beneficiaries include four students from the Hanoi Foreign Trade University, two from Ho Chi Minh City Foreign Trade University, two from Danang University, and two from Hanoi National University.
The GE Fund is the charitable arm of General Electric Group.
The scholarship is designed to support academically outstanding but disadvantaged students studying economics, technology, and the natural sciences at Vietnam's leading universities.
Scholarship-winning students will attend a Hanoi skill seminar in mid-July. They will hear presentations discussing human relations and the path to achieving success.
They will also receive guidance from senior GE Group officials and take part in collective spirit-building activities.
The scholarship is managed by the Institute of International Education (IIE), established in the US in 1919. IIE Vietnam began operating in 1997.
Residents move from hydro catchment area
Relocation of families in the Dak Dring Hydropower plant catchment area in the Central Highland province of Kon Tum began yesterday, July 8, with the plant's reservoir expected to be filled with water for power generation next month.
A total of 217 households will move to a new resettlement area with the help of local authorities - who gave each affected household VND9 million (US$430), said the district People's Committee vice chairman Dang Thanh Nam.
Earlier this month, the Ministry of Industry and Trade ordered immediate relocation of the households or 1,000 people as they would be in danger when the rainy season reaches its peak next week.
At that time, however, only 50 per cent of resettlement housing for relocated residents was completed.
Over 20 quarantined with suspected flu virus
Twenty-three people suspected to have the A/H1N1 virus in the northern mountainous province of Ha Giang's Ha Giang City have been quarantined for treatment and close surveillance.
Director of the municipal Centre for Preventive Medicine Nguyen Thi Du said all suspected cases were from Ngoc Duong Commune's Na Bau Hamlet. The hamlet has also been put under quarantine.
Of the 23 cases, five are receiving treatment with Tamiflu at the provincial General Hospital. They tested positive to A/H1N1 after being hospitalised with all symptoms of the virus.
By July 7, there had been two cases of deaths caused by influenza A/H1N1 in the province.
Worldskills competition awards seven Vietnamese contestants
Vietnam has won seven medallions foreExcellence at the week-long Worldskills Competition, which concluded in Leipzig, Germany, on July 7.
Vietnamese contestants took part in 12 skills categories: cooking, restaurant services, electronics, carpentry, bricklaying, wall and floor tiling, web design, information technology software solutions, refrigeration, fashion and mechatronics
They demonstrated skill to a level matching both ASEAN and international standards, said Cao Van Sam, Deputy Director of the Department of Vocational Training.
This year's competition was dominated by a strong showing from East Asian countries, especially the Republic of Korea and Japan. The RoK led the competition with 23 medals, including 12 golds.
Switzerland was the highest ranked European country with 17 medals (9 golds).
The 2013 Worldskills Competition was the biggest so far, with more than 1,000 contestants representing 65 countries and territories competing in 46 categories.
Thousands of homes without water
More than 5,500 households in Hoang Mai and Hai Ba Trung districts were without water from yesterday after construction workers accidentally broke water pipelines in Nguyen An Ninh Street.
Hanoi Water Company worked with subcontractors throughout the night to restore supplies - but without any luck.
According to a representative from the company, the same subcontractor has broken pipelines three times before, causing similar water losses.
Poisonous beer puts family in hospital
Eight members of a family in the northern Thai Nguyen Province were admitted to the province's general hospital yesterday evening after being poisoned with take-away beer from a bia hoi (beer shop).
The victims, all members of the same family, including a four-year-old toddler, were reported to be suffering from high fever, vomiting and digestive disorders, said Nguyen Van Dao, a doctor of the hospital's Emergency Department.
According to Nguyen Khac Hieu, one of the victims, the beer was bought at a local shop at noon yesterday. The symptoms appeared at night.
The shop owner is said to have used a discarded canister to contain the beer.
Hieu later checked the can and found that it was labelled "phosphoric acid" and had hazard warnings on it.
Dr Ha Duc Trinh from the hospital said today all eight victims were in a stable condition, but would be kept in hospital for several days for further checks.
The case is under investigation.
Free swimming courses begin in capital
As many as 200 disadvantaged children in Ha Noi took part in a free swimming course offered by the city's Communist Youth Union and Ha Noi University of Physical Education and Sport on Sunday.
The swimming programme is part of the union's summer activities and aims to prevent child drowning in the city, with first aid and danger awareness skills also being taught.
Branches of the union in the capital's twelve districts will organise classes for 2,280 disadvantaged children over the summer holidays.
In the last few years, child drowning has increased in many localities.
New supply plant ensures HCM City is flush with water
A new water supply plant opened yesterday in HCM City's suburban district of Cu Chi, supplying an additional 150,000 cu. m of clean water per day to city residents.
With an investment of VND1,257 billion (US$59.8 million), in its first phase, the Kenh Dong Water Plant has a 1.25 million cu.m reservoir, a 200,000cu.m/day water treatment plant and an 11.5 km distribution network of 1,200mm pipeline.
The pipes link the plant in Cu Chi District's Tan Thong Hoi Commune to Tan Hiep Water Plant in Hoc Mon District.
In addition to HCM City, Kenh Dong Water Plant is expected to supply 50,000 cu. m. of clean water per day to Duc Hoa Industrial Parks No 1, 2 and 3 and the Trans-Asia Industrial Park in Long An Province.
In its second phase, an additional supply of 40,000cu.m. of clean water will be added to Kenh Dong Plant. This water will be supplied directly to HCM City's Tay Bac Industrial Park, Cu Chi Town and surrounding residential areas.
Kenh Dong Water Supply Plant is a joint stock company invested by the State Financial Investment Company, Sai Gon Water Supply Co, HCM City Irrigation Service Management Co and Filipino Manila Water Co.
Forestry company officers prosecuted
The former director of Quang Tin Forestry Ltd Co in the Central Highland province of Dak Nong has been prosecuted for irresponsibility resulting in the loss of 1,334ha of forest.
According to sources from police, Tran Van Loi, 48, and four other officers in the company participated in agro forestry production projects with nine private enterprises from 2007-10.
However, their ineffective planning and management led to the destruction of natural forest.
US sister city rewards vital VN contributions
The San Francisco-HCM City Sister City Committee, in a ceremony held in HCM City last Saturday, honoured 12 Vietnamese who have made contributions to science, culture and healthcare service.
The US Consul General in HCM City, Le Thanh An, was given a diplomacy award for efforts to build closer ties between the two cities and promotion of the sciences and healthcare.
Le Chi Tam, An's wife, was presented with a humanitarian award for volunteerism for her active contributions to improving the quality of life of disadvantaged groups in Viet Nam, particularly in medical assistance, education and bridge-replacement campaign projects.
Her support has brought awareness to young trafficking victims and has enabled the implementation of a Screening and Prevention programme against hepatitis B in Viet Nam.
Professor Do Van Dung of HCM City Medicine and Pharmacy University received a distinguished leadership award for his contribution to the screening and vaccination programme for hepatitis B for students at his university. He was also recognised for his research on the quality of life in Viet Nam.
The award for stem cell and biotechnology research was presented to lecturer Phan Kim Ngoc of Science College of the Viet Nam National University for his leadership and pioneering work in stem cell therapy in cancer, diabetes and cardiovascular diseases, as well as reproductive technology.
Professor Bui Duc Phu, director of Hue Central Hospital, received an award in medicine for pioneering work in thoracic and cardio-vascular surgery that includes organ transplants. He was also recognised for his work as the first Vietnamese surgeon to successfully perform a human heart transplant in Viet Nam.
Historian Nguyen Dac Xuan received an award in Hue Studies for his significant work in documenting the history and culture of Hue, the former imperial capital of Viet Nam.
The award for the preservation of Vietnamese Folk Art was presented to Bui Xuan Hinh for his performance of cheo and chau van, satirical musical and dance art forms with origins in the 12th century.
Vo Van Quan and Hoang Le Xuan received an award for the preservation of Vietnamese hand embroidery.
Four other awards were presented to donors for hepatitis B programmes in Viet Nam.
The awards were first presented in 2011 in HCM City.
Petrol stations fall short of standards
Only seven out of 52 recently inspected petrol stations around the city met operational standards, Ha Noi's Industry and Trade Department has announced.
Apparently, 33 of them are located in places that threaten traffic safety, while 34 failed to meet health and safety standards relating to fire prevention and fighting.
However, due to fears that the petrol market could be affected if all the substandard stations were closed, the department has decided to only remove 15.
One is located at 9 Tran Hung Dao Street in Hoan Kiem District.
Even though it is a favourable location with a valid business license until 2015, it will still be closed because it is too close to public buildings such as schools and markets. Its location also threatens traffic safety.
Moreover, the station is being operated without a land-use right certificate.
The petrol stations at 276 Thuy Khue Street, 4 Nguyen Dinh Chieu Street and 463 Doi Can Street will also be closed.
On the list of filling stations that need relocating, the Petroleum Company Region 1 and Ha Noi Petrol and Fuel Joint Stock Company are being forced to remove four and five stations respectively.
The names of the petrol stations to be removed have been recorded in the Ha Noi Industry and Trade Department's proposal, however when they will go and where they will go has yet to be specified.
Nguyen Trong Hau, director of the Ha Noi Petrol and Fuel Joint Stock Company, was quoted by Cong an nhan dan (People's Police) Newspaper as saying that they were not surprised at the directive to remove their five filling stations because they should have been removed in 2008 anyway, to make space for another of the city's projects.
"We are anxious about the city's final decision on when and where to relocate our petrol stations because if they disappear altogether, we will have to arrange jobs for the 40 employees who work in them. That is a very unpleasant and difficult job to carry out", said Hau.
VNN/VOV/VNS/VNA