VietNamNet Bridge – After 15,000 kilometers traveling by motorbike, Lothar A. Baltrusch, a German journalist with his two friends will arrive in Trieu Phong district in the central province of Quang Tri on July 9.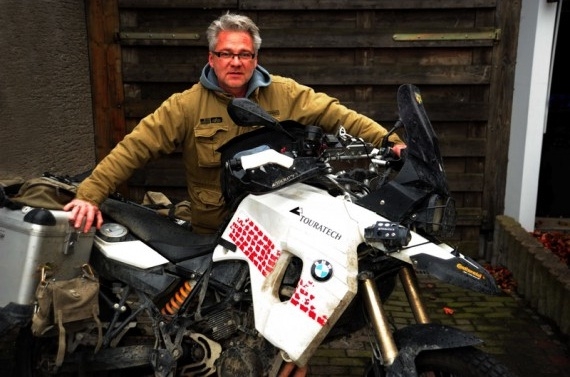 German journalist Lothar A. Baltrusch.

Under the project titled "Way to Huyen", the trip aims to attracting people's awareness for impoverished children in Trieu Phong as well as to raise funds for them.
Baltrusch rode his motorbike from Schwerte on May 17 and went through Poland, Latvia, Russia, Mongolia, China and Laos before coming to Vietnam.
During his stay in Trieu Phong from July 9 to 11, he plans to meet Huyen, a disadvantaged little girl who has been sponsored by Baltrusch for four years. He will also visit children at a kindergarten, a junior secondary school and children with disabilities.
In Baltrusch's blog, he wrote: "All the money that I raise during the trip will be transferred to World Vision, who introduced me to Huyen as a sponsor four years ago, to build a school at Huyen's community in Trieu Phong. The cost for the trip is covered by myself."
Baltrusch has collected 16,000 EUR for his trip in Germany. On May 8, the Vice President of the German Bundestag (Parliament) Wolfgang Thierse presented a cheque worth 4,000 EUR to Mr Baltrusch in Berlin. On the same day, Vietnam's Minister Counsellor in Germany Bui Ngoc Toan had a talk with Baltrusch and his two friends.  
Lothar A Baltrusch, born in 1962, is a journalist and editor at the local radio station Antenne Unna. He is accompanied by Andreas Huelsmann và Hans Jurgen Weigt, who also have passion to traveling around.
World Vision Vietnam is a non-profit Christian relief and development humanitarian organization, working to improve the quality of life of people, especially children, who are marginalized and living in poverty.
Mai Lan