VietNamNet Bridge - For most farmers, land is considered property and the major means of production. Yet recently, many farmers in the Mekong Delta had to sell land to pay debts.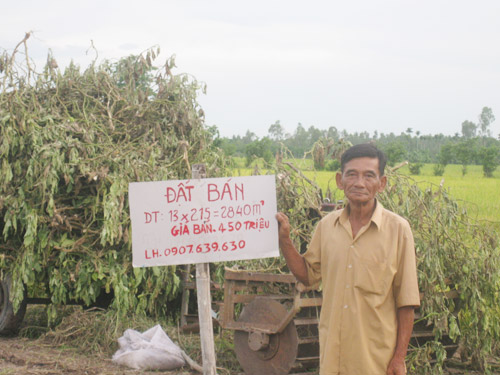 A farmer in Nhon Nghia commune, Chau Thanh A district, Hau Giang province, offers land for sale. Photo: TN

In the rural areas in Can Tho City and the provinces of Hau Giang, Dong Thap, Vinh Long ... occasionally one will see fields, gardens and fish ponds with the offer-for-sale boards.
Mrs. Truong Thi Le, a resident of Nhon Nghia A commune, Chau Thanh A district, Hau Giang province, said her family has 5,000sq.m of land, located along Highway 61B. However, the field yielded low productivity while the price of rice significantly reduced, profit was not much. "My family planted rice for tens of years but we were still poor. So my whole family agreed to sell off land to settle some family issues and to transfer to other jobs," Le said.
Mr. Huynh Van Diep in Truong Long A commune, Chau Thanh A district, Hau Giang province, said: "My family had only 2,000sq.m of fields. We were needy all the year round. In the past several years I was sick and had to go to HCM City for treatment. Our debt kept increasing. We had to sell land to pay debts," Diep said.
According to Truong Long A commune authorities, the price for farmland has fell from VND90-100 million ($4,000-$4,500)/1,000sq.m to VND60-VND70 million but it is very difficult to sell. The fall of land price is due to low profit from rice.
Many fish farmers also sold their ponds. Some farmers in Soc Trang and Tra Vinh provinces said when the price of shrimp was high, the price for land was also high and people struggled to buy more land. However, from 2012, because of shrimp disease, many shrimp breeders have become big debtors and some of them had to sell their pond.
The price for shrimp ponds has dropped to VND40-50 million/1,000sq.m but many farmers cannot sell. The catfish farmers also fall into the same tragic situation.
Mr. Vo Van De in Thuan An ward, Thot Not district in Can Tho city, said bitterly: "Catfish prices have fallen for more than two years, causing big debts for breeders. Nearly 80 percent of catfish breeding households in Thot Not have quit this job and offered their ponds for sale, at the price of only VND100 million ($5,000)/1,000sq.m, a half reduction over the last six years," De said.
Urgent issue
The relevant bodies in the Mekong Delta slowed their worry over the land selling movement in the Mekong Delta.
Mr. Vo Hoang Vu in Binh Thoi commune, Binh Dai district, Ben Tre province said that shrimp breeding is highly risky now. Besides diseases, the fluctuation of shrimp prices can push farmers into a loss situation at any time. The challenge now is that banks restrict loans to shrimp farmers while animal feed traders do not allow customers to short charge. If shrimps die, farmers will immediately have to sell land to settle debts.
According to the Department of Agriculture and Rural Development of Soc Trang Province, at present the local farmers have released breeding shrimps to nearly 18,000 hectares, equivalent to 40 percent compared with the plan. More than 20,000 hectares of ponds are left fallowed because of raging epidemics and lack of capital.
Mr. Le Chi Binh, vice president of the Aquaculture and Seafood Processing Association of An Giang province, said: "Farmers cannot continue breeding catfish because of being out of capital and low price of fish. Meanwhile, fish ponds are very deep so it is difficult to turn them into fields again. A lot of ponds are unused, causing huge waste."
According to experts, to raise the value of land again and reduce rampant trade of land, restoring production efficiency is an imperative issue in the Mekong Delta.
Na Son