At the Liberty Hotel No. 4 in HCM City, non-smoking signs can be seen on all of the lobby's tables and at the receptionist's desk. Such signs are a familiar sight in many countries, but in Vietnam, they are relatively new.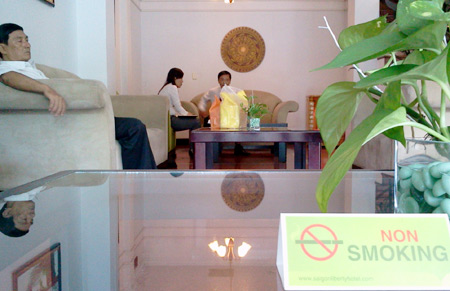 Non-smoking signs are posted in a hotel lobby.
Tran Anh Khoa, a non-smoker who has worked at the hotel for five years, said most guests honour the request and smoke outside where rubbish bins covered with ashtrays are provided.
The ban, which has been in force for one year, was implemented as part of a commitment on "building non-smoking environment" under the HCM City Health Department's Centre on Health Education.
Staff are also banned from smoking at Liberty Hotel No. 4, one of 25 hotels and restaurants in HCM City that have carried out the ban well, according to the Centre.
Many hotels and restaurants that had signed the commitment had not taken it seriously, according to Tran Lam Lan Huong, the programme's director.
Non-smoking signs are posted everywhere in the hotel, especially in the bedrooms. Nguyen Vinh Toan, the hotel's director, said that a smoking-free environment was good for the health of guests as well as the hotel staff.
"The smell from cigarettes in air-conditioned rooms causes discomfort for guests," he said, "and they don't want to return."
Complained
Foreign guests accept the ban as it is more common in their countries, but Vietnamese guests initially complained. But they now are more accepting of it, Toan added.
He said the hotel's turnover had not been affected by the ban.
When the programme began, Huong and her colleagues at the Centre had to work hard to persuade hotels and restaurants to agree to the commitment as they were afraid their sales would drop.
Nguyen Van Thuan, deputy head of personnel at Huong Rung Restaurant, said that designing areas for smokers and non-smokers was an important step in creating respect for guests.
"It's very necessary to know how to talk to guests when you ask them to sit in the smoking area," Thuan said, adding that he offered training to his staff on persuasive skills.
"When the quality of service and food is good, guests will always come to a restaurant, even though smoking is limited," he said.
Non-smoking has become a habit of regular patrons of the restaurant, he said.
According to the Centre on Health Education's report that was released yesterday, 358 out of 400 hotels and restaurants rated from one to five stars had signed a commitment on non-smoking.
The centre said the commitment was in line with the World Health Organisation's (WHO) Convention on Tobacco Control.
According to WHO, 100 deaths occur every day in Viet Nam because of smoking-related diseases.
Source: VNS