Highway 1 expansion projects begin
Two Build-Operate-Transfer projects to expand National Highway 1 in Quang Binh and Quang Tri provinces were launched yesterday, June 23.
The projects are expected to cost around $97.5 million in total.
Attending the launching ceremony, Deputy Prime Minister Nguyen Xuan Phuc said the projects would be an important motivating force for the provinces and the northern central area to expand trade exchange, investment promotion and socio-economic development and to minimise traffic accidents.
Phuc also asked the Ministry of Transport, investors and contractors to ensure construction quality and progress to meet the project's deadlines, stressing that National Highway 1 running from northern border Lang Son Province to southernmost Ca Mau Province was the country's traffic lifeline.
"It played an important role in socio-economic development, national defence and security and the country's industrialisation and modernisation," he added.
In central Quang Binh Province, around 33km will be expanded with an investment of VND980 billion (nearly US$47 million) by the investor of Truong Thinh Group.
In central Quang Tri Province, more than VND1.067 trillion (around $50.8 million) would be invested to build more than 15.5km of the National Highway section linking Gio Phong Commune of Gio Linh District with Dong Ha Town.
The two projects are expected to be completed by 2015.
On the same day, a project on upgrading National Highway 14C across the Dak Nong Province was kicked off by the Ministry of Transport.
With an investment of more than VND900 billlion (around $42.8 million) from the Asian Commercial Bank (ACB), the project aimed to upgrade and expand 30km of the Highway from Cu Jut to Dac Mi districts in the province. The project is expected to be completed in January 2016.
Project helps 1,400 people living with AIDS gain employment
More than 1,400 people living with or affected by HIV/AIDS have been able to find a job or run their own businesses with support from a five-year US-Government funded programme.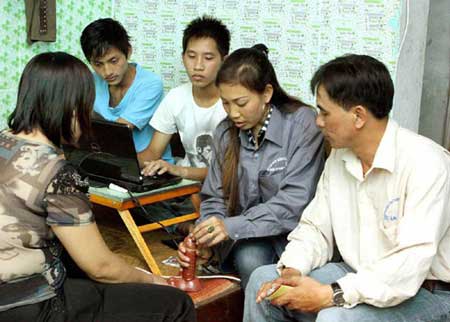 A peer educator consults local community with contraceptive as a way to prevent from HIV infection in Nam Dinh Province.
The figure was disclosed at a ceremony held last Thursday to mark the programme's end, known as the US Agency for International Development (USAID) HIV workplace project.
Speaking at the event, USAID director in Viet Nam Joakim Parker said despite impressive progress, Viet Nam was still likely to miss the Millennium Development Goal target of reversing the epidemic.
"There is a lot of work to be done," Parker said. "People living with HIV/AIDS have to battle terrible social stigma associated with the infection. In far too many cases, family support withers, marriages dissolve and jobs are lost once a person's HIV status is known."
Started in 2008, the US$3 million funded project has expanded workplace-based HIV prevention activities to 118 enterprises in eight provinces and cities with more than 100,000 people trained in HIV prevention.
Besides job placement support and training, people living with HIV also received more than $100,000 in loans through Vietnamese micro-finance providers.
Le Duc Hien, deputy director of the Labour Ministry's department for prevention of social evils, said as the international support for HIV/AIDS prevention was expected to dwindle.
"The country needed to further develop effective policies that could make the works of international partners sustainable after they left," he stressed.
"From experience, we know that it's not enough to give a loan of VND20 million and let the government and the receiver take all the risks. It's necessary to guide and train them how to use that money effectively," he said.
According to Hien, the department is working on a national programme to support people living with HIV/AIDS to find employment and increase their access to small loans. It's expected to go for Government approval this year.
Workshop debates health law changes
Health insurance will be compulsory if amended legislation that aims to ensure universal health insurance coverage is approved.
The draft Law on Health Insurance would include greater allocation of financial resources for healthcare to fund check-ups and treatment for the community, said Deputy Minister of Health Nguyen Thi Xuyen at a workshop held on Wednesday to discuss the legal document.
She stressed that Vietnamese people still had a psychology of only taking out health insurance when they became ill.
Deputy Director General of the Viet Nam Social Insurance Nguyen Minh Thao said current regulations on participating in health insurance remained unclear, making it unattractive to many groups of people to buy health insurance.
Therefore, it was necessary to make health insurance mandatory to ensure universal health coverage, he said.
Nearly 68 per cent of the national population owned health insurance cards by December 2012, according to the ministry.
Under a recently-ratified Government plan, about 80 per cent of the Vietnamese population will be insured by 2020.
Insurance cards will be distributed to farmers and rural workers – who often do not purchase health insurance – as well as other needy groups.
The Government will subsidise 100 per cent of the premium for households living in underprivileged areas in mountainous provinces, where poorer households in rural areas earn an average income of VND401,000 – 520,000 (US$19-$25) per month.
Students will receive a 50 per cent discount.
Regarding the issue of health insurance cards, Deputy Minister Xuyen said overlap still occurred in the provision of the cards by different agencies and organisations, leading to the release of some unnecessary cards.
She pointed to the need to amend the health insurance law, as it was promulgated in 2008 and its implementation revealed many shortcomings.
The rate of health insurance coverage was low, regulations on health insurance not strictly followed, health check-up and treatment procedures complicated and the quality of health check-up and treatment low, she said.
Many participants at the workshop proposed increasing financial support for near-poor households and informal labourers.
Vietnam attends ASEAN Family Day in New York
The annual "ASEAN Family Day" sports and cultural festival was held in New York on June 22 under the chairmanship of the Brunei Darussalam Permanent Representative to the UN, Dato Abdul Ghafar Ismail.
Addressing the opening ceremony, Mr Ismail said that the event aims to strengthen solidarity and mutual understanding among ASEAN delegations to the UN.
Vietnam's Deputy Permanent Representative to the UN Ambassador Pham Vinh Quang, together with representatives from the Vietnamese delegation, the Vietnam News Agency and the Ministry of Industry and Trade, introduced international friends to traditional Vietnamese folk games and food at the event.
This year's Family Day took place in Alley Pond Park near New York City and featured folk games and food from ASEAN member states.
Foreign aid helps disaster fight
The Belgian Government on Friday, June 21, committed EUR25 million (US$33 million) of non-refundable ODA to help Viet Nam's response to climate change.
Four agreements under a programme on water management and urban development were signed in Ha Noi on Friday by Deputy Minister of Planning and Investment Cao Viet Sinh and the Belgian Ambassador to Viet Nam Bruno Angelet.
The projects are expected to enhance the resilience to climate change of the three central provinces – Ninh Thuan, Binh Thuan and Ha Tinh - through strengthening their institutional capacity, according to the Belgian Embassy.
Strategic pilot investments related to flood control will be conducted to explore appropriate adaptation measures for flood-prevention projects in urban areas.
The six-year programme will also focus on raising the awareness of local people about climate change issues.
MARD project begins
The Ministry of Agriculture and Rural Development (MARD) have launched the second four-year phase of a project to enhance the institutional capacity for disaster risk management in Viet Nam.
The Australian Agency for International Development and the UN Development Programme (UNDP) are together providing $4.7 million and Viet Nam will allocate $250,000 for this phase.
Speaking at the inception meeting, deputy director of the ministry's Water Resources Directorate Nguyen Xuan Dieu said that the project supports the timely implementation of the Natural Disaster Prevention and Control Law, which was approved by the National Assembly earlier this week.
Project phase one helped the ministry draft the law, offered training for about 700 people on disaster risk reduction and climate change adaptation, and published a set of training materials. It also successfully identified 6,000 vulnerable communes across the country.
UNDP deputy country director Bakhodir Burkhanov said that the project offered an innovative partnership model harnessing the field experiences of national and international public and civil organisations.
"Effective risk management requires multisectoral preparedness and response, with State institutions and civil society working side by side," he said.
Accident black spots to be fixed this year
The Viet Nam Roads Administration has asked the Ministry of Transport to provide VND400 billion (US$19 million) in funding to repair and upgrade a number accident black spots, notorious for causing mayhem on the nation's highways this year.
Subsequently, up to 236 black spots will be looked at, including six that need immediate attention, at a cost of VND20 billion ($95,000).
The administration has already spent VND30 billion ($1.4 million) tackling 14 black spots since the start of the year on National Highway 6 and the Ho Chi Minh Road.
Vietnam, RoK increase environmental cooperation
Vietnamese and Republic of Korea (RoK) environment ministers gathered at a conference in Seoul on June 20 to discuss measures to boost bilateral environmental cooperation.
At 10th Vietnam-RoK Environment Ministers Meeting, co-chaired by Vietnamese Minister of Natural Resources and Environment Nguyen Minh Quang and his RoK counterpart Yoon Seong-kyu, the two sides reviewed their cooperation over the past time and discussed possibilities for developing bilateral ties in the 2012-2015 period.
They plan to enhance information and experience exchanges, increase human resources for the natural resources and environment sector, develop technology and environmental industry and build environmental infrastructure in Vietnam.
The RoK side will help Vietnam revise its 2005 Law on Environmental Protection and realise the national target programme on pollution settlement and environmental improvement.
Participants discussed how the two countries can tackle regional and global environment-related issues such as climate change adaptation, green growth and green economy.
The two sides highly valued their cooperation over the past and agreed to continue stepping up environmental links in the future.
The annual event has been co-hosted by the two ministries since they signed a memorandum of understanding on bilateral cooperation in 2004.
Sub-standard Long An petrol stations to move
As many as 27 of more than 400 licensed petrol stations in the Mekong Delta's Long An Province must be relocated or upgraded, said provincial Trade and Industry Department deputy director Nguyen Xuan Hong.
Authorities inspected petrol station businesses in the area and cracked down on trading and fire safety, Hong said.
Some business located in populous areas did not meet conditions related to construction or planning.
Businesses penalised in pollution crackdown
Sixty-one of 130 industrial workshops and parks inspected for pollution were fined a total VND5 billion (US$238,000) for breaches, according to the Ministry of Natural Resources and Environment.
During inspections of hot spots in eight provinces and cities, inspectors also uncovered two establishments discharging untreated waste water into the environment.
The ministry hopes to map out by 2020 a plan on handling those causing serious environmental pollution.
Heavy rain hits Mekong Delta rice harvest
Prolonged rains over the past week in the Cuu Long (Mekong) Delta have severely affected the harvest and quality of the summer-autumn rice crop.
The delta is entering peak harvest time for the crop, but harvesting has been slow, as ripe rice plants have been toppled by heavy rains and wind.
Pham Thi Ngot, who cultivates 0.6ha rice in Tam Binh District in Vinh Long Province, said more than 70 per cent of her plants had collapsed and must be harvested by hand.
Ngot said she was also short of workers as demand for farm help was high this season.
Heavy winds and rain have toppled about half of 27,000ha of ripe rice in Vinh Long Province, according to the province's Department of Agriculture and Rural Development.
Le Quang Thao, deputy chairman of the Xuan Hiep Commune People's Committee in Vinh Long's Tra On District, said: "The quality of harvested rice has declined, as many of the seeds have germinated."
Delta farmers have also had trouble sundrying their rice because of the rainy weather. In addition, there are not enough dryers on hand.
In Can Tho City, although farmers have harvested more than half of the city's 40,000ha of rice, few traders have bought the grain, citing low quality.
Rice companies have urged farmers to reduce the size of fields and plant only high-quality varieties.
The remaining cultivation areas should be switched to other cash crops, they said.
In Kieng Giang Province, the country's rice-production leader, heavy rains have also hindered harvesting.
Kien Giang's pump stations have been operating at full capacity over the past several days to draw water out of rice fields.
In addition, the price of hiring a worker to harvest one hectare of rice has gone up to VND500,000 (US$24).
Kien Giang has planted 230,000ha of rice for this summer-autumn crop.
In Hau Giang Province, farmers have harvested more than 25,000ha of 76,600ha of the summer-autumn crop, according to the province's Department of Agriculture and Rural Development.
Because of rains, farmers have been unable to dry rice and, as a result, the grain has germinated, leading to lower selling prices, according to the province's Department of Agriculture and Rural Development.
VNN/VOV/VNS/VNA